Not what you want?
Try searching again using:
1. Other similar-meaning words.
2. Fewer words or just one word.
Force in Chinese / Japanese...
Buy a Force calligraphy wall scroll here!
Start your custom "Force" project by clicking the button next to your favorite "Force" title below...
Quick links to words on this page...

shēng mìng

seimei / inochi

생명

This Chinese, Korean and Japanese word means "life force" or simply "life." The first character means "life" or "birth." The second means "life" or "fate." Together they create the meaning of "life force," though some will translate this as "existence" and sometimes "vitality."
---

kōng

kuugun

공군

空軍 is "Air Force" in Chinese, Japanese Kanji, and old Korean Hanja.

If you're an airman, this could be the title for you.

qiáng

kyou

강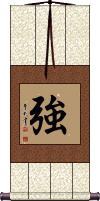 This "strong" character means strength, force, powerful, better, stubborn, and stiff (yes, all of this in one character). This "strong" has less to do with physical strength and more to do with having a winning attitude, or just having the ability to win at something.

Note that most of the time, this character is pronounced "qiang" but when used with the meaning of stubborn, unyielding, or stiff, it is pronounced "jiang" in Chinese.

Also, sometimes "qiang" is used in modern Chinese to describe people that do crazy things (Example: Bicycling from Beijing to Tibet alone). I sometimes can be found outside my Beijing apartment wearing nothing but shorts and a tee-shirt while eating an ice cream during a snow storm, just to hear my neighbors call me "qiang." Maybe they mean "strong" but perhaps they are using the new meaning of "crazy strong."

Also a Korean Hanja with same meaning but mostly used in compound words.

This is used in Japanese (though normally in compound words). In Japanese, it has the same meaning but in some context can mean "a little more than..." or "a little over [some amount]." Most Japanese would read this as tough, strength, stiff, hard, inflexible, obstinate, or stubborn.

dòng lì

douryoku

동력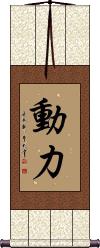 This word can be used for motivation - it can also mean power / motion / propulsion / force. It can be anything internal or external that keeps you going.

This is the safest way to express motivation in Chinese. If your audience is Japanese, please see the other entry for motivation. This is a word in Japanese and Korean but it means "motive power" or "kinetic energy" (without the motivation meaning that you are probably looking for).
---
See Also: Enthusiasm | Passion

yaruki

やる気 means motivation in Japanese. It also can be translated as willingness (e.g. to do something), eagerness, inspiration, determination, totally willing, fully motivated, and high aspirations.
---
Note: Because this selection contains some special Japanese Hiragana characters, it should be written by a Japanese calligrapher.
---
See Also: Enthusiasm | Passion

yuán

en

연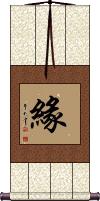 緣 / 縁 is a complicated single character. It can mean a lot of different things depending on how you read it.

In Japanese, it can mean fate; destiny; a mysterious force that binds two people together; a relationship between two people; bond; link; connection; family ties; affinity; opportunity; chance (to meet someone and start a relationship). It can also mean "someone to rely on," relative, reminder, memento, or the female given name, Yori.

It's basically the same in Chinese, where it's defined as cause, reason, karma, fate, or predestined affinity.

In Buddhist context, it's Pratyaya. 緣 / 縁 is the concept of indirect conditions, as opposed to direct causes. It's when something happens (meeting someone) by circumstance, or a contributing environment. Instead of a direct cause or act, it is a conditioning cause without direct input or action by the involved people.

Occasionally, this character is used in a facetious way to say hem, seam, or edge of clothing. In this case, it's the seam that brings or holds the clothing together.
---

Note: Japanese will tend to use the variant of this Kanji shown to the right. If you want this version (and are ordering this from the Japanese master calligrapher), click on the Kanji at the right instead of the button above.

hé qì dào

ai ki do

합기도

Hapkido is a mostly-defensive martial art of Korea. It has some connection to Aikido of Japan. In fact, they are written with the same characters in both languages. However, it should be noted that the Korean Hanja characters shown here are the traditional Chinese form - but in modern Japan, the middle character was slightly simplified.
Note: You can consider this to be the older Japanese written form of Aikido. Titles on older books and signs about Aikido use this form.

The connection between Japanese Aikido and Korean Hapkido is a bit muddled in history. This is probably due to the relationship between the two countries - especially during WWII when many Koreans became virtual slaves for the Japanese (many Koreans are still bitter about that, so many things were disassociated from having any Japanese origin).

Looking at the characters, the first means "union" or "harmony."
The second character means "universal energy" or "spirit."
The third means "way" or "method."
One way to translate this into English is "Harmonizing Energy Method." This makes since, as Hapkido has more to do with redirecting energy, rather that fighting with strength against strength.

More Hapkido info

More notes:
1. Sometimes Hapkido is Romanized as "hap ki do," "hapki-do" "hab gi do" or "hapgido."

2. Korean Hanja characters are actually Chinese characters that usually hold the same meaning in both languages. There was a time when these characters were the standard and only written form of Korean. The development of modern Korean Hangul characters is a somewhat recent event in the greater scope of history. There was a time when Chinese characters were the written form of many languages in places known in modern times as North Korea, South Korea, Japan, Vietnam, Singapore, Hong Kong, Taiwan, Mainland China, and a significant portion of Malaysia. Even today, more people in the world can read Chinese characters than can read English.

3. While these Korean Hanja characters can be pronounced in Chinese, this word is not well-known in China and is not considered part of the Chinese lexicon.
Search for Force in my Japanese & Chinese Dictionary
The following table may be helpful for those studying Chinese or Japanese...
Title
Characters
Romaji

(Romanized Japanese)

Various forms of Romanized Chinese
The Force
フォース
foosu / fosu
The Force
原力
yuán lì / yuan2 li4 / yuan li / yuanli
yüan li / yüanli
Life Force
生命
seimei / inochi
shēng mìng

---

sheng1 ming4

---

sheng ming

---

shengming
Air Force
空軍

---

空军
kuugun / kugun
kōng / kong1 jun1 / kong jun / kongjun
k`ung chün / kungchün / kung chün
Strong
Powerful
Force
強

---

强
kyou / kyo
qiáng / qiang2 / qiang
ch`iang / chiang
Motivation
動力

---

动力
douryoku / doryoku
dòng lì / dong4 li4 / dong li / dongli
tung li / tungli
Motivation
やる気
yaruki
The Mysterious Bond Between People
緣 / 縁

---

缘
en
yuán / yuan2 / yuan
yüan
Hapkido
合氣道

---

合气道
ai ki do / aikido
hé qì dào

---

he2 qi4 dao4

---

he qi dao

---

heqidao
ho ch`i tao

---

hochitao

---

ho chi tao
In some entries above you will see that characters have different versions above and below a line.
In these cases, the characters above the line are Traditional Chinese, while the ones below are Simplified Chinese.
Successful Chinese Character and Japanese Kanji calligraphy searches within the last few hours...
All of our calligraphy wall scrolls are handmade.
When the calligrapher finishes creating your artwork, it is taken to my art mounting workshop in Beijing where a wall scroll is made by hand from a combination of silk, rice paper, and wood.
After we create your wall scroll, it takes at least two weeks for air mail delivery from Beijing to you.
Allow a few weeks for delivery. Rush service speeds it up by a week or two for $10!
When you select your calligraphy, you'll be taken to another page where you can choose various custom options.
Check out my lists of Japanese Kanji Calligraphy Wall Scrolls and Old Korean Hanja Calligraphy Wall Scrolls.
Some people may refer to this entry as Force Kanji, Force Characters, Force in Mandarin Chinese, Force Characters, Force in Chinese Writing, Force in Japanese Writing, Force in Asian Writing, Force Ideograms, Chinese Force symbols, Force Hieroglyphics, Force Glyphs, Force in Chinese Letters, Force Hanzi, Force in Japanese Kanji, Force Pictograms, Force in the Chinese Written-Language, or Force in the Japanese Written-Language.