Not what you want?
Try searching again using:
1. Other similar-meaning words.
2. Fewer words or just one word.
Daodejing in Chinese / Japanese...
Buy a Daodejing calligraphy wall scroll here!
Start your custom "Daodejing" project by clicking the button next to your favorite "Daodejing" title below...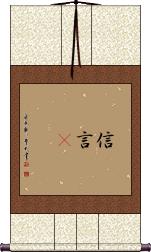 This is the Mawangdui version of Daodejing chapter 81.

It can be translated this way:
Credible words are not eloquent;
Eloquent words are not credible.

The wise are not erudite;
The erudite are not wise.

The adept are not all-around;
The all-around are not adept.
The sages do not accumulate things.
Yet the more they have done for others,
The more they have gained themselves;
The more they have given to others,
The more they have gotten themselves.

Thus, the way of tian (heaven) is to benefit without harming;
The way of sages is to do without contending.

Another translation:
Sincere words are not showy;
showy words are not sincere.
Those who know are not "widely learned";
those "widely learned" do not know.
The good do not have a lot;
Those with a lot are not good.
The Sage accumulates nothing.
Having used what he had for others,
he has even more.
Having given what he had to others,
what he has is even greater.
Therefore, the Way of Heaven is to benefit and not cause any harm,
The Way of Man is to act on behalf of others and not to compete with them.

And a third translation:
True words aren't charming,
charming words aren't true.
Good people aren't contentious,
contentious people aren't good.
People who know aren't learned,
learned people don't know.
Wise souls don't hoard;
the more they do for others the more they have,
the more they give the richer they are.
The Way of heaven provides without destroying.
Doing without outdoing
is the Way of the wise.

yī yuē cí èr yuē jiǎn sān yuē bù gǎn wéi tiān xià xiān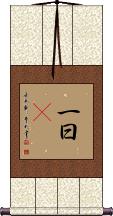 This is an except from the 67th Chapter of Lao Tzu's (Lao Zi's) Te-Tao Ching (Dao De Jing). This is the part where the three treasures are discussed. In English, we'd say these three treasures are compassion, frugality, and humility. Some may translate these as love, moderation, and lack of arrogance. I have also seen them translated as benevolence, modesty, and "Not presuming to be at the forefront in the world." You can mix them up the way you want, as translation is not really a science but rather an art.

I should also explain that the first two treasures are single-character ideas, yet the third treasure was written out in six characters (there are also some auxiliary characters to number the treasures).

If Lao Tzu's words are important to you, then a wall scroll with this passage might make a great addition to your home.

zhī rén zhě zhī yě zì zhī zhě míng yě shèng rén zhě yǒu lì yě zì shèng zhě qiáng yě zhī zú zhě fù yě qiáng xíng zhě yǒu zhì yě bù zhī qí suǒ zhě jiǔ yě sǐ ér bù wáng zhě shòu yě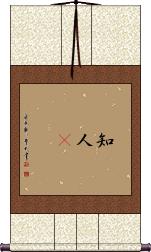 This is referred to as passage or chapter 33 of the Dao De Jing (often Romanized as "Tao Te Ching"). These are the words of the philosopher Laozi (Lao Tzu).

The following is one translation of this passage:
To know others is wisdom;
To know oneself is acuity/intelligence.
To conquer others is power,
To conquer oneself is strength.
To know contentment is to have wealth.
To act resolutely is to have purpose.
To stay one's ground is to be enduring.
To die and yet not be forgotten is to be long-lived.

Another translation:
To understand others is to be knowledgeable;
To understand yourself is to be wise.
To conquer others is to have strength;
To conquer yourself is to be strong.
To know when you have enough is to be rich.
To go forward with strength is to have ambition.
To not lose your place is to be long lasting.
To die but not be forgotten -- that's true long life.

A third translation of the second half:
He who is content is rich;
He who acts with persistence has will;
He who does not lose his roots will endure;
He who dies physically but preserves the Dao will enjoy a long after-life.
---
Notes:

During our research, the Chinese characters shown here are probably the most accurate to the original text of Laozi. These were taken for the most part from the Mawangdui 1973 and Guodan 1993 manuscripts which pre-date other Daodejing texts by about 1000 years.

Grammar was a little different in Laozi's time. So you should consider this to be the ancient Chinese version. Some have modernized this passage by adding, removing, or swapping articles and changing the grammar (we felt the oldest and most original version would be more desirable). You may find other versions printed in books or online - sometimes these modern texts are simply used to explain to Chinese people what the original text really means.

This language issue can be compared in English by thinking how the King James (known as the Authorized version in Great Britain) Bible from 1611 was written, and comparing it to modern English. Now imagine that the Daodejing was probably written around 403 BCE (2000 years before the King James Version of the Bible). To a Chinese person, the original Daodejing reads like text that is 3 times more detached compared to Shakespeare's English is to our modern-day speech.

Extended notes:

While on this Biblical text comparison, it should be noted, that just like the Bible, all the original texts of the Daodejing were lost or destroyed long ago. Just as with the scripture used to create the Bible, various manuscripts exist, many with variations or copyist errors. Just as the earliest New Testament scripture (incomplete) is from 170 years after Christ, the earliest Daodejing manuscript (incomplete) is from 100-200 years after the death of Laozi.

The reason that the originals were lost probably has a lot to do with the first Qin Emperor. Upon taking power and unifying China, he ordered the burning and destruction of all books (scrolls/rolls) except those pertaining to Chinese medicine and a few other subjects. The surviving Daodejing manuscripts were either hidden on purpose or simply forgotten about. Some were not unearthed until as late as 1993.

We compared a lot of research by various archeologists and historians before deciding on this as the most accurate and correct version. But one must allow that it may not be perfect, or the actual and original as from the hand of Laozi himself.
Not the results for daodejing that you were looking for?
Below are some entries from our dictionary that may match your daodejing search...
Characters

If shown, 2nd row is Simp. Chinese

Pronunciation
Romanization
Simple Dictionary Definition

道徳経

see styles

doutokukyou / dotokukyo

どうとくきょう



Tao Te Ching (classic Chinese text by Lao Tzu); Daodejing; (wk) Tao Te Ching (classic Chinese text by Lao Tzu)

---

道徳經

see styles

doutokukyou / dotokukyo

どうとくきょう



(out-dated kanji) Tao Te Ching (classic Chinese text by Lao Tzu); Daodejing

---
Search for Daodejing in my Japanese & Chinese Dictionary
The following table may be helpful for those studying Chinese or Japanese...
Title
Characters
Various forms of Romanized Chinese
Daodejing
Tao Te Ching Chapter 81
信言不美美言不信知者不博博者不知善者不多多者不善聖人無積既以為人己癒有既以予人矣已癒多故天之道利而不害聖人之道為而不爭

---

信言不美美言不信知者不博博者不知善者不多多者不善圣人无积既以为人己愈有既以予人矣已愈多故天之道利而不害圣人之道为而不争
Daodejing
Tao Te Ching
一曰慈二曰儉三曰不敢為天下先

---

一曰慈二曰俭三曰不敢为天下先
yī yuē cí èr yuē jiǎn sān yuē bù gǎn wéi tiān xià xiān

---

yi1 yue1 ci2 er4 yue1 jian3 san1 yue1 bu4 gan3 wei2 tian1 xia4 xian1

---

yi yue ci er yue jian san yue bu gan wei tian xia xian
i yüeh tz`u erh yüeh chien san yüeh pu kan wei t`ien hsia hsien

---

i yüeh tzu erh yüeh chien san yüeh pu kan wei tien hsia hsien
Daodejing
Tao Te Ching - Chapter 33
知人者知也自知者明也勝人者有力也自勝者強也知足者富也強行者有志也不失其所者久也死而不亡者壽也

---

知人者知也自知者明也胜人者有力也自胜者强也知足者富也强行者有志也不失其所者久也死而不亡者寿也
zhī rén zhě zhī yě zì zhī zhě míng yě shèng rén zhě yǒu lì yě zì shèng zhě qiáng yě zhī zú zhě fù yě qiáng xíng zhě yǒu zhì yě bù zhī qí suǒ zhě jiǔ yě sǐ ér bù wáng zhě shòu yě

---

zhi1 ren2 zhe3 zhi1 ye3 zi4 zhi1 zhe3 ming2 ye3 sheng4 ren2 zhe3 you3 li4 ye3 zi4 sheng4 zhe3 qiang2 ye3 zhi1 zu2 zhe3 fu4 ye3 qiang2 xing2 zhe3 you3 zhi4 ye3 bu4 zhi1 qi2 suo3 zhe3 jiu3 ye3 si3 er2 bu4 wang2 zhe3 shou4 ye3

---

zhi ren zhe zhi ye zi zhi zhe ming ye sheng ren zhe you li ye zi sheng zhe qiang ye zhi zu zhe fu ye qiang xing zhe you zhi ye bu zhi qi suo zhe jiu ye si er bu wang zhe shou ye
chih jen che chih yeh tzu chih che ming yeh sheng jen che yu li yeh tzu sheng che ch`iang yeh chih tsu che fu yeh ch`iang hsing che yu chih yeh pu chih ch`i so che chiu yeh ssu erh pu wang che shou yeh

---

chih jen che chih yeh tzu chih che ming yeh sheng jen che yu li yeh tzu sheng che chiang yeh chih tsu che fu yeh chiang hsing che yu chih yeh pu chih chi so che chiu yeh ssu erh pu wang che shou yeh
In some entries above you will see that characters have different versions above and below a line.
In these cases, the characters above the line are Traditional Chinese, while the ones below are Simplified Chinese.
Successful Chinese Character and Japanese Kanji calligraphy searches within the last few hours...
All of our calligraphy wall scrolls are handmade.
When the calligrapher finishes creating your artwork, it is taken to my art mounting workshop in Beijing where a wall scroll is made by hand from a combination of silk, rice paper, and wood.
After we create your wall scroll, it takes at least two weeks for air mail delivery from Beijing to you.
Allow a few weeks for delivery. Rush service speeds it up by a week or two for $10!
When you select your calligraphy, you'll be taken to another page where you can choose various custom options.
Check out my lists of Japanese Kanji Calligraphy Wall Scrolls and Old Korean Hanja Calligraphy Wall Scrolls.
Some people may refer to this entry as Daodejing Kanji, Daodejing Characters, Daodejing in Mandarin Chinese, Daodejing Characters, Daodejing in Chinese Writing, Daodejing in Japanese Writing, Daodejing in Asian Writing, Daodejing Ideograms, Chinese Daodejing symbols, Daodejing Hieroglyphics, Daodejing Glyphs, Daodejing in Chinese Letters, Daodejing Hanzi, Daodejing in Japanese Kanji, Daodejing Pictograms, Daodejing in the Chinese Written-Language, or Daodejing in the Japanese Written-Language.