Not what you want?
Try searching again using:
1. Other similar-meaning words.
2. Fewer words or just one word.

If all else fails, email me and
tell me what you need.
Spiritual Energy in Chinese / Japanese...
Buy a Spiritual Energy calligraphy wall scroll here!
Start your custom "Spiritual Energy" project by clicking the button next to your favorite "Spiritual Energy" title below...

qì

ki

기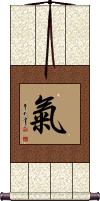 This energy flow is a fundamental concept of traditional Asian culture.

氣 is romanized as "Qi" or "Chi" in Chinese, "Gi" in Korean, and "Ki" in Japanese.
Chi is believed to be part of everything that exists, as in "life force" or "spiritual energy". It is most often translated as "energy flow," or literally as "air" or "breath". Some people will simply translate this as "spirit" but you have to take into consideration the kind of spirit we're talking about. I think this is weighted more toward energy than spirit.

The character itself is a representation of steam (or breath) rising from rice. To clarify, the character for rice looks like this:


Steam was apparently seen as visual evidence of the release of "life energy" when this concept was first developed. The Qi / Chi / Ki character is still used in compound words to mean steam or vapor.
The etymology of this character is a bit complicated. It's suggested that the first form of this character from bronze script (about 2500 years ago) looked like these samples:



However, it was easy to confuse this with the character for the number three. So the rice radical was added by 221 B.C. (the exact time of this change is debated). This first version with the rice radical looks like this:


The idea of Qi / Chi / Ki is really a philosophical concept. It's often used to refer to the "flow" of metaphysical energy that sustains living beings. Yet there is much debate that has continued for thousands of years as to whether Qi / Chi / Ki is pure energy, or consists partially, or fully of matter.

You can also see the character for Qi / Chi / Ki in common compound words such as Tai Chi / Tai Qi, Aikido, Reiki and Qi Gong / Chi Kung.

In the modern Japanese Kanji, the rice radical has been changed into two strokes that form an X.



The original and traditional Chinese form is still understood in Japanese but we can also offer that modern Kanji form in our custom calligraphy. If you want this Japanese Kanji, please click on the character to the right, instead of the "Select and Customize" button above.
---
More language notes: This is pronounced like "chee" in Mandarin Chinese, and like "key" in Japanese.
This is also the same way to write this in Korean Hanja where it is Romanized as "gi" and pronounced like "gee" but with a real G-sound, not a J-sound.
Though Vietnamese no longer use Chinese characters in their daily language, this character is still widely known in Vietnam.
---
See Also: Energy | Life Force | Vitality | Life | Birth | Soul

shén

shin / kami

신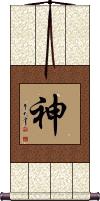 神 is the simplest way to write spirit in Chinese, Japanese Kanji, and old Korean.

This single character alone will conjure up ideas of the spiritual world. 神 can also be translated as "vital awareness" as in the fact that one must know they exist to exist (I think, therefore, I am).

Other translations include:
God, deity, mysterious, divine essence, lively, spiritual being, divinity, supernatural, soul, mind, nerves, and energy. In some extended context it can mean genius or unusual.

Japanese romanizations vary a lot when this character is combined into other words. However, shin is the original pronunciation taken from Chinese into Japanese. You'll also see it romanized as kami, gami, jin, and a few others, depending on context.

qì lì

kiryoku

기력

氣力 can mean any of the words in the title above, and in some context, can also mean, effort, will-power, or talent.

氣力 refers mostly to physical strength (as opposed to mental or spiritual).
---

In modern Japan, they use a simplified first character for this word. If you want to order this title with that special Japanese version, click on the character to the right instead of the button above.

líng

ryou

령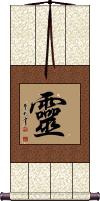 靈 is spirit or soul in Chinese, Japanese Kanji, and old Korean Hanja.

If you look in the dictionary, you'll also find definitions for this character like:
quick; alert; efficacious; effective; departed soul; coffin; spiritual; energy; effective; clever.
---

There is a modern Japanese version of this character. The button above will get you the traditional/ancient form. But, if you want the modern Japanese, click on the Kanji to the right instead.
Not the results for spiritual energy that you were looking for?
Below are some entries from our dictionary that may match your spiritual energy search...
Characters

If shown, 2nd row is Simp. Chinese

Pronunciation
Romanization
Simple Dictionary Definition

道

see styles
dào

/ dao4

---

tao

---

dou / do / どう

More info & calligraphy:
Daoism / Taoism

road; path; CL:條|条[tiao2],股[gu3]; principle; truth; morality; reason; skill; method; Dao (of Daoism); to say; to speak; to talk; classifier for long thin things (rivers, cracks etc), barriers (walls, doors etc), questions (in an exam etc), commands, courses in a meal, steps in a process; (old) administrative division (similar to province in Tang times)

---

(1) (abbreviation) (See 道・みち・1) road; path; street; route; (2) (See 道・みち・5) way; set of practices; rules for conducting oneself; (3) Buddhist teachings; (4) Taoism; (5) modern administrative region of Japan (Hokkaido); (6) historical administrative region of Japan (Tokaido, Tosando, etc.); (7) province (Tang-era administrative region of China); (8) province (modern administrative region of Korea); (personal name) Wataru; (given name) Motoi; (personal name) Michihiro; (surname) Michizaki; (surname, female given name) Michi; (given name) Makoto; (female given name) Fumi; (given name) Naoshi; (surname) Douzaki; (surname) Dou; (female given name) Tooru; (given name) Tadasu; (given name) Tadashi; (female given name) Tao; (personal name) Susumu; (given name) Osamu

---

mārga. A way, road; the right path; principle, Truth, Reason, Logos, Cosmic energy; to lead; to say. The way of transmigration by which one arrives at a good or bad existence; any of the six gati, or paths of destiny. The way of bodhi, or enlightenment leading to nirvāṇa through spiritual stages. Essential nirvāṇa, in which absolute freedom reigns. For the eightfold noble path v. 八聖道.; The two Ways: (1) (a) 無礙道 or 無間道 The open or unhindered way, or the way of removing all obstacles or intervention, i. e. all delusion; (b) 解脫道 the way of release, by realization of truth. (2) (a) 難行道 The hard way of "works", i. e. by the six pāramitā and the disciplines. (b) 易行道 the easy way salvation, by the invocation of Amitābha. (3) (a) 有漏道 The way of reincarnation or mortality; (b) 無漏 the enlightened way of escape from the miseries of transmigration. (4) (a) 教道 The way of instruction; (b) 證道 the way of realization. (5) The two lower excretory organs.

靈

---

灵

see styles
líng

/ ling2

---

ling

---

ryō

More info & calligraphy:
Spirit / Soul

quick; alert; efficacious; effective; to come true; spirit; departed soul; coffin

---

Spirit, spiritual, energy, effective, clever.

五根

see styles
wǔ gēn

/ wu3 gen1

---

wu ken

---

gokon

胎藏界

see styles
tāi cáng jiè

/ tai1 cang2 jie4

---

t`ai ts`ang chieh

/ tai tsang chieh

---

taizō kai

五智如來

---

五智如来

see styles
wǔ zhì rú lái

/ wu3 zhi4 ru2 lai2

---

wu chih ju lai

---

gochi nyorai



| | | | | | |
| --- | --- | --- | --- | --- | --- |
| Name | Chinese | Position | Element | Sense | Color |
| Vairocana | 大日 | centre | ether | sight | white |
| Akṣobhya | 阿閦 | east | earth | sound | blue |
| Ratnasaṃbhava | 寶生 | south | fire | smell | yellow |
| Amitābha | 彌陀 | west | water | taste | red |
| Amoghasiddhi | 不空 | north | air | touch | green |

| | | | |
| --- | --- | --- | --- |
| Germ | Animal | Dhyani-Bodhisattva | Buddha |
| aṃ | lion | Samantabhadra 普賢 | Krakucchanda |
| hūṃ | elephant | Vajrapāṇi 金剛力士 | Kanakamuni |
| ?aḥ | horse | Ratnapāṇi 寶手 | Kāśyapa |
| ? hrīḥ | goose or peacock | Avalokiteśvara 觀音 | Śākyamuni |
| ?āḥ | garuḍa | Visvapāṇi? | Maitreya |



Arrival of the five wise Buddhas; five buddhas as incarnations of distinct types of cognition
Many custom options...




And formats...



This in-stock artwork might be what you are looking for, and ships right away...
Gallery Price: $132.00
Your Price: $72.88
Gallery Price: $17.00
Your Price: $9.00
Gallery Price: $45.00
Your Price: $25.00
Gallery Price: $132.00
Your Price: $72.88
The following table may be helpful for those studying Chinese or Japanese...
Title
Characters
Romaji

(Romanized Japanese)

Various forms of Romanized Chinese
Life Energy
Spiritual Energy
氣

---

气 / 気
ki
qì / qi4 / qi
ch`i / chi
Spirit
Spiritual Essence
神
shin / kami
shén / shen2 / shen
Strength
Vigor
Energy
氣力

---

气力 / 気力
kiryoku
qì lì / qi4 li4 / qi li / qili
ch`i li / chili / chi li
Spirit
Soul
靈

---

灵
ryou / ryo
líng / ling2 / ling
In some entries above you will see that characters have different versions above and below a line.
In these cases, the characters above the line are Traditional Chinese, while the ones below are Simplified Chinese.
Successful Chinese Character and Japanese Kanji calligraphy searches within the last few hours...
All of our calligraphy wall scrolls are handmade.
When the calligrapher finishes creating your artwork, it is taken to my art mounting workshop in Beijing where a wall scroll is made by hand from a combination of silk, rice paper, and wood.
After we create your wall scroll, it takes at least two weeks for air mail delivery from Beijing to you.
Allow a few weeks for delivery. Rush service speeds it up by a week or two for $10!
When you select your calligraphy, you'll be taken to another page where you can choose various custom options.
Check out my lists of Japanese Kanji Calligraphy Wall Scrolls and Old Korean Hanja Calligraphy Wall Scrolls.
Some people may refer to this entry as Spiritual Energy Kanji, Spiritual Energy Characters, Spiritual Energy in Mandarin Chinese, Spiritual Energy Characters, Spiritual Energy in Chinese Writing, Spiritual Energy in Japanese Writing, Spiritual Energy in Asian Writing, Spiritual Energy Ideograms, Chinese Spiritual Energy symbols, Spiritual Energy Hieroglyphics, Spiritual Energy Glyphs, Spiritual Energy in Chinese Letters, Spiritual Energy Hanzi, Spiritual Energy in Japanese Kanji, Spiritual Energy Pictograms, Spiritual Energy in the Chinese Written-Language, or Spiritual Energy in the Japanese Written-Language.
68 people have searched for Spiritual Energy in Chinese or Japanese in the past year.
Spiritual Energy was last searched for by someone else on Nov 6th, 2018