Clear Mind in Chinese / Japanese...
Buy a Clear Mind calligraphy wall scroll here!
Personalize your custom "Clear Mind" project by clicking the button next to your favorite "Clear Mind" title below...

身心靈 is probably the best way to express the idea of "Body, Mind, and Spirit" in Chinese and old Korean Hanja. We are actually using the word "heart" here because, for thousands of years, the heart was thought to be the place where your thoughts, feelings, and emotions came from. We do something similar in the west when we say "warm-hearted" or "I love you with all of my heart." In this context, heart = mind in Asian language and culture.

The very literal translation of these three characters is "body, heart & spirit," which could also be interpreted as "body, mind & soul."

We have arranged these characters in this order because it simply "feels" like the proper order in the Chinese language. Word lists like this are not so common for calligraphy artwork, so we must be careful to put them in the most natural order. It should be noted that this is not a common title in Asia, nor is it considered an actual phrase (as it lacks a clear subject, verb, and object).
---

In Japanese Kanji, they use an alternate form of the character for soul or spirit. If you want this using the Japanese alternate, please click on the Kanji shown to the right instead of the button above.

Japanese disclaimer: This is not a natural phrase/list in Japanese. While not totally-natural in Chinese, this word list is best if your audience is Chinese.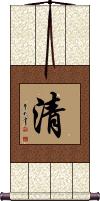 清 is a word that means clarity or clear in Chinese, Japanese Kanji, and old Korean Hanja.

Looking at the parts of this character, you have three splashes of water on the left, "life" on the top right, and the moon on the lower right.

Because of something Confucius said about 2500 years ago, you can imagine that this character means "live life with clarity like bright moonlight piercing pure water." The Confucian idea is something like "Keep clear what is pure in yourself, and let your pure nature show through." Kind of like saying, "Don't pollute your mind or body, so that they remain clear."

This might be stretching the definition of this single Chinese character but the elements are there, and "clarity" is a powerful idea.
---
Korean note: Korean pronunciation is given above but this character is written with a slight difference in the "moon radical" in Korean. However, anyone who can read Korean Hanja, will understand this character with no problem (this is considered an alternate form in Korean). If you want the more standard Korean Hanja form (which is an alternate form in Chinese), just let me know.

Japanese note: When reading in Japanese, this Kanji has additional meanings of pure, purify, or cleanse (sometimes to remove demons or "exorcise"). Used more in compound words in Japanese than as a stand-alone Kanji.

心澄淨 is the Buddhist concept of the pure and calm mind. It is believed that once you achieve a meditative state of pure focused thought, the mind becomes clear and calm. Although, others will say this means that achieving a calm mind will allow you to reach pure thought.

From Sanskrit, this is known as citta-prasāda. The concept of citta-prasāda is sometimes defined as "clear heart-mind," or "the single and definitive aspiration."
Confidence / Faithful Heart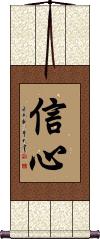 信心 is a Chinese, Japanese, and Korean word that means confidence, faith, or belief in somebody or something.

The first character means faith, and the second can mean heart or soul. Therefore, you could say this means "faithful heart" or "faithful soul."

In Korean especially, this word has a religious connotation.

In the old Japanese Buddhist context, this was a word for citta-prasāda (clear or pure heart-mind).
In modern Japan (when read by non-Buddhists), this word is usually understood as "faith," "belief," or "devotion."
---
See Also: Self-Confidence
A Life of Serenity Yields Understanding
dàn bó yǐ míng zhì, níng jìng ér zhì yuǎn

淡泊以明志寧靜而致遠 is a kind of complex ten-character proverb composed by Zhuge Liang about 1800 years ago.

This is a Chinese proverb that means "Leading a simple life will yield a clear mind, and having inner peace will help you see far (into the world)."

What I have translated as "simple life" means NOT being materialistic and NOT competing in the rat race.

The last word means "far" but the deeper meaning is that you will surpass what you can currently see or understand. Perhaps even the idea of opening up vast knowledge and understanding of complex ideas.

The whole phrase has a theme that suggests if you are NOT an aggressive cut-throat person who fights his way to the top no matter how many people he crushes on the way, and instead seek inner peace, you will have a happier existence and be more likely to understand the meaning of life.
---
See Also: Serenity
This in-stock artwork might be what you are looking for, and ships right away...
Not the results for clear mind that you were looking for?
Below are some entries from our dictionary that may match your clear mind search...
Characters

If shown, 2nd row is Simp. Chinese

Pronunciation
Romanization
Simple Dictionary Definition

十住

see styles
shí zhù
shi2 zhu4

---

shih chu

---

jū jū

女人

see styles
nǚ ren
nu:3 ren5

---

nü jen

---

nyonin; jojin
にょにん; じょじん

---

woman

---

Woman, described in the Nirvāṇa sūtra 浬槃經 9 as the "abode of all evil", 一切女人皆是衆惡之所住處 The 智度論 14 says: 大火燒人是猶可近, 淸風無形是亦可捉, 蚖蛇含毒猶亦可觸, 女人之心不可得實 "Fierce fire that would burn men may yet be approached, clear breezes without form may yet be grasped, cobras that harbour poison may yet be touched, but a woman's heart is never to be relied upon." The Buddha ordered Ānanda: "Do not Look at a woman; if you must, then do not talk with her; if you must, then call on the Buddha with all your mind"— an evidently apocryphal statement of 文句 8.

心水

see styles
xīn shuǐ
xin1 shui3

---

hsin shui

---

motomi
もとみ

---

The mind as a reflecting water-surface; also the mind as water, clear or turbids.

心竅

---

心窍

see styles
xīn qiào
xin1 qiao4

---

hsin ch`iao
hsin chiao

性心

see styles
xìng xīn
xing4 xin1

---

hsing hsin

---

shōshin

止觀

---

止观

see styles
zhǐ guān
zhi3 guan1

---

chih kuan

---

shikan

靈醒

---

灵醒

see styles
líng xǐng
ling2 xing3

---

ling hsing

天眞獨朗

---

天眞独朗

see styles
tiān zhēn dú lǎng
tian1 zhen1 du2 lang3

---

t`ien chen tu lang
tien chen tu lang

---

tenshin dokurō

提神醒腦

---

提神醒脑

see styles
tí shén xǐng nǎo
ti2 shen2 xing3 nao3

---

t`i shen hsing nao
ti shen hsing nao

有的放矢

see styles
yǒu dì fàng shǐ
you3 di4 fang4 shi3

---

yu ti fang shih

無想無念

see styles
musoumunen / musomunen
むそうむねん

Variations:
心頭滅却すれば火もまた涼し
心頭滅却すれば火も亦涼し

see styles
shintoumekkyakusurebahimomatasuzushi / shintomekkyakusurebahimomatasuzushi
しんとうめっきゃくすればひもまたすずし
(expression) (proverb) if you clear your mind of all worldly thoughts, even fire will feel cool

Variations:
心頭を滅却すれば火もまた涼し
心頭を滅却すれば火も亦涼し

see styles
shintouomekkyakusurebahimomatasuzushi / shintoomekkyakusurebahimomatasuzushi
しんとうをめっきゃくすればひもまたすずし
(expression) (proverb) (See 心頭滅却) if you clear your mind of all worldly thoughts, even fire will feel cool
The following table may be helpful for those studying Chinese or Japanese...
Title
Characters
Romaji

(Romanized Japanese)

Various forms of Romanized Chinese
Mind Body Spirit
身心靈 / 身心霊

---

身心灵
mi shin rei

---

mishinrei
shēn xīn líng

---

shen1 xin1 ling2

---

shen xin ling

---

shenxinling
shen hsin ling

---

shenhsinling
Clarity
清
sei
qīng / qing1 / qing
ch`ing / ching
Purity of Mind
心澄淨
shin chou jou

---

shinchoujou

---

shin cho jo
xīn chéng jìng

---

xin1 cheng2 jing4

---

xin cheng jing

---

xinchengjing
hsin ch`eng ching

---

hsinchengching

---

hsin cheng ching
Confidence
Faithful Heart
信心
shin jin / shinjin
xìn xīn / xin4 xin1 / xin xin / xinxin
hsin hsin / hsinhsin
A Life of Serenity Yields Understanding
淡泊以明志寧靜而致遠

---

淡泊以明志宁静而致远
dàn bó yǐ míng zhì, níng jìng ér zhì yuǎn

---

dan4 bo2 yi3 ming2 zhi4, ning2 jing4 er2 zhi4 yuan3

---

dan bo yi ming zhi, ning jing er zhi yuan
tan po i ming chih, ning ching erh chih yüan
In some entries above you will see that characters have different versions above and below a line.
In these cases, the characters above the line are Traditional Chinese, while the ones below are Simplified Chinese.
Many custom options...




And formats...



Successful Chinese Character and Japanese Kanji calligraphy searches within the last few hours...
All of our calligraphy wall scrolls are handmade.
When the calligrapher finishes creating your artwork, it is taken to my art mounting workshop in Beijing where a wall scroll is made by hand from a combination of silk, rice paper, and wood.
After we create your wall scroll, it takes at least two weeks for air mail delivery from Beijing to you.
Allow a few weeks for delivery. Rush service speeds it up by a week or two for $10!
When you select your calligraphy, you'll be taken to another page where you can choose various custom options.
Check out my lists of Japanese Kanji Calligraphy Wall Scrolls and Old Korean Hanja Calligraphy Wall Scrolls.
Some people may refer to this entry as Clear Mind Kanji, Clear Mind Characters, Clear Mind in Mandarin Chinese, Clear Mind Characters, Clear Mind in Chinese Writing, Clear Mind in Japanese Writing, Clear Mind in Asian Writing, Clear Mind Ideograms, Chinese Clear Mind symbols, Clear Mind Hieroglyphics, Clear Mind Glyphs, Clear Mind in Chinese Letters, Clear Mind Hanzi, Clear Mind in Japanese Kanji, Clear Mind Pictograms, Clear Mind in the Chinese Written-Language, or Clear Mind in the Japanese Written-Language.
102 people have searched for Clear Mind in Chinese or Japanese in the past year.
Clear Mind was last searched for by someone else on Mar 9th, 2023