Buy a Freedom Chinese/Japanese Calligraphy Wall Scroll
We have many options to create artwork with the Chinese characters / Asian symbols / Japanese Kanji for Freedom on a wall scroll or portrait.
If you want to create a cool Freedom wall scroll, this is the place. Below you will find a few Asian symbols that express the idea of Freedom.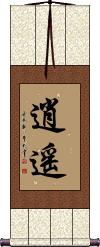 This has a good written-meaning for a wall scroll in Chinese. What I mean by that is while there is a way to say "freedom" orally, this word seems more appropriate for calligraphy. This can also be translated as "free and unfettered" from Chinese.

Note: In Korean and Japanese, this means one who rambles, saunters or strolls (this entry is best if your audience is Chinese).

自由 is a common word to express the idea of freedom in both Chinese and Japanese.

自由 is the essence of "being free" but also acts as the suffix to create words like freestyle swimming, free trade, civil liberties, free will, freedom fighter, religious freedom, and liberal.

無事 is a Zen Buddhist term meaning no problem and no trouble.

無事 is the Zen state of perfect freedom from troubles and leaving secular affairs behind.

Sometimes this is used to describe the state of satori and complete tranquility of mind.

Written as 無事に with an extra Hiragana on the end, this becomes an adverb to describe something in the condition of safety, peace, quietness, and without troubles.

無事 (Buji) can also be a given name in Japan.

This has more meaning in the Japanese Zen Buddhist community than in China or Korea, where it can mean "be free" or "nothing to do or worry about."

The first two characters mean freedom or liberty.

The second two characters mean spirit, heart, mind, or soul.

Together, this is a title that is very similar to the English term "free spirit."
---
See Also: Independence

The first two characters mean freedom or liberty.

The middle character is a connecting Hiragana which is needed for Japanese grammar.

The last two characters mean spirit, heart, mind, or soul.

Together, this is a title that is very similar to the English term "free spirit."
---
See Also: Independence

This concept has existed for thousands of years that humans have the ability to understand right and wrong, then make a decision one way or the other (thus affecting their own fate).

Sources such as Confucius, Buddhist scriptures, the Qur'an and the Bible all address this idea.

As for the characters shown here, the first two mean free, freedom, or liberty. The last two simply mean "will."
---
See Also: Strong Willed | Fate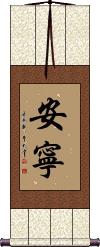 安寧 is a nice word that means peaceful, tranquil, calm, composed, "free from worry," "public peace," tranquility, good health, well-being, or welfare in Chinese and Korean.

Note: The definition in Japanese is not so broad but still means peaceful or "public peace."
The following table may be helpful for those studying Chinese or Japanese...
Title
Characters
Romaji

(Romanized Japanese)

Various forms of Romanized Chinese
To Be Free
Freedom
逍遙

---

逍遥
shou you / shouyou / sho yo / shoyo
xiāo yáo / xiao1 yao2 / xiao yao / xiaoyao
hsiao yao / hsiaoyao
Freedom
Liberty
自由
jiyuu / jiyu
zì yóu / zi4 you2 / zi you / ziyou
tzu yu / tzuyu
Freedom Fighter
自由戦士
ji yuu sen shi

---

jiyuusenshi

---

ji yu sen shi

---

jiyusenshi
Freedom from Anger and Worry Yields Longevity
不氣不愁活到白頭

---

不气不愁活到白头
bù qì bù chóu huó dào bái tóu

---

bu4 qi4 bu4 chou2 huo2 dao4 bai2 tou2

---

bu qi bu chou huo dao bai tou

---

buqibuchouhuodaobaitou
pu ch`i pu ch`ou huo tao pai t`ou

---

puchipuchouhuotaopaitou

---

pu chi pu chou huo tao pai tou
Sexual Freedom
性の自由
sei no ji yuu

---

seinojiyuu

---

sei no ji yu

---

seinojiyu
No Trouble
Freedom from Problems
無事

---

无事
buji
wú shì / wu2 shi4 / wu shi / wushi
wu shih / wushih
Free Spirit
自由精神
zì yóu jīng shén

---

zi4 you2 jing1 shen2

---

zi you jing shen

---

ziyoujingshen
tzu yu ching shen

---

tzuyuchingshen
Free Spirit
自由な精神
ji yuu na sei shin

---

jiyuunaseishin

---

ji yu na sei shin

---

jiyunaseishin
Free Will
自由意志
jiyuu ishi / jiyuuishi / jiyu ishi / jiyuishi
zì yóu yì zhì

---

zi4 you2 yi4 zhi4

---

zi you yi zhi

---

ziyouyizhi
tzu yu i chih

---

tzuyuichih
Peaceful
Tranquil
Calm
Free From Worry
安寧

---

安宁
an nei / annei
ān níng / an1 ning2 / an ning / anning
In some entries above you will see that characters have different versions above and below a line.
In these cases, the characters above the line are Traditional Chinese, while the ones below are Simplified Chinese.
All of our calligraphy wall scrolls are handmade.
When the calligrapher finishes creating your artwork, it is taken to my art mounting workshop in Beijing where a wall scroll is made by hand from a combination of silk, rice paper, and wood.
After we create your wall scroll, it takes at least two weeks for air mail delivery from Beijing to you.
Allow a few weeks for delivery. Rush service speeds it up by a week or two for $10!
When you select your calligraphy, you'll be taken to another page where you can choose various custom options.