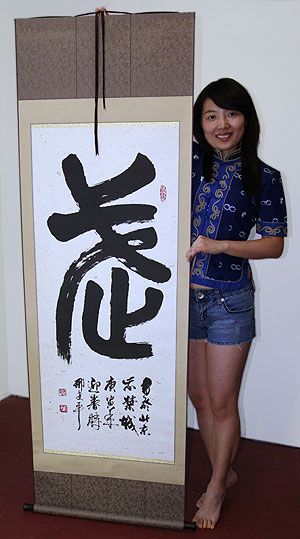 The wall scroll that Sandy is holding in this picture is a "large size"
single-character wall scroll.
We also offer custom wall scrolls in small, medium, and an even-larger jumbo size.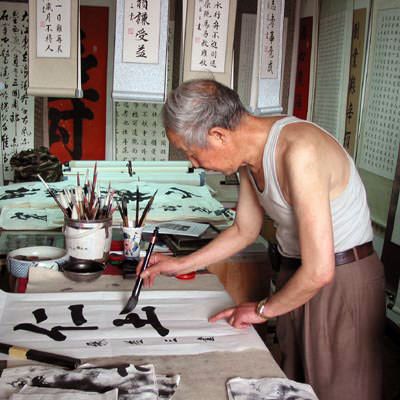 Professional calligraphers are getting to be hard to find these days.
Instead of drawing characters by hand, the new generation in China merely type roman letters into their computer keyboards and pick the character that they want from a list that pops up.

There is some fear that true Chinese calligraphy may become a lost art in the coming years. Many art institutes in China are now promoting calligraphy programs in hopes of keeping this unique form of art alive.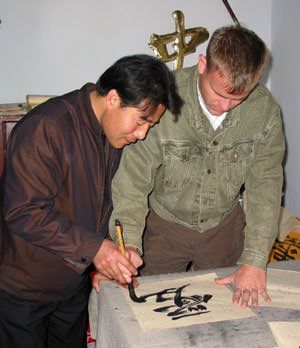 Even with the teachings of a top-ranked calligrapher in China, my calligraphy will never be good enough to sell. I will leave that to the experts.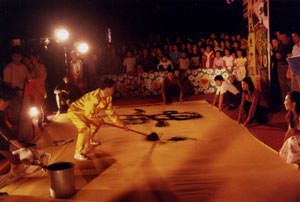 The same calligrapher who gave me those lessons also attracted a crowd of thousands and a TV crew as he created characters over 6-feet high. He happens to be ranked as one of the top 100 calligraphers in all of China. He is also one of very few that would actually attempt such a feat.