It's not too late! We can deliver custom Chinese calligraphy art to the USA before Christmas! Order now!
Not what you want?
Try other similar-meaning words, fewer words, or just one word.

Enter your email below, and get an automatic notice when results for Never Say Never are added or updated...
Never Say Never in Chinese / Japanese...
Buy a Never Say Never calligraphy wall scroll here!
Personalize your custom "Never Say Never" project by clicking the button next to your favorite "Never Say Never" title below...
Never Give In / Never Succumb / Never Lose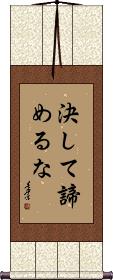 決して諦めるな is a Japanese term that informally means "never give up."

It's also a Japanese way to say "never surrender."
---
Note: Because this selection contains some special Japanese Hiragana characters, it should be written by a Japanese calligrapher.
---
See Also: Tenacity | Perseverance | Hope
Better Late Than Never
It's Never Too Late Too Mend
wáng yáng bǔ láo yóu wèi wéi wǎn

Long ago in what is now China, there were many kingdoms throughout the land. This time period is known as "The Warring States Period" by historians because these kingdoms often did not get along with each other.

Some time around 279 B.C. the Kingdom of Chu was a large but not particularly powerful kingdom. Part of the reason it lacked power was the fact that the King was surrounded by "yes men" who told him only what he wanted to hear. Many of the King's court officials were corrupt and incompetent which did not help the situation.

The King was not blameless himself, as he started spending much of his time being entertained by his many concubines.

One of the King's ministers, Zhuang Xin, saw problems on the horizon for the Kingdom, and warned the King, "Your Majesty, you are surrounded by people who tell you what you want to hear. They tell you things to make you happy, and cause you to ignore important state affairs. If this is allowed to continue, the Kingdom of Chu will surely perish, and fall into ruins."

This enraged the King who scolded Zhuang Xin for insulting the country and accused him of trying to create resentment among the people. Zhuang Xin explained, "I dare not curse the Kingdom of Chu but I feel that we face great danger in the future because of the current situation." The King was simply not impressed with Zhuang Xin's words.
Seeing the King's displeasure with him and the King's fondness for his court of corrupt officials, Zhuang Xin asked permission of the King that he may take leave of the Kingdom of Chu, and travel to the State of Zhao to live. The King agreed, and Zhuang Xin left the Kingdom of Chu, perhaps forever.

Five months later, troops from the neighboring Kingdom of Qin invaded Chu, taking a huge tract of land. The King of Chu went into exile, and it appeared that soon, the Kingdom of Chu would no longer exist.

The King of Chu remembered the words of Zhuang Xin, and sent some of his men to find him. Immediately, Zhuang Xin returned to meet the King. The first question asked by the King was, "What can I do now?"

Zhuang Xin told the King this story:

A shepherd woke one morning to find a sheep missing. Looking at the pen saw a hole in the fence where a wolf had come through to steal one of his sheep. His friends told him that he had best fix the hole at once. But the Shepherd thought since the sheep is already gone, there is no use fixing the hole.
The next morning, another sheep was missing. And the Shepherd realized that he must mend the fence at once. Zhuang Xin then went on to make suggestions about what could be done to reclaim the land lost to the Kingdom of Qin, and reclaim the former glory and integrity in the Kingdom of Chu.

The Chinese idiom shown above came from this reply from Zhuang Xin to the King of Chu almost 2,300 years ago.
It translates roughly into English as...
"Even if you have lost some sheep, it's never too late to mend the fence."

This proverb is often used in modern China when suggesting in a hopeful way that someone change their ways, or fix something in their life. It might be used to suggest fixing a marriage, quit smoking, or getting back on track after taking an unfortunate path in life among other things one might fix in their life.

I suppose in the same way that we might say, "Today is the first day of the rest of your life" in our western cultures to suggest that you can always start anew.

Note: This does have Korean pronunciation but is not a well-known proverb in Korean (only Koreans familiar with ancient Chinese history would know it). Best if your audience is Chinese.
Death Before Surrender
Rather die than compromise

寧死不屈 is often translated as "Death Before Dishonor."

The literal translation is more like, "Better die than compromise." The last two characters mean "not to bend" or "not to bow down." Some might even say that it means "not to surrender." Thus, you could say this proverb means, "Better to die than live on my knees" or simply "no surrender" (with the real idea being that you would rather die than surrender).
Guanxi
The Chinese Concept of Relationship and Exchange of Favors

The dictionary definition is:
relations / relationship / to concern / to affect / to have to do with / connection.

But there's more to it...

In China, your relationship that you have with certain people can open doors for you. Having guanxi with someone also means they would never defraud you but instead are honor-bound to treat you fairly (of course, this goes both ways). Sometimes it is suggested that guanxi is the exchange of favors. I would say this is more having a relationship that allows you to ask for, and expect favors without shame.

There is no concept in western culture that exactly matches guanxi but perhaps having a social or professional network is similar.

Note that there are some variations common within Chinese, Japanese Kanji, and Korean Hanja for this word...



Japanese tend to use a Chinese alternate form as shown to the right for
the first character.



There's also another alternate form of that first character (currently used as the official Simplified form in mainland China) which looks like the character shown to the right. It's basically the central radical of the alternate version shown above but without the "door radical" around it. In more free-flowing calligraphy styles, this version would be the likely choice for a calligrapher.



In Modern Japanese, they use the character shown to the right.
They also tend to use this same form in Korean Hanja (I've only checked this word in my Korean dictionary but it has not been confirmed by a translator's review).



If that was not confusing enough, there is another alternate form of that second character. See right.

An Asian calligrapher of any nationality may use any of these forms at their discretion. However, They would tend to stick to the most common form used in their respective languages.

If you have any preference on any of these issues, please give us a special note with your order, and we'll make sure it's done the way you want.
This in-stock artwork might be what you are looking for, and ships right away...
The following table may be helpful for those studying Chinese or Japanese...
Title
Characters
Romaji

(Romanized Japanese)

Various forms of Romanized Chinese
Never Give In
Never Succumb
Never Lose
決して諦めるな
kesshite akirameruna

---

kesshiteakirameruna

---

keshite akirameruna

---

keshiteakirameruna
Better Late Than Never
亡羊補牢猶未為晚

---

亡羊补牢犹未为晚
wáng yáng bǔ láo yóu wèi wéi wǎn

---

wang2 yang2 bu3 lao2 you2 wei4 wei2 wan3

---

wang yang bu lao you wei wei wan
wang yang pu lao yu wei wei wan

---

wangyangpulaoyuweiweiwan
Death Before Surrender
寧死不屈

---

宁死不屈
níng sǐ bù qū

---

ning2 si3 bu4 qu1

---

ning si bu qu

---

ningsibuqu
ning ssu pu ch`ü

---

ningssupuchü

---

ning ssu pu chü
Guanxi
關繫 / 関繫 / 關係

---

关系 / 関係
kankei
guān xì / guan1 xi4 / guan xi / guanxi
kuan hsi / kuanhsi
In some entries above you will see that characters have different versions above and below a line.
In these cases, the characters above the line are Traditional Chinese, while the ones below are Simplified Chinese.
Not the results for never say never that you were looking for?
Below are some entries from our dictionary that may match your never say never search...
Characters

If shown, 2nd row is Simp. Chinese

Pronunciation
Romanization
Simple Dictionary Definition

真逆

see styles

masaka / まさか

天無絕人之路

---

天无绝人之路

see styles
tiān wú jué rén zhī lù / tian1 wu2 jue2 ren2 zhi1 lu4

---

t`ien wu chüeh jen chih lu / tien wu chüeh jen chih lu
Many custom options...




And formats...



Successful Chinese Character and Japanese Kanji calligraphy searches within the last few hours...
All of our calligraphy wall scrolls are handmade.
When the calligrapher finishes creating your artwork, it is taken to my art mounting workshop in Beijing where a wall scroll is made by hand from a combination of silk, rice paper, and wood.
After we create your wall scroll, it takes at least two weeks for air mail delivery from Beijing to you.
Allow a few weeks for delivery. Rush service speeds it up by a week or two for $10!
When you select your calligraphy, you'll be taken to another page where you can choose various custom options.
Check out my lists of Japanese Kanji Calligraphy Wall Scrolls and Old Korean Hanja Calligraphy Wall Scrolls.
Some people may refer to this entry as Never Say Never Kanji, Never Say Never Characters, Never Say Never in Mandarin Chinese, Never Say Never Characters, Never Say Never in Chinese Writing, Never Say Never in Japanese Writing, Never Say Never in Asian Writing, Never Say Never Ideograms, Chinese Never Say Never symbols, Never Say Never Hieroglyphics, Never Say Never Glyphs, Never Say Never in Chinese Letters, Never Say Never Hanzi, Never Say Never in Japanese Kanji, Never Say Never Pictograms, Never Say Never in the Chinese Written-Language, or Never Say Never in the Japanese Written-Language.
0 people have searched for Never Say Never in Chinese or Japanese in the past year.
Never Say Never was last searched for by someone else on Oct 26th, 2019