Custom Caring Chinese & Japanese Calligraphy Wall Scroll
We have many options to create artwork with Caring characters on a wall scroll or portrait.
If you want to create a cool Caring Asian character tattoo, you can purchase that here: Asian / Chinese / Japanese Tattoo Image Service ...and we'll give you many tattoo image templates of the ancient Asian symbols that express the idea of caring.
---
---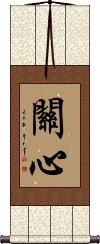 關心 means caring in Chinese.

Caring is giving love and attention to people and things that matter to you and anyone who needs help. When you care about people, you help them. You do a careful job, giving your very best effort. You treat people and things gently and respectfully. Caring makes the world a safer place.

Note: 關心 is also a word in Korean Hanja, but in Korean, it means taking interest or concern. In Korean, it's still a good word, but it doesn't quite have the "caring for a person" meaning that it does in Chinese.
---
See Also: Benevolence | Altruism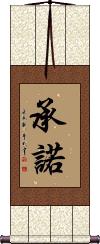 承諾 embodies the idea of commitment but also means to make a big effort or to undertake a great task.

Commitment is caring deeply about something or someone. It is deciding carefully what you want to do and then giving it 100%, holding nothing back. You give your all to a friendship, a task, or something you believe in. You finish what you start. You keep your promises.

In Chinese, this word directly means to undertake something or to make a promise to do something.

Outside of the commitment idea, this particular word can also mean approval, acceptance, consent, assent, acquiescence, or agreement, depending on context (especially in Japanese and Korean). Therefore, this word is probably best if your audience is Chinese.
---
See Also: Partnership | Hard Work | Dedication

These two characters mean compassion and sympathy in Chinese, Japanese, and Korean, which makes this word universal.

Compassion is caring and understanding someone is hurt or troubled (even if you don't know them). It is wanting to help, even if all you can do is listen and say kind words. You forgive mistakes. You are a friend when someone needs a friend.
---
See Also: Kindness

溫厚 is a Chinese, Japanese, and old Korean word for gentle or gentleness.

This can also mean "kindness" (more as an adjective like "kind person").
---

The modern Japanese version of the first character looks like the one to the right. If you want this modern Japanese form, just click on that Kanji instead of the button above.
---
See Also: Kindness

樂於助人 is about helpfulness, being of service to others, and doing thoughtful things that make a difference in their lives.

Offer your help without waiting to be asked. Ask for help when you need it. When we help each other, we get more done. We make our lives easier.
---
See Also: Charity | Benevolence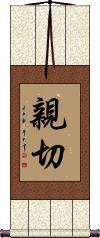 親切 is a Chinese/Japanese/Korean word that can also mean affectionate, cordial, warm, or close (emotionally).

Kindness shows you care and are doing some good to make life better for others. Be thoughtful about people's needs. Show love and compassion to someone who is sad or needs your help. When you are tempted to be cruel, to criticize or tease, decide to be kind instead.


---
See Also: Love | Benevolence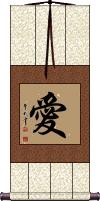 愛 universally means love in Chinese, Japanese Kanji, old Korean Hanja, and old Vietnamese.

愛 is one of the most recognized Asian symbols in the West and is often seen on tee shirts, coffee mugs, tattoos, and more.

愛 can also be defined as affection, to be fond of, to like, or to be keen on. It often refers to romantic love, and is found in phrases like, "I love you." But in Chinese, one can say, "I love that movie" using this character as well.

This can also be a pet name or part of a pet name in the way we say "dear" or "honey" in English.

This can be a girl's name "Ai" in both Chinese and Japanese.
---
More about this character:

This may be hard to imagine as a westerner but the strokes at the top of this love character symbolize family & marriage.



The symbol in the middle is a little easier to identify. It is the character for "heart" (it can also mean "mind" or "soul"). I guess you can say that no matter if you are from the East or the West, you must put your heart into your love.



The strokes at the bottom create a modified character that means "friend" or "friendship."

I suppose you could say that the full meaning of this love character is to love your family, spouse, and friends with all of your heart, since all three elements exist in this character.
---
See Also: I Love You | Benevolence | Friendliness | Double Happiness Happy Marriage Wall Scroll
Shiken Haramitsu Daikomyo
shi ken ha ra mitsu dai kou myou

四拳波羅蜜大光明 is "shiken haramitsu daikōmyō," a famous Japanese Buddhist mantra.

四拳 = shi-ken = four fists (many translate this as "four hearts").
波羅蜜 = ha-ra-mitsu = A loanword representing pāramitā, or entrance into Nirvana. Awkwardly, it also means jackfruit.
大光明 = dai-kou-myo = big/great light bright (great bright light).

Shiken represents four hearts:
1. The Merciful Heart - Love and caring for all living things.
2. The Sincere Heart - Pursues righteousness, or the right path - sincerely trying to do what is right.
3. The Attuned Heart - Knows that nature and fate have their ways, and thus stay in tune with the universe.
4. The Dedicated Heart - Steadfast on the chosen path to the end.
The following table may be helpful for those studying Chinese or Japanese...
Title
Characters
Romaji

(Romanized Japanese)

Various forms of Romanized Chinese
Caring
關心

---

关心
guān xīn / guan1 xin1 / guan xin / guanxin
kuan hsin / kuanhsin
Commitment
承諾

---

承诺
shoudaku / shodaku
chéng nuò

---

cheng2 nuo4

---

cheng nuo

---

chengnuo
ch`eng no

---

chengno

---

cheng no
Compassion
同情
dou jou / doujou / do jo
tóng qíng

---

tong2 qing2

---

tong qing

---

tongqing
t`ung ch`ing

---

tungching

---

tung ching
Gentleness
溫柔

---

温柔
wēn róu / wen1 rou2 / wen rou / wenrou
wen jou / wenjou
Gentleness
溫厚

---

温厚
on kou / onkou / on ko
wēn hòu / wen1 hou4 / wen hou / wenhou
Helpfulness
樂於助人

---

乐于助人
lè yú zhù rén

---

le4 yu2 zhu4 ren2

---

le yu zhu ren

---

leyuzhuren
le yü chu jen

---

leyüchujen
Kindness
Caring
親切

---

亲切
shin setsu / shinsetsu
qīn qiè / qin1 qie4 / qin qie / qinqie
ch`in ch`ieh / chinchieh / chin chieh
Love
愛

---

爱
ai
ài / ai4 / ai
Shiken Haramitsu Daikomyo
四拳波羅蜜大光明
shi ken ha ra mitsu dai kou myou

---

shi ken ha ra mitsu dai ko myo
In some entries above you will see that characters have different versions above and below a line.
In these cases, the characters above the line are Traditional Chinese, while the ones below are Simplified Chinese.
All of our calligraphy wall scrolls are handmade.
When the calligrapher finishes creating your artwork, it is taken to my art mounting workshop in Beijing where a wall scroll is made by hand from a combination of silk, rice paper, and wood.
After we create your wall scroll, it takes at least two weeks for air mail delivery from Beijing to you.
Allow a few weeks for delivery. Rush service speeds it up by a week or two for $10!
When you select your calligraphy, you'll be taken to another page where you can choose various custom options.
Caring for Japanese Iris
...Landscape Plant Files > Files About Flowers > Flowers, Bulbs > Iris, Japanese > ... Cut off faded Japanese iris flowers to maintain an attractive look and...
Caring for your Japanese Sushi Knives
Discount Prices and Free Shipping on Wusthof Cutlery, Henckels Cutlery, Global ... Keeping your Japanese knives spotless is just as important as sharpening them.
Caring for Japanese Wisteria
...Plant Helper > Landscape Plant Files > Vines and Ivy > Wisteria, Japanese > ... Watering. Japanese wisterias appreciate moist soil.
Kiddlyn Caring 4 Japanese Bobtails
What to expect with your new kitten. Care, feeding and litter pan tips for your new kitten.
... This information is not intended to be a substitute for...
Japanese Knife's FAQs
Caring for your water stone is as important as caring for your Japanese knives.
... What are the names of the different western style Japanese knives? A:...
The London Japanese Language Meetup Group (London) - Meetup.com
Come to a Japanese Language Meetup to practice speaking, ... caring.,This is one of the reasons I was happy to find this meet up, as they gone back to Japan!...
Chin Information, Japanese Spaniel, Japanese Chin
...Dog Breed Information Center®, Japanese Spaniels, Japanese Chins, Chin, Chins ... His owner states, "He has a comical but caring personality.