Dedication Chinese / Japanese Calligraphy Wall Scrolls
Buy Dedication characters on a custom wall scroll or portrait...
---
---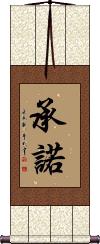 承諾 embodies the idea of commitment but also means to make a big effort or to undertake a great task.

Commitment is caring deeply about something or someone. It is deciding carefully what you want to do and then giving it 100%, holding nothing back. You give your all to a friendship, a task, or something you believe in. You finish what you start. You keep your promises.

In Chinese, this word directly means to undertake something or to make a promise to do something.

Outside of the commitment idea, this particular word can also mean approval, acceptance, consent, assent, acquiescence, or agreement, depending on context (especially in Japanese and Korean). Therefore, this word is probably best if your audience is Chinese.
---
See Also: Partnership | Hard Work
Dedication
Dedicated to One Thing

專用 is the dedication you might have to your job or a person.

Trivia: It is the same word used as an adjective in front of the word for "network" to say "dedicated network" in Chinese.

Please note: While this is a word in Korean, the meaning is private or "exclusive use." So this is best if your audience is Chinese.
---
See Also: Devotion | Passion | Tenacious | Commitment

専念 is the Japanese word for dedication.

It means "give undivided attention" or "devote oneself to (something)."

Note: This can be pronounced in Korean, but it's not a commonly used term.
---
See Also: Devotion | Passion | Tenacious | Commitment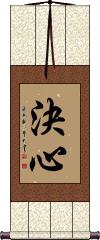 決心 is a Chinese, Japanese, and Korean word that holds the dictionary definition of determination but literally means determined heart.

The first character means to determine or determined.

The second character means heart, mind, or soul, so you can imagine that this form of determination partially means putting your heart into something. It can also be translated as resolve, resolution, or decision (as in a decision made and followed).
---
See Also: Devotion | Tenacious | Passion | Will-Power
Devotion / Dedication / Attentive / Focused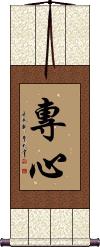 專心 makes a word that means "paying attention with your heart."

It's often translated as "dedication," as in "be absorbed in" or "concentrate one's efforts." It's also used to mean "with the single mind," "whole-heartedly," "paying attention," "undivided attention," "concentration (-ed)," "engrossed," "devotionally (listening/watching)," and/or "attentive."

The first character means "for a particular person, occasion, or purpose," "focused on one single thing," "concentrated," and sometimes, "special."

The second character means "heart" or "mind" by itself.

My favorite translation, which comes from the Oxford Advanced Chinese/English Dictionary, is, "wholehearted devotion."

If it seems like the meaning of this word is quite open, you are correct. The context in which the word is used matters a lot. It can mean different things depending on how you use it. This makes it kind of nice as you can decide what this means to you (within some limits). This is always positive in meaning, so even if a Chinese person reads it differently than you, it will still have a good meaning.
---

In Japanese, they tend to use a variation of the second character which has one less stroke. If you want your calligraphy written this Japanese form, please click on the Kanji shown to the right instead of the button above. Note: Japanese and Chinese people will recognize either form.
---
Faith / Trusting in the Unseen
Industrious / Hard Working
Sacrifice / Devotion / Dedication
(complete bodily devotion)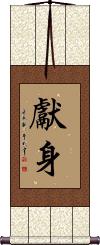 獻身 is used to describe being so devoted to something that you will make sacrifices for that goal/thing/person.

You can also translate this word as any of the following:
Give one's life for...
Sacrifice one's life for...
To dedicate oneself to...
Self-devotion
Dedication

Commit one's energy to...
Devote to...
Self-sacrifice
Giving your whole body to...

This can be a dedication to or for someone but is often used as a dedication or making sacrifices for your country, public service, or a cause. For instance, an Olympic athlete makes great sacrifices to train in his/her sport for their country and compatriots.
---


While the form shown to the upper-left is considered an ancient Japanese version, in modern Japan, they use the simplified version of the first Kanji (shown to the right). Click on the Kanji at the right instead of the button above if you want this modern Japanese version.

If you are looking for a more religious meaning of devotion, see Faith.
---
See Also: Confidence

In modern Japanese, 真剣勝負 means to take something very seriously.

The literal and historical meaning is "real sword battle." In old times, a Samurai apprentice would practice with a wooden practice sword. Once trained and qualified, they would wield a real steel sword made for battle and killing. They were ready for a "death match" or Shinken Shobu.

真剣 is an adjective that has come to mean serious/earnest. The literal translation is "real sword."

勝負 in the simplest terms, means match, contest, game, or bout. Depending on the context, it could also mean victory or defeat, winning and losing, or the outcome of a battle.

There is a suggestion in Shinken Shobu that you train with serious and real intent, as we should train with the same fervor and dedication as if the battle was real. "Train as we fight."
---
See Also: The More We Sweat in Training the Less We Bleed in Battle | Cry in the Dojo - Laugh on the Battlefield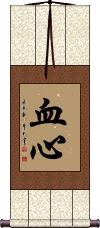 When you take 血心 apart, you find the sum is slightly different than the parts. The first character means blood, and the second means heart. It is important to note that for thousands of years, it was believed that your heart was both your soul and your mind in Asian culture. When you add blood to the heart, it is your whole being - the pure and clean dedication of your whole soul.

Most Chinese dictionaries define this as the sincerity of heart or a MEDICAL TERM!!!
Please think carefully before ordering this selection - it was only added as others have used this for coffee cups and other novelties (though perhaps naively).

頑強 means "Tenacious," "Hard to Defeat," or "Dogged."

Alone, the first character means mischievous, obstinate, or stubborn. But it loses some of the mischievous meaning when the second character is added.

The second character means strength, force, power, or better.
---
See Also: Determination | Devotion | Never Give Up
This in-stock artwork might be what you are looking for, and ships right away...
Gallery Price: $65.00
Your Price: $39.88
Gallery Price: $65.00
Your Price: $39.88
The following table may be helpful for those studying Chinese or Japanese...
Title
Characters
Romaji

(Romanized Japanese)

Various forms of Romanized Chinese
Commitment
承諾

---

承诺
shoudaku / shodaku
chéng nuò

---

cheng2 nuo4

---

cheng nuo

---

chengnuo
ch`eng no

---

chengno

---

cheng no
Dedication
專用

---

专用
zhuān yòng

---

zhuan1 yong4

---

zhuan yong

---

zhuanyong
chuan yung

---

chuanyung
Dedication
専唸

---

専念
sennen
Determination
決心

---

决心
kesshin / keshin
jué xīn / jue2 xin1 / jue xin / juexin
chüeh hsin / chüehhsin
Devotion
Dedication
Attentive
Focused
專心 / 専心 / 耑心

---

专心
sen shin / senshin
zhuān xīn

---

zhuan1 xin1

---

zhuan xin

---

zhuanxin
chuan hsin

---

chuanhsin
Faith
Trusting in the Unseen
信念
shinnen
xìn niàn / xin4 nian4 / xin nian / xinnian
hsin nien / hsinnien
Industrious
Hard Working
愛崗敬業

---

爱岗敬业
ài gǎng jìng yè

---

ai4 gang3 jing4 ye4

---

ai gang jing ye

---

aigangjingye
ai kang ching yeh

---

aikangchingyeh
Sacrifice
Devotion
Dedication
獻身

---

献身
ken shin / kenshin
xiàn shēn

---

xian4 shen1

---

xian shen

---

xianshen
hsien shen

---

hsienshen
Shinken Shobu
真剣勝負
shinken shoubu

---

shinkenshoubu

---

shinken shobu
Sincere Heart
血心
xuě xīn / xue3 xin1 / xue xin / xuexin
hsüeh hsin / hsüehhsin
Tenacious
Tenacity
頑強

---

顽强
gan kyou / gankyou / gan kyo
wán qiáng

---

wan2 qiang2

---

wan qiang

---

wanqiang
wan ch`iang

---

wanchiang

---

wan chiang
In some entries above you will see that characters have different versions above and below a line.
In these cases, the characters above the line are Traditional Chinese, while the ones below are Simplified Chinese.
Many custom options...




And formats...




All of our calligraphy wall scrolls are handmade.
When the calligrapher finishes creating your artwork, it is taken to my art mounting workshop in Beijing where a wall scroll is made by hand from a combination of silk, rice paper, and wood.
After we create your wall scroll, it takes at least two weeks for air mail delivery from Beijing to you.
Allow a few weeks for delivery. Rush service speeds it up by a week or two for $10!
When you select your calligraphy, you'll be taken to another page where you can choose various custom options.