Not what you want?
Try other similar-meaning words, fewer words, or just one word.

Enter your email below, and get an automatic notice when results for Essence of Life are added or updated...
Essence of Life in Chinese / Japanese...
Buy an Essence of Life calligraphy wall scroll here!
Personalize your custom "Essence of Life" project by clicking the button next to your favorite "Essence of Life" title below...
---
---
Life Energy / Spiritual Energy
Chi Energy: Essence of Life / Energy Flow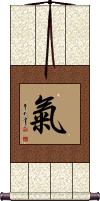 This energy flow is a fundamental concept of traditional Asian culture.

氣 is romanized as "Qi" or "Chi" in Chinese, "Gi" in Korean, and "Ki" in Japanese.
Chi is believed to be part of everything that exists, as in "life force" or "spiritual energy". It is most often translated as "energy flow", or literally as "air" or "breath". Some people will simply translate this as "spirit" but you have to take into consideration the kind of spirit we're talking about. I think this is weighted more toward energy than spirit.

The character itself is a representation of steam (or breath) rising from rice. To clarify, the character for rice looks like this:


Steam was apparently seen as visual evidence of the release of "life energy" when this concept was first developed. The Qi / Chi / Ki character is still used in compound words to mean steam or vapor.
The etymology of this character is a bit complicated. It's suggested that the first form of this character from bronze script (about 2500 years ago) looked like these samples:



However, it was easy to confuse this with the character for the number three. So the rice radical was added by 221 B.C. (the exact time of this change is debated). This first version with the rice radical looks like this:


The idea of Qi / Chi / Ki is really a philosophical concept. It's often used to refer to the "flow" of metaphysical energy that sustains living beings. Yet there is much debate that has continued for thousands of years as to whether Qi / Chi / Ki is pure energy, or consists partially, or fully of matter.

You can also see the character for Qi / Chi / Ki in common compound words such as Tai Chi / Tai Qi, Aikido, Reiki and Qi Gong / Chi Kung.

In the modern Japanese Kanji, the rice radical has been changed into two strokes that form an X.



The original and traditional Chinese form is still understood in Japanese but we can also offer that modern Kanji form in our custom calligraphy. If you want this Japanese Kanji, please click on the character to the right, instead of the "Select and Customize" button above.
---
More language notes: This is pronounced like "chee" in Mandarin Chinese, and like "key" in Japanese.
This is also the same way to write this in Korean Hanja where it is Romanized as "gi" and pronounced like "gee" but with a real G-sound, not a J-sound.
Though Vietnamese no longer use Chinese characters in their daily language, this character is still widely known in Vietnam.
---
See Also: Energy | Life Force | Vitality | Life | Birth | Soul

生命力 can mean "vitality" or "libido".

The first two characters mean "life" or "life force". The last character is a common word that means "strength". So together you get the meaning "life strength" which is the essence of vitality.

Some will also translate this word as "good health".
---
See Also: Life Force | Health
Science
The rules of life, the universe, and everything.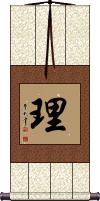 At essence, this word means science. But it's a very ambiguous and open term. 理 speaks to the reason that all things exist, and how things work from the microscopic to the cosmic level.

There are many translations for this word, including: inner essence; intrinsic order; reason; logic; truth; science; natural science (esp. physics); principle; the underlying principles of the cosmos; way of things; ruling principle; fundamental law; intrinsicality; universal basis; essential element.

If you are a scientist, or just searching for, "the answer to life, the universe, and everything", this could be the character for you.

This two-character Chinese, Japanese, and Korean word means vitality or virility.

Depending on context, this can also mean, "mind and spirit", "life energy", or "essence".

This term is often used in Buddhism with the same meaning.
---

Note: In modern Japanese, they have simplified the last Kanji to look like the version shown to the right. If you want this modern version, please click on this Kanji. Otherwise, if you click the button above, you'll get the ancient or traditional version (which is also universal between Chinese, old Korean, and old Japanese).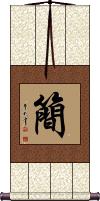 簡 expresses the idea of something simple, or the essence of simplicity in life in Chinese.

This can also refer to a simple slip of bamboo for taking notes or writing a letter (especially in Korean Hanja).

Technically this is a word meaning simple and brevity in Japanese but it's rarely used in modern Japanese. Therefore, you should probably only select this character if your audience is Chinese.
---
See Also: Brevity
Resilience / Restoration / Recovery

This title suggests having the power to recover, restore, rehabilitate. This can refer to yourself, someone else, or even to something, like rehabilitating a burned forest. 恢復力 is the essence of resilience in life.

The first two characters are a word that means to reinstate, to resume, to restore, to recover, to regain, to rehabilitate, restoration, rehabilitation, recovery, return, improvement, recovery (from an illness), recuperation, or convalescence.

The last character means strength or power.
---
See Also: Tenacity | Perseverance
Purified Spirit / Enlightened Attitude
A Japanese martial arts title/concept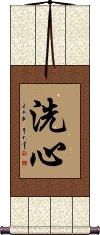 The first Kanji alone means to wash, to bathe, primness, cleanse or purify.

The second Kanji means heart, mind, soul, or essence.

Together, these two Kanji create a word that is defined as "purified spirit" or "enlightened attitude" within the context of Japanese martial arts.

洗心 is one of the five spirits of the warrior (budo), and is often used as a Japanese martial arts tenet. Under that context it's often defined this way: A spirit that protects and harmonizes the universe. Senshin is a spirit of compassion that embraces and serves all humanity and whose function is to reconcile discord in the world. It holds all life to be sacred. It is the Buddha mind.

This title will only be familiar to Japanese who practice certain martial arts. Others may not recognize this word at all.

洗心 does not show up as a word in too many Chinese dictionaries but it can be read and has the same meaning in Chinese.
---

There is an issue with the first character. The original, and probably most correct version is shown above. However, many dojo documents and other sources have used a more simple first character. Arguments ensue about which version is correct. If you want to be correct in the Japanese language, use the "Select and Customize" button above. If you want to match the Kanji used by your dojo, click the Kanji shown to the right. There is a slightly different meaning with this first character which means before, ahead, previous, future, precedence.

靈氣 is the title of a healing practice that is now found throughout the world but with origins in Japan.

Special note: Outside of the context of the healing practice of Reiki, this means "aura" or "spiritual essence that surrounds all living things". A Japanese person not familiar with the practice will take the "aura" meaning.

Reiki is a technique for stress reduction and relaxation that also heals. It can be compared to massage but is based on the idea that an unseen "life force energy" flows through us and is what causes us to be alive. If your life force energy is low, you'll be more likely to get sick or feel stress. If your life force energy is abundant and flowing well, you become more capable of being happy and healthy.

There is a lot of information available if you want to Google this term - my job is to offer the calligraphy, while you can decide if it is right for you.
Note: We are showing the ancient (traditional) form of the Reiki Kanji. I have seen Reiki written with both the slightly simplified version and this more classic form. If you want the form of Reiki with the two strokes in the shape of an X on the second character and the modern first character, simply click on the Kanji characters to the right.

Note: 靈氣 is also a Chinese word but in Chinese, these characters create a word that refers to a smart person or someone with high aspirations. It is not read as a healing method in Chinese.
In Korean Hanja, this can be read as "mysterious atmosphere" by a Korean who is not familiar with the practice of Reiki (still has a cool meaning in Korean).
This in-stock artwork might be what you are looking for, and ships right away...
The following table may be helpful for those studying Chinese or Japanese...
Title
Characters
Romaji

(Romanized Japanese)

Various forms of Romanized Chinese
Life Energy
Spiritual Energy
氣

---

气 / 気
ki
qì / qi4 / qi
ch`i / chi
Vitality
生命力
seimeiryoku
shēng mìng lì

---

sheng1 ming4 li4

---

sheng ming li

---

shengmingli
Science
理
kotowari
lǐ / li3 / li
Vitality
Virility
精氣

---

精气
seiki
jīng qì / jing1 qi4 / jing qi / jingqi
ching ch`i / chingchi / ching chi
Simplicity
簡

---

简
kan
jiǎn / jian3 / jian
chien
Resilience
Restoration
Recovery
恢復力

---

恢复力
huī fù lì

---

hui1 fu4 li4

---

hui fu li

---

huifuli
Purified Spirit
Enlightened Attitude
洗心

---

先心
sen shin / senshin
xǐ xīn / xi3 xin1 / xi xin / xixin
hsi hsin / hsihsin
Reiki
靈氣

---

灵气 霊気
reiki
líng qì / ling2 qi4 / ling qi / lingqi
ling ch`i / lingchi / ling chi
In some entries above you will see that characters have different versions above and below a line.
In these cases, the characters above the line are Traditional Chinese, while the ones below are Simplified Chinese.
Many custom options...




And formats...



Successful Chinese Character and Japanese Kanji calligraphy searches within the last few hours...
All of our calligraphy wall scrolls are handmade.
When the calligrapher finishes creating your artwork, it is taken to my art mounting workshop in Beijing where a wall scroll is made by hand from a combination of silk, rice paper, and wood.
After we create your wall scroll, it takes at least two weeks for air mail delivery from Beijing to you.
Allow a few weeks for delivery. Rush service speeds it up by a week or two for $10!
When you select your calligraphy, you'll be taken to another page where you can choose various custom options.
Check out my lists of Japanese Kanji Calligraphy Wall Scrolls and Old Korean Hanja Calligraphy Wall Scrolls.
Some people may refer to this entry as Essence of Life Kanji, Essence of Life Characters, Essence of Life in Mandarin Chinese, Essence of Life Characters, Essence of Life in Chinese Writing, Essence of Life in Japanese Writing, Essence of Life in Asian Writing, Essence of Life Ideograms, Chinese Essence of Life symbols, Essence of Life Hieroglyphics, Essence of Life Glyphs, Essence of Life in Chinese Letters, Essence of Life Hanzi, Essence of Life in Japanese Kanji, Essence of Life Pictograms, Essence of Life in the Chinese Written-Language, or Essence of Life in the Japanese Written-Language.
2 people have searched for Essence of Life in Chinese or Japanese in the past year.
Essence of Life was last searched for by someone else on Jan 29th, 2015