Kind Words in Chinese / Japanese...
Buy a Kind Words calligraphy wall scroll here!
Personalize your custom "Kind Words" project by clicking the button next to your favorite "Kind Words" title below...
---
---

In the simplest terms, this means kind words.

In the Buddhist context, this is one of the four methods of approach to people which the bodhisattvas use to guide them to the way of the Buddha.

Other translations include loving speech, or simply the words of a bodhisattva.

愛語 is also a common female name, Aigo in Japanese.

These two characters mean compassion and sympathy in Chinese, Japanese, and Korean, which makes this word universal.

Compassion is caring and understanding someone is hurt or troubled (even if you don't know them). It is wanting to help, even if all you can do is listen and say kind words. You forgive mistakes. You are a friend when someone needs a friend.
---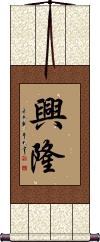 This kind of prosperity applies to a business. Something great to hang behind your desk if you are a small or large business owner. Doing so says that you either are a successful business, or you wish success and prosperity for your business.

Can also be translated as thriving, flourishing, brisk business, and other words related to prosperity in business.

A good meaning in China but a little antiquated in Japanese.
---
See Also: Prosperity
東 is the direction East in Chinese, Japanese Kanji, and old Korean Hanja.

Sometimes used as an abbreviation for the Eastern Hemisphere.

This can also be the surname Dong in China.
In Japan, this can be an abbreviation for a kind of six-stringed zither, or the personal name, Yamato.

東 is used as a suffix for many words in Asia. In fact, it's part of the CJK word 東方 meaning Orient or Oriental. The word 東方 more literally translates as, "Eastern Kingdoms", "Eastern Countries", or simply "The East".
Danger
A dangerous character in every way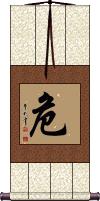 危 means danger, peril or "to endanger" in Chinese, Japanese, and old Korean.

If you live a dangerous life or want to subtly warn others that you are a dangerous person, this may be the selection for you.

This also means "danger" and sometimes "fear" in Japanese and Korean but is seldom seen outside of compound words in those languages (as a single character, it's kind of like an abbreviation for danger in Japanese and Korean). 危 is also a rather odd selection for a wall scroll anyway. It's only here because people search for danger on our website.

精神 is the kind of spirit that you have if you perform well in sports or competition. It is the idea of having a good attitude, and putting your all into something - so much so that others can see or feel your spirit. It is the essence of your being that can only be subjectively described because there are no words that can fully explain what "spirit" really is.

For your information:
My Japanese dictionary further tries to explain this word by comparing it to mind, soul, heart or intention.
My Chinese dictionary compares these characters to meanings like vigor, vitality, drive and mentality.
My Korean dictionary defines this as mind, spirit and soul.
---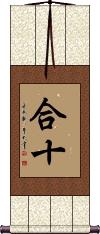 The word namaste comes from Sanskrit and is a common greeting in the Hindi and Nepali languages exchanged by devout Hindu or Buddhist people in Southern Asia (especially India).

Here you can see the Chinese form (and Japanese but not well-known in Japan) of this word which is used describe a Buddhist (or Hindu) greeting with palms closed together in a prayerful manner, generally at chest level. However, this selection of characters describes the act, and is not a word spoken during the greeting. In fact, words or a greeting is seldom spoken when two Chinese or Japanese Buddhists meet. The greeting is silent, and respectful but composed completely of body language.

Note that the greeting namaste as well as the act of placing palms together are used both as a hello and goodbye (kind of like the word aloha in Hawaiian).
---
If you are looking for a welcoming hello and goodbye, you may want to consider gassho or a simple welcome.

Perhaps a pacifist view or perhaps the best kind of victory; these characters reflect this idea:
The edges of the swords not being stained with blood.

You could also translate it as: Win victory without firing a shot.

The first character means army or force. The second character means without or none. The last two characters mean bloodstained knives. So it represents a returning victorious army without bloodstained knives. 兵不血刃 is the very literal sense of this Chinese proverb. The title definition is more accurate to the way this proverb is understood.

Asking yourself why the direct or literal translation is different?
...Think of compound words in English such as "nevertheless" if we break it apart to "never the less" we will have trouble getting the real definition of "in spite of that". Similar things happen when multiple-characters are used to create a compounded word in Chinese.
Life Energy / Spiritual Energy
Chi Energy: Essence of Life / Energy Flow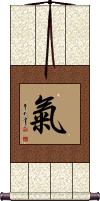 This energy flow is a fundamental concept of traditional Asian culture.

氣 is romanized as "Qi" or "Chi" in Chinese, "Gi" in Korean, and "Ki" in Japanese.
Chi is believed to be part of everything that exists, as in "life force" or "spiritual energy". It is most often translated as "energy flow", or literally as "air" or "breath". Some people will simply translate this as "spirit" but you have to take into consideration the kind of spirit we're talking about. I think this is weighted more toward energy than spirit.

The character itself is a representation of steam (or breath) rising from rice. To clarify, the character for rice looks like this:


Steam was apparently seen as visual evidence of the release of "life energy" when this concept was first developed. The Qi / Chi / Ki character is still used in compound words to mean steam or vapor.
The etymology of this character is a bit complicated. It's suggested that the first form of this character from bronze script (about 2500 years ago) looked like these samples:



However, it was easy to confuse this with the character for the number three. So the rice radical was added by 221 B.C. (the exact time of this change is debated). This first version with the rice radical looks like this:


The idea of Qi / Chi / Ki is really a philosophical concept. It's often used to refer to the "flow" of metaphysical energy that sustains living beings. Yet there is much debate that has continued for thousands of years as to whether Qi / Chi / Ki is pure energy, or consists partially, or fully of matter.

You can also see the character for Qi / Chi / Ki in common compound words such as Tai Chi / Tai Qi, Aikido, Reiki and Qi Gong / Chi Kung.

In the modern Japanese Kanji, the rice radical has been changed into two strokes that form an X.



The original and traditional Chinese form is still understood in Japanese but we can also offer that modern Kanji form in our custom calligraphy. If you want this Japanese Kanji, please click on the character to the right, instead of the "Select and Customize" button above.
---
More language notes: This is pronounced like "chee" in Mandarin Chinese, and like "key" in Japanese.
This is also the same way to write this in Korean Hanja where it is Romanized as "gi" and pronounced like "gee" but with a real G-sound, not a J-sound.
Though Vietnamese no longer use Chinese characters in their daily language, this character is still widely known in Vietnam.
---
See Also: Energy | Life Force | Vitality | Life | Birth | Soul
Kindness and Forgiving Nature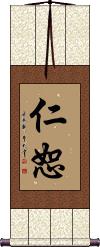 These two characters create a word in Chinese and Japanese that means something like benevolence with magnanimity or kindness with a forgiving nature.

If this describes you, then you are the type of person that I would like to call my friend.

This may not be the most common word in daily use but it's old enough that it transcended cultures from China to Japan in the 5th century when Japan lacked a written language, and absorbed Chinese characters and words into their language.
Note: 仁恕 is not commonly used in Korean.
This in-stock artwork might be what you are looking for, and ships right away...
The following table may be helpful for those studying Chinese or Japanese...
Title
Characters
Romaji

(Romanized Japanese)

Various forms of Romanized Chinese
Kind Words
愛語

---

爱语
aigo
ài yǔ / ai4 yu3 / ai yu / aiyu
ai yü / aiyü
Compassion
同情
dou jou / doujou / do jo
tóng qíng

---

tong2 qing2

---

tong qing

---

tongqing
t`ung ch`ing

---

tungching

---

tung ching
Prosperous Business
興隆

---

兴隆
kou ryuu / kouryuu / ko ryu
xīng lóng

---

xing1 long2

---

xing long

---

xinglong
hsing lung

---

hsinglung
East
東

---

东
higashi / tou

---

higashi / to
dōng / dong1 / dong
tung
Danger
危
ki
wēi / wei1 / wei
Spirit
精神
sei shin / seishin
jīng shén

---

jing1 shen2

---

jing shen

---

jingshen
ching shen

---

chingshen
Namaste - Greeting
合十
gou juu / goujuu / go ju
hé shí / he2 shi2 / he shi / heshi
ho shih / hoshih
Bloodless Victory
兵不血刃
bīng bù xuè rèn

---

bing1 bu4 xue4 ren4

---

bing bu xue ren

---

bingbuxueren
ping pu hsüeh jen

---

pingpuhsüehjen
Life Energy
Spiritual Energy
氣

---

气 / 気
ki
qì / qi4 / qi
ch`i / chi
Kindness and Forgiving Nature
仁恕
jinjo
rén shù / ren2 shu4 / ren shu / renshu
jen shu / jenshu
In some entries above you will see that characters have different versions above and below a line.
In these cases, the characters above the line are Traditional Chinese, while the ones below are Simplified Chinese.
Many custom options...




And formats...



Successful Chinese Character and Japanese Kanji calligraphy searches within the last few hours...
All of our calligraphy wall scrolls are handmade.
When the calligrapher finishes creating your artwork, it is taken to my art mounting workshop in Beijing where a wall scroll is made by hand from a combination of silk, rice paper, and wood.
After we create your wall scroll, it takes at least two weeks for air mail delivery from Beijing to you.
Allow a few weeks for delivery. Rush service speeds it up by a week or two for $10!
When you select your calligraphy, you'll be taken to another page where you can choose various custom options.
Check out my lists of Japanese Kanji Calligraphy Wall Scrolls and Old Korean Hanja Calligraphy Wall Scrolls.
Some people may refer to this entry as Kind Words Kanji, Kind Words Characters, Kind Words in Mandarin Chinese, Kind Words Characters, Kind Words in Chinese Writing, Kind Words in Japanese Writing, Kind Words in Asian Writing, Kind Words Ideograms, Chinese Kind Words symbols, Kind Words Hieroglyphics, Kind Words Glyphs, Kind Words in Chinese Letters, Kind Words Hanzi, Kind Words in Japanese Kanji, Kind Words Pictograms, Kind Words in the Chinese Written-Language, or Kind Words in the Japanese Written-Language.
10 people have searched for Kind Words in Chinese or Japanese in the past year.
Kind Words was last searched for by someone else on Sep 21st, 2022