Cheer in Chinese / Japanese...
Buy a Cheer calligraphy wall scroll here!
Personalize your custom "Cheer" project by clicking the button next to your favorite "Cheer" title below...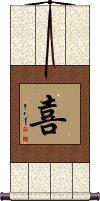 喜 is the Chinese, Japanese Kanji, and Korean Hanja for the kind of happiness known in the west as "joy."

喜 can also be translated as rejoice, enjoyment, delighted, pleased, or "take pleasure in." Sometimes it can mean "to be fond of" (in a certain context).

If you write two of these happiness/joy characters side by side, you create another character known in English as "double happiness," which is a symbol associated with weddings and happy marriages.
---
There is another version of this character that you will find on our website with an additional radical on the left side (exactly same meaning, just an alternate form). The version of happiness shown here is the commonly written form in China, Japan and South Korea (banned in North Korea).
---
See Also: Contentment | Happiness | Joy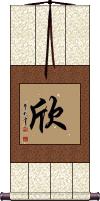 欣 is the type of happiness that you feel on the inside. It is the feeling of being released and delighted as well as being in a state of contentment. 欣 is more the internal happiness that perhaps only shows by the smile on your face. It can also be translated as "to take pleasure in" or "to rejoice."

Note: 欣 is often used in compound words - especially in Korean Hanja.
As Japanese Kanji, this is so rare, that most Japanese people are not aware of its existence.
---
See Also: Happiness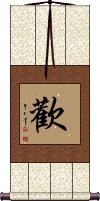 歡 means joyous, happy, delightful, and pleased.

歡 represents external happiness that may have you clapping and cheering.
---
Please note: The other happiness/joyful which looks like "喜" is more popular.

歡 is the ancient/old version in China and Japan. After WWII in Japan, they started using 歓. Just let us know if you want this modern version instead of the ancient one.
---
See Also: Happiness

快樂 or joyfulness is an inner sense of peace and happiness.

You appreciate the gifts each day brings. Without joyfulness, when the fun stops, our happiness stops. Joy can carry us through hard times even when we are feeling very sad.

快樂 can also mean pleasure, enjoyment, delight, cheerfulness, or merry. In some ways, this is the essence that makes someone perceived as a charming person.
---
See Also: Happiness
Not the results for cheer that you were looking for?
Below are some entries from our dictionary that may match your cheer search...
Characters

If shown, 2nd row is Simp. Chinese

Pronunciation
Romanization
Simple Dictionary Definition

蘇

---

苏

see styles
sū
su1

---

su

---

sohou / soho
そほう

---

(1) condensed milk; (n,n-suf,n-pref) (2) (abbreviation) Soviet Union; (personal name) Sohou

---

Refreshing thyme; revive, cheer; Suzhou; translit. su, so, sa, s. Most frequently it translit. the Sanskait su, which means good, well excellent, very. Cf. 須, 修; to be reborn

一気

see styles
kazuki
かずき

万才

see styles
manzai
まんざい

万歳

see styles
manzai
まんざい

加油

see styles
jiā yóu
jia1 you2

---

chia yu

---

jaayuu; jaayou; jayou; gaayau / jayu; jayo; jayo; gayau
ジャーユー; ジャーヨウ; ジャヨウ; ガーヤウ

---

(interjection) (See 頑張って) keep going (chi: jiāyóu); hang in there; go for it; add oil

助威

see styles
zhù wēi
zhu4 wei1

---

chu wei

助陣

---

助阵

see styles
zhù zhèn
zhu4 zhen4

---

chu chen

勇む

see styles
isamu
いさむ

叫好

see styles
jiào hǎo
jiao4 hao3

---

chiao hao

喝彩

see styles
hè cǎi
he4 cai3

---

ho ts`ai
ho tsai

喝采

see styles
hè cǎi
he4 cai3

---

ho ts`ai
ho tsai

---

kassai
かっさい

---

(noun/participle) acclamation; applause; ovation; cheers

囃す

see styles
hayasu
はやす

振作

see styles
zhèn zuò
zhen4 zuo4

---

chen tso

---

shinsaku
しんさく

---

(noun, transitive verb) prosperity; (given name) Shinsaku

捧場

---

捧场

see styles
pěng chǎng
peng3 chang3

---

p`eng ch`ang
peng chang

歓声

see styles
kansei / kanse
かんせい

歡呼

---

欢呼

see styles
huān hū
huan1 hu1

---

huan hu

看開

---

看开

see styles
kàn kāi
kan4 kai1

---

k`an k`ai
kan kai

祝酒

see styles
zhù jiǔ
zhu4 jiu3

---

chu chiu

---

iwaizake
いわいざけ

---

celebratory drink; celebratory spirits; holiday cheer

音頭

see styles
ondou / ondo
おんどう

チーア

see styles
chiia / chia
チーア

チアー

see styles
chiaa / chia
チアー

励ます

see styles
hagemasu
はげます

祝い酒

see styles
iwaizake
いわいざけ

うぇい系

see styles
weikei / weke
うぇいけい

ちゃんと

see styles
chanto
チャント

バンザイ

see styles
banzai
バンザイ

マンセー

see styles
mansee
マンセー

一本締め

see styles
ipponjime
いっぽんじめ

力づける

see styles
chikarazukeru
ちからづける

力付ける

see styles
chikarazukeru
ちからづける
Click here for more cheer results from our dictionary
The following table may be helpful for those studying Chinese or Japanese...
Title
Characters
Romaji

(Romanized Japanese)

Various forms of Romanized Chinese
Happiness
Joyful
Joy
喜
ki / yorokobi
xǐ / xi3 / xi
hsi
Happy
欣
kin
xīn / xin1 / xin
hsin
Joyful
歡

---

欢 / 歓
kan
huān / huan1 / huan
Joyfulness
Happiness
快樂

---

快乐
kai raku / kairaku
kuài lè / kuai4 le4 / kuai le / kuaile
k`uai le / kuaile / kuai le
In some entries above you will see that characters have different versions above and below a line.
In these cases, the characters above the line are Traditional Chinese, while the ones below are Simplified Chinese.
Many custom options...




And formats...



Successful Chinese Character and Japanese Kanji calligraphy searches within the last few hours...
All of our calligraphy wall scrolls are handmade.
When the calligrapher finishes creating your artwork, it is taken to my art mounting workshop in Beijing where a wall scroll is made by hand from a combination of silk, rice paper, and wood.
After we create your wall scroll, it takes at least two weeks for air mail delivery from Beijing to you.
Allow a few weeks for delivery. Rush service speeds it up by a week or two for $10!
When you select your calligraphy, you'll be taken to another page where you can choose various custom options.
Check out my lists of Japanese Kanji Calligraphy Wall Scrolls and Old Korean Hanja Calligraphy Wall Scrolls.
Some people may refer to this entry as Cheer Kanji, Cheer Characters, Cheer in Mandarin Chinese, Cheer Characters, Cheer in Chinese Writing, Cheer in Japanese Writing, Cheer in Asian Writing, Cheer Ideograms, Chinese Cheer symbols, Cheer Hieroglyphics, Cheer Glyphs, Cheer in Chinese Letters, Cheer Hanzi, Cheer in Japanese Kanji, Cheer Pictograms, Cheer in the Chinese Written-Language, or Cheer in the Japanese Written-Language.
18 people have searched for Cheer in Chinese or Japanese in the past year.
Cheer was last searched for by someone else on Apr 20th, 2022