Not what you want?
Try searching again using:
1. Other similar-meaning words.
2. Fewer words or just one word.

If all else fails, email me and
tell me what you need.
At Ease in Chinese / Japanese...
Buy an At Ease calligraphy wall scroll here!
Start your custom "At Ease" project by clicking the button next to your favorite "At Ease" title below...

sì hǎi wéi jiā

This literally reads, "Four Seas Serve-As [my/one's] Home."

Together, 四海 which literally means "four seas" is understood to mean, "the whole world" or "the seven seas." It's presumed to be an ancient word, from back when only four seas were known - so it equates to the modern English term, "seven seas."

This can be translated or understood a few different ways:
To regard the four corners of the world all as home.
To feel at home anywhere.
To roam about unconstrained.
To consider the entire country, or the world, to be one's own.

mò ér zhì zhī xué ér bù yàn huǐ rén bù juàn hé yòu yú wǒ zāi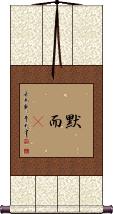 This quote from the Analects of Confucius translates as:

To quietly recite and memorize the classics,
to love learning without tiring of it,
never be bored with teaching,
How could these be difficult for me?

This is a suggestion that for a true scholar, all of these things come with ease.
---
This was written over 2500 years ago. The composition is in ancient Chinese grammar and phrasing. A modern Chinese person would need a background in Chinese literature to understand this without the aid of a reference.

ān xīn

an shin

안심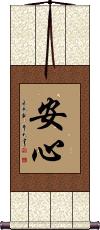 This can be defined as relief, peace of mind, feeling at ease, to be relieved, set one's mind at rest, easiness.

安心 is a nice word that encompasses great meanings within just two characters. Some of the other meanings include to pacify, to settle the mind, peace of mind, and it's also the idea of feeling a sense of security, safety, and confidence in your state of well-being.

This can be used by everyone, but some consider it to be a Buddhist concept (You'll find it in your Zen dictionary).

kāng

kou

강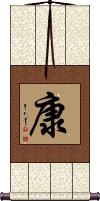 康 is a single character that means good health or vigor in Chinese, Japanese Kanji, and old Korean Hanja.

康 can also mean peaceful, at ease, or abundant in some contexts.

Please note that this is rarely seen alone in Japanese Kanji. In Japanese, it is used both for health-related compound words and to denote the kouhou through koushou eras of Japan.

In Korean, this can also be the family name "Kang" (caution: not the only family name romanized as Kang in Korean).
---

lè

raku

락 or 악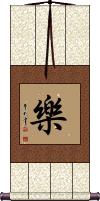 樂 / 楽 is a single-character form of happiness or bliss that holds the ideas of laughing and having a good time. It can also be translated as happy, glad, enjoyable, fun, and sometimes, music.

This a really good character if your audience is Chinese.

樂 / 楽 is not a word seen alone very often in Korean.



In Japanese, this character is written like the image shown to the right. If you order this from the Japanese master calligrapher, it will look like this instead of the character shown above.
Note: In Japanese, this has a meaning of comfort, ease, and enjoyment.
---
See Also: Joyfulness

fàng xīn

houshin

방심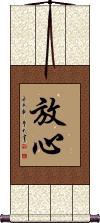 My Australian friends always say "No worries mate." It's caught on with me, though I drop the "mate" part since it confuses my fellow Americans.

If you would like to express the idea of "no worries" this is the best and most natural way to say it in Chinese.

The characters you see to the left can be translated as "put your mind at rest" or "to be at ease." You could literally translate "no worries" but it doesn't "flow" like this simple Chinese version.

For your info, the first character means to release, to free, to let go, to relax, or to rest. The second character means your heart or your mind.

Note that in Japanese and Korean, this holds the similar meaning of "peace of mind" but can also mean absentmindedness or carelessness depending on context.
Many custom options...




And formats...



The following table may be helpful for those studying Chinese or Japanese...
Title
Characters
Romaji

(Romanized Japanese)

Various forms of Romanized Chinese
Feel at Ease Anywhere
The World is My Home
四海為家

---

四海为家
sì hǎi wéi jiā

---

si4 hai3 wei2 jia1

---

si hai wei jia

---

sihaiweijia
ssu hai wei chia

---

ssuhaiweichia
The Ease of the Scholar
默而識之學而不厭誨人不倦何有于我哉

---

默而识之学而不厌诲人不倦何有于我哉
mò ér zhì zhī xué ér bù yàn huǐ rén bù juàn hé yòu yú wǒ zāi

---

mo4 er2 zhi4 zhi1 xue2 er2 bu4 yan4 hui3 ren2 bu4 juan4 he2 you4 yu2 wo3 zai1

---

mo er zhi zhi xue er bu yan hui ren bu juan he you yu wo zai
mo erh chih chih hsüeh erh pu yen hui jen pu chüan ho yu yü wo tsai
Realistic
Practical
踏實

---

踏实
tā shí / ta1 shi2 / ta shi / tashi
t`a shih / tashih / ta shih
Peaceful Heart
Peace of Mind
Calm Mind
安心
an shin / anshin
ān xīn / an1 xin1 / an xin / anxin
an hsin / anhsin
Good Health
Healthy
Vigor
康
kou / ko
kāng / kang1 / kang
k`ang / kang
Happy
Laughter
Cheerful Bliss
樂 / 楽

---

乐
raku
lè / le4 / le
No Worries
放心
houshin / hoshin
fàng xīn / fang4 xin1 / fang xin / fangxin
fang hsin / fanghsin
In some entries above you will see that characters have different versions above and below a line.
In these cases, the characters above the line are Traditional Chinese, while the ones below are Simplified Chinese.
Successful Chinese Character and Japanese Kanji calligraphy searches within the last few hours...
All of our calligraphy wall scrolls are handmade.
When the calligrapher finishes creating your artwork, it is taken to my art mounting workshop in Beijing where a wall scroll is made by hand from a combination of silk, rice paper, and wood.
After we create your wall scroll, it takes at least two weeks for air mail delivery from Beijing to you.
Allow a few weeks for delivery. Rush service speeds it up by a week or two for $10!
When you select your calligraphy, you'll be taken to another page where you can choose various custom options.
Check out my lists of Japanese Kanji Calligraphy Wall Scrolls and Old Korean Hanja Calligraphy Wall Scrolls.
Some people may refer to this entry as At Ease Kanji, At Ease Characters, At Ease in Mandarin Chinese, At Ease Characters, At Ease in Chinese Writing, At Ease in Japanese Writing, At Ease in Asian Writing, At Ease Ideograms, Chinese At Ease symbols, At Ease Hieroglyphics, At Ease Glyphs, At Ease in Chinese Letters, At Ease Hanzi, At Ease in Japanese Kanji, At Ease Pictograms, At Ease in the Chinese Written-Language, or At Ease in the Japanese Written-Language.
0 people have searched for At Ease in Chinese or Japanese in the past year.
At Ease was last searched for by someone else on Oct 16th, 2018