Custom Joyfulness Chinese & Japanese Calligraphy Wall Scroll
We have many options to create artwork with Joyfulness characters on a wall scroll or portrait.
If you want to create a cool Joyfulness Asian character tattoo, you can purchase that here: Asian / Chinese / Japanese Tattoo Image Service ...and we'll give you many tattoo image templates of the ancient Asian symbols that express the idea of joyfulness.
---
---
Happy / Laughter / Cheerful Bliss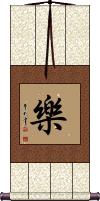 樂 is a single-character form of happiness or bliss that holds the ideas of laughing and having a good time.

This can also be translated as happy, glad, enjoyable, fun, and sometimes, music.

This a really good character if your audience is Chinese.

樂 / 楽 is not a word seen alone very often in Korean.



In Japanese, this character is written like the image shown to the right. If you order this from the Japanese master calligrapher, it will look like this instead of the character shown above.
Note: In Japanese, this has a meaning of comfort, ease, and enjoyment.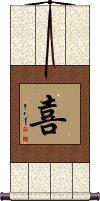 喜 is the Chinese, Japanese Kanji, and Korean Hanja for the kind of happiness known in the west as "joy".

喜 can also be translated as rejoice, enjoyment, delighted, pleased, or "take pleasure in". Sometimes it can mean, "to be fond of" (in a certain context).

If you write two of these happiness/joy characters side by side, you create another character known in English as "double happiness", which is a symbol associated with weddings and a happy marriage.
---
There is another version of this character that you will find on our website with an additional radical on the left side (exactly same meaning, just an alternate form). The version of happiness shown here is the commonly written form in China, Japan and South Korea (banned in North Korea).
---
See Also: Contentment | Happiness

常春藤 is a common way to write "ivy" in Chinese.
There are varieties of ivy, and other ways to say ivy in Chinese but this version is probably the nicest. It's the one you would use if writing a poem about ivy etc.

If you want the actual meaning, this is, "Always Young Vine", or "Ever Living Vine". The literal meaning of the characters is more like, "Always Spring[time] Vine". But Spring can have other representations in Chinese such as new life, youth, freshness, joyfulness, etc.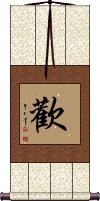 歡 means joyous, happy, delight, and pleased.

歡 represents an external happiness that may have you clapping and cheering.
---
Please note: The other happiness/joyful which looks like "喜" is more popular.

歡 is the ancient/old version in China and Japan. After WWII in Japan, they started using 歓. Just let us know if you want this modern version instead of the ancient one.
---
See Also: Happiness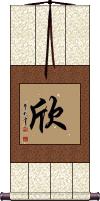 欣 is the type of happiness that you feel on the inside. It is the feeling of being released and delighted as well as being in a state of contentment. 欣 is a more internal happiness that perhaps only shows by the smile on your face. It can also be translated as "to take pleasure in" or "to rejoice".

Note: 欣 is often used in compound words - especially in Korean Hanja.
As Japanese Kanji, this is so rare, that most Japanese people are not aware of its existence.
---
See Also: Happiness

Joyfulness is an inner sense of peace and happiness.

You appreciate the gifts each day brings. Without joyfulness, when the fun stops, our happiness stops. Joy can carry us through the hard times even when we are feeling very sad.

快樂 can also mean pleasure, enjoyment, delight, cheerful, or merry. In some ways, this is the essence that makes someone to be perceived as a charming person.
---
See Also: Happiness
The following table may be helpful for those studying Chinese or Japanese...
Title
Characters
Romaji

(Romanized Japanese)

Various forms of Romanized Chinese
Happy
Laughter
Cheerful Bliss
樂 / 楽

---

乐
raku
lè / le4 / le
Happiness
Joyful
Joy
喜
ki / yorokobi
xǐ / xi3 / xi
hsi
Ivy
常春藤
cháng chūn téng

---

chang2 chun1 teng2

---

chang chun teng

---

changchunteng
ch`ang ch`un t`eng

---

changchunteng

---

chang chun teng
Joyful
歡

---

欢 / 歓
kan
huān / huan1 / huan
Happy
欣
kin
xīn / xin1 / xin
hsin
Joyfulness
Happiness
快樂

---

快乐
kai raku / kairaku
kuài lè / kuai4 le4 / kuai le / kuaile
k`uai le / kuaile / kuai le
In some entries above you will see that characters have different versions above and below a line.
In these cases, the characters above the line are Traditional Chinese, while the ones below are Simplified Chinese.
All of our calligraphy wall scrolls are handmade.
When the calligrapher finishes creating your artwork, it is taken to my art mounting workshop in Beijing where a wall scroll is made by hand from a combination of silk, rice paper, and wood.
After we create your wall scroll, it takes at least two weeks for air mail delivery from Beijing to you.
Allow a few weeks for delivery. Rush service speeds it up by a week or two for $10!
When you select your calligraphy, you'll be taken to another page where you can choose various custom options.