Not what you want?
Try searching again using:
1. Other similar-meaning words.
2. Fewer words or just one word.
Respect Honor Esteem in Chinese / Japanese...
Buy a Respect Honor Esteem calligraphy wall scroll here!
Start your custom "Respect Honor Esteem" project by clicking the button next to your favorite "Respect Honor Esteem" title below...

zūn jìng

sonkei

존경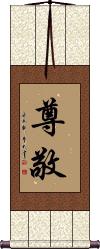 尊敬 is how to express the ideas of respect, honor, reverence, esteem, nobility, and sometimes the state of being noble, all in one word. Most of the time this is used in the form of "giving respect" but depending on context, it can suggest that you should try to be "worthy of respect."

Although pronounced differently, the Chinese characters, Japanese Kanji, and Korean Hanja are the same across these languages. 尊敬 is an indication that this word is very old, and crosses many barriers and cultures in the Orient (East Asia).

zūn jìng xīn

son kei shin

존경심

尊敬心 means respectful heart in Japanese, Chinese and Korean.

The root is 尊敬 which means respect, honor, reverence, esteem, and/or nobility. Therefore, you can also define this as honorable heart, reverent heart, noble heart, etc.

In ancient times, it was thought your brain was the heart in your chest. Therefore, 心 or heart can also mean "mind". Hence, 尊敬心 can also be translated as respectful mind, honorable mind, etc.

You'll see 尊敬心 romanized as Sonkeishin or Sonkeshin from Japanese.
Not the results for respect honor esteem that you were looking for?
Below are some entries from our dictionary that may match your respect honor esteem search...
Characters

If shown, 2nd row is Simp. Chinese

Pronunciation
Romanization
Simple Dictionary Definition

Fatal error: Cannot redeclare mockup() (previously declared in /home/admin/web/orientaloutpost.com/public_html/includes/render5.php:4) in /home/admin/web/orientaloutpost.com/public_html/render5.php on line 537