Fond in Chinese / Japanese...
Buy a Fond calligraphy wall scroll here!
Personalize your custom "Fond" project by clicking the button next to your favorite "Fond" title below...
---
---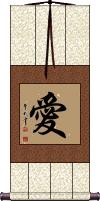 愛 universally means love in Chinese, Japanese Kanji, old Korean Hanja, and old Vietnamese.

愛 is one of the most recognized Asian symbols in the west and is often seen on tee shirts, coffee mugs, tattoos, and more.

愛 can also be defined as affection, to be fond of, to like, or to be keen on. It often refers to romantic love, and is found in phrases like, "I love you." But in Chinese, one can say, "I love that movie" using this character as well.

This can also be a pet name or part of a pet name in the way we say "dear" or "honey" in English.
---
More about this character:

This may be hard to imagine as a westerner but the strokes at the top of this love character symbolize family & marriage.



The symbol in the middle is a little easier to identify. It is the character for "heart" (it can also mean "mind" or "soul"). I guess you can say that no matter if you are from the East or the West, you must put your heart into your love.



The strokes at the bottom create a modified character that means "friend" or "friendship."

I suppose you could say that the full meaning of this love character is to love your family, spouse, and friends with all of your heart, since all three elements exist in this character.
---
See Also: I Love You | Caring | Benevolence | Friendliness | Double Happiness Happy Marriage Wall Scroll
Best Love / Most Sincere Love
Best Love / Most Sincere Love
至愛 can mean the best love or most sincere love of your life.

This could be a romantic love such as your love for your spouse or a boyfriend/girlfriend.

It can also apply to the extreme love you have for your children or a parent and maybe a really good friend.
---
See Also: I Love You

荷花 is one of two ways to write/say "lotus" or "lily" in Chinese.

It will make a nice wall scroll if you are fond of lotus flowers and/or lotuses have a special meaning to you.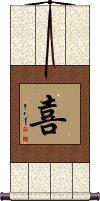 喜 is the Chinese, Japanese Kanji, and Korean Hanja for the kind of happiness known in the west as "joy."

喜 can also be translated as rejoice, enjoyment, delighted, pleased, or "take pleasure in." Sometimes it can mean "to be fond of" (in a certain context).

If you write two of these happiness/joy characters side by side, you create another character known in English as "double happiness," which is a symbol associated with weddings and happy marriages.
---
There is another version of this character that you will find on our website with an additional radical on the left side (exactly same meaning, just an alternate form). The version of happiness shown here is the commonly written form in China, Japan and South Korea (banned in North Korea).
---
See Also: Contentment | Happiness | Joy

熱情 is a Chinese and Korean word for enthusiasm that can also be translated as passion (for a cause), ardency, ardor/ardour, enthusiasm, or zeal.

Enthusiasm is being warm, cheerful, happy, and full of spirit. It is doing something wholeheartedly and eagerly. When you are enthusiastic, you have a positive attitude.

In some contexts, this could mean being extremely fond of something or having a fondness for a cause or person.
---
This Chinese word can also be translated as "sincere and warm" or literally "warm sentiment / affection."
---
See Also: Motivation | Passion | Commitment | Tenacity
Enthusiasm / Passion for a Cause

情熱 is the Japanese word that means enthusiasm or "passion for a cause."

In some contexts, this could mean being extremely fond of something or having a fondness for a cause or person.

Can also be translated as passion, zeal, ardor/ardour, or fervor.

Note: This word (or character order) is not natural in Chinese. However, a typical Chinese person can guess this is a Japanese or Korean word and understand the intended meaning. This selection is best if your audience is Japanese or old-school Korean.
---
See Also: Persistence | Devotion | Tenacity | Commitment | Motivation
Diligent Study Proverb
Drill a hole in the wall to get light to read by.

鑿壁偷光 is a Chinese proverb that means "Bore a hole in the wall to make use of the neighbor's light to study."

This is a nice gift for a very studious person.

Kuang Heng was born during the Western Han period. He has been very fond of reading ever since he was young. However, he could not attend school since his family was poor, and he had to borrow books from people to learn.

To borrow these books, he normally did chores for people who had them. When he became older, he had to work in the field from sunrise to sunset since his family's financial situation did not improve. Thus, he tried to study at night, but he had no lamp.

One day, he noticed the light from the neighbor's house coming through a crack in the wall. This made him very happy, so he dug a larger hole from the crack and read in the light that shone through. This diligent study eventually made him an accomplished person.
Joshua 24:15
This House Serves the LORD
zhì yú wǒ hé wǒ jiā wǒ men bì dìng shì fèng yē hé huá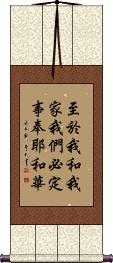 至於我和我家我們必定事奉耶和華 is the last sentence of Joshua 24:15 in Chinese.
Joshua 24:15 (KJV) ...as for me and my house, we will serve the LORD.

Joshua 24:15 (NIV) ...as for me and my household, we will serve the LORD.

We used the only official Christian Chinese Bible that I know of so that the translation would be as accurate and standard as possible. Any Chinese Christian worth their salt will easily be able to identify this verse from the Chinese words on this scroll.

I think it is a bit like having a secret code on your wall that quietly expresses to whom you are faithful.

A great gift for your devout Christian or Jewish friend if they happen to be fond of Asian art.

Or perhaps a wonderful "conversation starter" for your own home.

Note: If you are curious, the last three characters represent the way "LORD" is used in most English Bibles. In Chinese, this is actually the phonetic name from Mandarin Chinese for "Jehovah."
The one who retreats 50 paces mocks the one to retreats 100
The pot calls the kettle black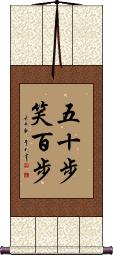 五十步笑百步 is a Chinese proverb that means the one who retreats 50 paces mocks the one who retreats 100 paces.

During the Warring States Period of what is now China (475 - 221 B.C.), the King of Wei was in love with war. He often fought with other kingdoms just for spite or fun.

One day, the King of Wei asked the philosopher Mencius, "I love my people, and all say I do the best for them. I move the people from famine-stricken areas to places of plenty and transport grains from rich areas to the poor. Nobody goes hungry in my kingdom, and I treat my people far better than other kings. But why does the population of my kingdom not increase, and why does the population of other kingdoms not decrease?"

Mencius answered, "Since you love war, I will make this example: When going to war, and the drums beat to start the attack, some soldiers flee for their lives in fear. Some run 100 paces in retreat, and others run 50 steps. Then the ones who retreated 50 paces laugh and taunt those who retreated 100 paces, calling them cowards mortally afraid of death. Do you think this is reasonable?

The King of Wei answered, "Of course not! Those who run 50 paces are just as timid as those who run 100 paces."

Mencius then said, "You are a king who treats his subjects better than other kings treat their people, but you are so fond of war that your people suffer from great losses in battle. Therefore, your population does not grow. While other kings allow their people to starve to death, you send your people to die in war. Is there any difference?"

This famous conversation led to the six-character proverb shown here. It serves as a warning to avoid hypocrisy. It goes hand-in-hand with the western phrase, "The pot calls the kettle black," or the Biblical phrase, "Before trying to remove a splinter from your neighbor's eye, first remove the plank from your own eye."
The following table may be helpful for those studying Chinese or Japanese...
Title
Characters
Romaji

(Romanized Japanese)

Various forms of Romanized Chinese
Love
愛

---

爱
ai
ài / ai4 / ai
Best Love
Most Sincere Love
最愛
moai
Best Love
Most Sincere Love
至愛

---

至爱
zhì ài / zhi4 ai4 / zhi ai / zhiai
chih ai / chihai
Lotus
荷花
hé huā / he2 hua1 / he hua / hehua
ho hua / hohua
Happiness
Joyful
Joy
喜
ki / yorokobi
xǐ / xi3 / xi
hsi
Enthusiasm
熱情

---

热情
rè qíng / re4 qing2 / re qing / reqing
je ch`ing / jeching / je ching
Enthusiasm
Passion for a Cause
情熱

---

情热
jou netsu / jounetsu / jo netsu
qíng rè / qing2 re4 / qing re / qingre
ch`ing je / chingje / ching je
Diligent Study Proverb
鑿壁偷光

---

凿壁偷光
záo bì tōu guāng

---

zao2 bi4 tou1 guang1

---

zao bi tou guang

---

zaobitouguang
tsao pi t`ou kuang

---

tsaopitoukuang

---

tsao pi tou kuang
Joshua 24:15
至於我和我家我們必定事奉耶和華

---

至于我和我家我们必定事奉耶和华
zhì yú wǒ hé wǒ jiā wǒ men bì dìng shì fèng yē hé huá

---

zhi4 yu2 wo3 he2 wo3 jia1 wo3 men bi4 ding4 shi4 feng4 ye1 he2 hua2

---

zhi yu wo he wo jia wo men bi ding shi feng ye he hua
chih yü wo ho wo chia wo men pi ting shih feng yeh ho hua
The one who retreats 50 paces mocks the one to retreats 100
五十步笑百步
wù shí bù xiào bǎi bù

---

wu4 shi2 bu4 xiao4 bai3 bu4

---

wu shi bu xiao bai bu

---

wushibuxiaobaibu
wu shih pu hsiao pai pu

---

wushihpuhsiaopaipu
In some entries above you will see that characters have different versions above and below a line.
In these cases, the characters above the line are Traditional Chinese, while the ones below are Simplified Chinese.
Many custom options...




And formats...



Successful Chinese Character and Japanese Kanji calligraphy searches within the last few hours...
All of our calligraphy wall scrolls are handmade.
When the calligrapher finishes creating your artwork, it is taken to my art mounting workshop in Beijing where a wall scroll is made by hand from a combination of silk, rice paper, and wood.
After we create your wall scroll, it takes at least two weeks for air mail delivery from Beijing to you.
Allow a few weeks for delivery. Rush service speeds it up by a week or two for $10!
When you select your calligraphy, you'll be taken to another page where you can choose various custom options.
Check out my lists of Japanese Kanji Calligraphy Wall Scrolls and Old Korean Hanja Calligraphy Wall Scrolls.
Some people may refer to this entry as Fond Kanji, Fond Characters, Fond in Mandarin Chinese, Fond Characters, Fond in Chinese Writing, Fond in Japanese Writing, Fond in Asian Writing, Fond Ideograms, Chinese Fond symbols, Fond Hieroglyphics, Fond Glyphs, Fond in Chinese Letters, Fond Hanzi, Fond in Japanese Kanji, Fond Pictograms, Fond in the Chinese Written-Language, or Fond in the Japanese Written-Language.
13 people have searched for Fond in Chinese or Japanese in the past year.
Fond was last searched for by someone else on Apr 20th, 2022