Custom Persistence Chinese & Japanese Calligraphy Wall Scroll
We have many options to create artwork with Persistence characters on a wall scroll or portrait.
If you want to create a cool Persistence wall scroll, this is the place. Below you will find a few Asian symbols that express the idea of persistence.

gù zhí

koshuu

고집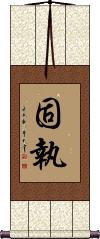 固執 can also mean "opinionated" or "stubborn," in Chinese and Japanese but in the nicest way possible (still bad).

This just means "stubborn" in Korean (not a good scroll if your audience is Korean, in fact, we don't recommend this word at all). There are better ways to express this idea, such as tenacious or perseverance... ...see links below...
---
See Also: Tenacious | Fortitude | Perseverance

bù qū

fukutsu

불굴

不屈 is the short form of a longer Chinese word, and also a word used in Korean and Japanese to express the idea of being indomitable. It literally means, "will not bend," "will not crouch," "will not yield," "will not flinch," or "will not submit."

Note: Some will translate this as "indomitable spirit"; however, technically, there is no character to suggest the idea of "spirit" in this word.
---

yí shān

isan

이산
移山 is the Chinese, Japanese Kanji, and old Korean Hanja for, "to remove mountains," or "to move a mountain."

Figuratively, this means you can accomplish the impossible by sheer persistence.

移山 is the short form of a proverb about a man who had much persistence, and was able to move a whole mountain (a bucket of soil at a time).

jiān rèn bù bá

견인불발

Perseverance is being steadfast and persistent. You commit to your goals and overcome obstacles, no matter how long it takes. When you persevere, you don't give up...you keep going. Like a strong ship in a storm, you don't become battered or blown off course. You just ride the waves.

The translation of this proverb literally means, "something so persistent or steadfast, that it is not uprootable / movable / surpassable."
---
See Also: Tenacious | Devotion | Indomitable

zhī rén zhě zhī yě zì zhī zhě míng yě shèng rén zhě yǒu lì yě zì shèng zhě qiáng yě zhī zú zhě fù yě qiáng xíng zhě yǒu zhì yě bù zhī qí suǒ zhě jiǔ yě sǐ ér bù wáng zhě shòu yě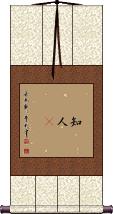 This is referred to as passage or chapter 33 of the Dao De Jing (often Romanized as "Tao Te Ching").

These are the words of the philosopher Laozi (Lao Tzu).
The following is one translation of this passage:
To know others is wisdom;
To know oneself is acuity/intelligence.
To conquer others is power,
To conquer oneself is strength.
To know contentment is to have wealth.
To act resolutely is to have purpose.
To stay one's ground is to be enduring.
To die and yet not be forgotten is to be long-lived.
Another translation:
To understand others is to be knowledgeable;
To understand yourself is to be wise.
To conquer others is to have strength;
To conquer yourself is to be strong.
To know when you have enough is to be rich.
To go forward with strength is to have ambition.
To not lose your place is to be long lasting.
To die but not be forgotten -- that's true long life.
A third translation of the second half:
He who is content is rich;
He who acts with persistence has will;
He who does not lose his roots will endure;
He who dies physically but preserves the Dao
will enjoy a long after-life.
---
Notes:

During our research, the Chinese characters shown here are probably the most accurate to the original text of Laozi. These were taken for the most part from the Mawangdui 1973 and Guodan 1993 manuscripts which pre-date other Daodejing texts by about 1000 years.

Grammar was a little different in Laozi's time. So you should consider this to be the ancient Chinese version. Some have modernized this passage by adding, removing, or swapping articles and changing the grammar (we felt the oldest and most original version would be more desirable). You may find other versions printed in books or online - sometimes these modern texts are simply used to explain to Chinese people what the original text really means.

This language issue can be compared in English by thinking how the King James (known as the Authorized version in Great Britain) Bible from 1611 was written, and comparing it to modern English. Now imagine that the Daodejing was probably written around 403 BCE (2000 years before the King James Version of the Bible). To a Chinese person, the original Daodejing reads like text that is 3 times more detached compared to Shakespeare's English is to our modern-day speech.

Extended notes:

While on this Biblical text comparison, it should be noted, that just like the Bible, all the original texts of the Daodejing were lost or destroyed long ago. Just as with the scripture used to create the Bible, various manuscripts exist, many with variations or copyist errors. Just as the earliest New Testament scripture (incomplete) is from 170 years after Christ, the earliest Daodejing manuscript (incomplete) is from 100-200 years after the death of Laozi.

The reason that the originals were lost probably has a lot to do with the first Qin Emperor. Upon taking power and unifying China, he ordered the burning and destruction of all books (scrolls/rolls) except those pertaining to Chinese medicine and a few other subjects. The surviving Daodejing manuscripts were either hidden on purpose or simply forgotten about. Some were not unearthed until as late as 1993.

We compared a lot of research by various archeologists and historians before deciding on this as the most accurate and correct version. But one must allow that it may not be perfect, or the actual and original as from the hand of Laozi himself.

chí jiǔ

ji kyuu

지구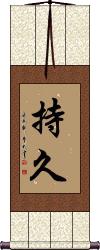 持久 means "to endure" or "lasting."

In some context, it can mean "persistent" or "persistence" (especially in Japanese and Korean).

bù qū bù náo

fukutsu futou

不屈不撓 means "Indomitable" or "Unyielding."

不屈不撓 is a long word by Chinese standards. At least, it is often translated as a single word into English. It's actually a proverb in Chinese.

If you want to break it down, you can see that the first and third characters are the same. Both meaning "not" (they work as a suffix to make a negative or opposite meaning to whatever character follows).

The second character means "bendable."

The last means "scratched" or "bothered."

So this really means "Won't be bent, can't be bothered." I have also seen it written as "Will not crouch, will not submit." This comes from the fact that the second character can mean, "to crouch" and the last can mean "to submit" (as in "to give in" such as "submitting to the rule of someone else"). This may explain better why these four characters mean "indomitable."

Notes:
Some will translate this as "indomitable spirit"; however, technically, there is no character to suggest the idea of "spirit" in this word.
The first two characters can be a stand-alone word in Chinese.
In Japanese, this is considered to be two words (with very similar meanings).
The same characters are used in Korean, but the 2nd and 4th characters are swapped to create a word pronounced "불요불굴" in Korean.
Just let me know if you want the Korean version, which will also make sense in Japanese, and though not as natural, will also make sense in Chinese as well.
---

rè qíng

netsujou

열정

Depending on context, this word can mean "cordial," "enthusiastic," "passionate" or "passionately."

This version is sometimes used in Japanese but the character order is more common in Chinese and Korean Hanja. The meaning in Japanese for this Kanji order is "ardour" or "zeal" but rarely used in modern Japan. I suggest you choose a different version of "passion" if your audience is Japanese.
---
See Also: Devotion | Tenacity | Commitment | Motivation

qíng rè

jou netsu

정열

情熱 is the Japanese word that means enthusiasm, or "passion for a cause."

In some context, this could have a meaning of being extremely fond of something, or having fondness for a cause or person.

Can also be translated as passion, zeal, ardour, or fervor.

Note: 情熱 order is not natural in Chinese. However, a typical Chinese person can guess that this is a Japanese or Korean word and also understand the intended the meaning. This selection is best if your audience is Japanese or old-school Korean.
---
See Also: Devotion | Tenacity | Commitment | Motivation

bǎi zhé bù náo

hyaku setsu su tou

백절불요

This Chinese proverb means "Be undaunted in the face of repeated setbacks." More directly-translated, it reads, "[Overcome] a hundred setbacks, without flinching." 百折不撓 is of Chinese origin but is commonly used in Japanese, and somewhat in Korean (same characters, different pronunciation).

This proverb comes from a long, and occasionally tragic story of a man that lived sometime around 25-220 AD. His name was Qiao Xuan and he never stooped to flattery but remained an upright person at all times. He fought to expose corruption of higher-level government officials at great risk to himself.

Then when he was at a higher level in the Imperial Court, bandits were regularly capturing hostages and demanding ransoms. But when his own son was captured, he was so focused on his duty to the Emperor and common good that he sent a platoon of soldiers to raid the bandits' hideout, and stop them once and for all even at the risk of his own son's life. While all of the bandits were arrested in the raid, they killed Qiao Xuan's son at first sight of the raiding soldiers.

Near the end of his career a new Emperor came to power, and Qiao Xuan reported to him that one of his ministers was bullying the people and extorting money from them. The new Emperor refused to listen to Qiao Xuan and even promoted the corrupt Minister. Qiao Xuan was so disgusted that in protest he resigned his post as minister (something almost never done) and left for his home village.

His tombstone reads "Bai Zhe Bu Nao" which is now a proverb used in Chinese culture to describe a person of strength will who puts up stubborn resistance against great odds.

My Chinese-English dictionary defines these 4 characters as, "keep on fighting in spite of all setbacks," "be undaunted by repeated setbacks" and "be indomitable."

Our translator says it can mean, "never give up" in modern Chinese.

Although the first two characters are translated correctly as "repeated setbacks," the literal meaning is "100 setbacks" or "a rope that breaks 100 times." The last two characters can mean "do not yield" or "do not give up."
Most Chinese, Japanese, and Korean people will not take this absolutely literal meaning but will instead understand it as the title suggests above. If you want a single big word definition, it would be indefatigability, indomitableness, persistence, or unyielding.
---
See Also: Tenacity | Fortitude | Strength | Perseverance

jiàn

ken

건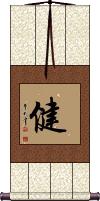 This "strong" character is the more "healthy" version of strong. 健 is the "strong" that is appropriate for an athlete.

Beyond "healthy," it can also mean strength, persistence, vigorous or invigorated.

sukoyaka

健やか is a verbose way to say strong and healthy in Japanese. 健やか is the "strong" that is appropriate for an athlete.

Beyond "healthy," it can also mean strength, persistence, vigorous or invigorated.

Japanese also use the first Kanji to mean the same thing. This version just adds two hiragana which serve to emphasize or amplify the word and clarify the meaning.
---
Note: Because this selection contains some special Japanese Hiragana characters, it should be written by a Japanese calligrapher.
The following table may be helpful for those studying Chinese or Japanese...
Title
Characters
Romaji

(Romanized Japanese)

Various forms of Romanized Chinese
Persistence
固執

---

固执
koshuu / koshu
gù zhí / gu4 zhi2 / gu zhi / guzhi
ku chih / kuchih
Indomitable
Persistence
Fortitude
不屈
fukutsu
bù qū / bu4 qu1 / bu qu / buqu
pu ch`ü / puchü / pu chü
Nothing is Impossible with Persistence
移山
isan
yí shān / yi2 shan1 / yi shan / yishan
i shan / ishan
Perseverance
堅韌不拔

---

坚韧不拔
jiān rèn bù bá

---

jian1 ren4 bu4 ba2

---

jian ren bu ba

---

jianrenbuba
chien jen pu pa

---

chienjenpupa
Daodejing
Tao Te Ching - Chapter 33
知人者知也自知者明也勝人者有力也自勝者強也知足者富也強行者有志也不失其所者久也死而不亡者壽也

---

知人者知也自知者明也胜人者有力也自胜者强也知足者富也强行者有志也不失其所者久也死而不亡者寿也
zhī rén zhě zhī yě zì zhī zhě míng yě shèng rén zhě yǒu lì yě zì shèng zhě qiáng yě zhī zú zhě fù yě qiáng xíng zhě yǒu zhì yě bù zhī qí suǒ zhě jiǔ yě sǐ ér bù wáng zhě shòu yě

---

zhi1 ren2 zhe3 zhi1 ye3 zi4 zhi1 zhe3 ming2 ye3 sheng4 ren2 zhe3 you3 li4 ye3 zi4 sheng4 zhe3 qiang2 ye3 zhi1 zu2 zhe3 fu4 ye3 qiang2 xing2 zhe3 you3 zhi4 ye3 bu4 zhi1 qi2 suo3 zhe3 jiu3 ye3 si3 er2 bu4 wang2 zhe3 shou4 ye3

---

zhi ren zhe zhi ye zi zhi zhe ming ye sheng ren zhe you li ye zi sheng zhe qiang ye zhi zu zhe fu ye qiang xing zhe you zhi ye bu zhi qi suo zhe jiu ye si er bu wang zhe shou ye
chih jen che chih yeh tzu chih che ming yeh sheng jen che yu li yeh tzu sheng che ch`iang yeh chih tsu che fu yeh ch`iang hsing che yu chih yeh pu chih ch`i so che chiu yeh ssu erh pu wang che shou yeh

---

chih jen che chih yeh tzu chih che ming yeh sheng jen che yu li yeh tzu sheng che chiang yeh chih tsu che fu yeh chiang hsing che yu chih yeh pu chih chi so che chiu yeh ssu erh pu wang che shou yeh
Endurance
持久
ji kyuu / jikyuu / ji kyu / jikyu
chí jiǔ / chi2 jiu3 / chi jiu / chijiu
ch`ih chiu / chihchiu / chih chiu
Indomitable
Unyielding
不屈不撓

---

不屈不挠
fukutsu futou

---

fukutsufutou

---

fukutsu futo

---

fukutsufuto
bù qū bù náo

---

bu4 qu1 bu4 nao2

---

bu qu bu nao

---

buqubunao
pu ch`ü pu nao

---

puchüpunao

---

pu chü pu nao
Passion for a Cause
熱情

---

热情
netsujou / netsujo
rè qíng / re4 qing2 / re qing / reqing
je ch`ing / jeching / je ching
Enthusiasm
Passion for a Cause
情熱

---

情热
jou netsu / jounetsu / jo netsu / jonetsu
qíng rè / qing2 re4 / qing re / qingre
ch`ing je / chingje / ching je
Undaunted After Repeated Setbacks
百折不撓

---

百折不挠
hyaku setsu su tou

---

hyakusetsusutou

---

hyaku setsu su to

---

hyakusetsusuto
bǎi zhé bù náo

---

bai3 zhe2 bu4 nao2

---

bai zhe bu nao

---

baizhebunao
pai che pu nao

---

paichepunao
Strong
Healthy
健
ken
jiàn / jian4 / jian
chien
Strong
Healthy
健やか
sukoyaka
In some entries above you will see that characters have different versions above and below a line.
In these cases, the characters above the line are Traditional Chinese, while the ones below are Simplified Chinese.
All of our calligraphy wall scrolls are handmade.
When the calligrapher finishes creating your artwork, it is taken to my art mounting workshop in Beijing where a wall scroll is made by hand from a combination of silk, rice paper, and wood.
After we create your wall scroll, it takes at least two weeks for air mail delivery from Beijing to you.
Allow a few weeks for delivery. Rush service speeds it up by a week or two for $10!
When you select your calligraphy, you'll be taken to another page where you can choose various custom options.
SAPRA INDIA: Military Issues: China: Overplaying Its Cards?
...plans, indicates that the Chinese political leadership does not ... Chinese persistence in this demand would only add further bad blood to Sino-US relations.
Missouri Botanical Garden Chinese Garden
...greater number of plants than many Chinese gardens in order to emphasize the ... of winter," Pinus symbolizes longevity, persistence, tenacity, and dignity.
persistence
Definition of persistence ... Chinese New Year. 2007 Calendar. Infoplease Tools. Calculator. Place Finder. Distance Calculator...