Five Principles in Chinese / Japanese...
Buy a Five Principles calligraphy wall scroll here!
Personalize your custom "Five Principles" project by clicking the button next to your favorite "Five Principles" title below...
The Five Principles of Reiki
kyou da ke wa oko ru na shin pai su na kan sha shi te gyou wo ha ke me hito ni shin setsu ni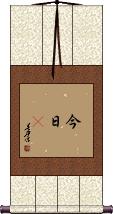 These are the five principles of Reiki.

They translate into English as...

At least for today:
Do not be angry,
Do not worry,
Be grateful,
Work with diligence,
Be kind to people.
---
Note: Because this selection contains some special Japanese Hiragana characters, it should be written by a Japanese calligrapher.
Having High Principles
Do not bow down for the sake of five pecks of rice

This Chinese idiom/proverb speaks of being above bribes, and not losing face or honor for a short-term gain.

Some may also translate the perceived meaning as, "high-hearted", or "integrity beyond reproach".

The more literal meaning is "Do not bow down for the sake of five pecks of rice".
Art of War: 5 Points of Analysis

The first chapter of Sun Tzu's Art of War lists five key points to analyzing your situation.

It reads like a 5-part military proverb. Sun Tzu says that to sharpen your skills, you must plan. To plan well, you must know your situation. Therefore, you must consider and discuss the following:

1. Philosophy and Politics: Make sure your way or your policy is agreeable among all of your troops (and the citizens of your kingdom as well). For when your soldiers believe in you and your way, they will follow you to their deaths without hesitation, and will not question your orders.

2. Heaven/Sky: Consider climate / weather. This can also mean to consider whether God is smiling on you. In the modern military, this could be waiting for clear skies so that you can have air support for an amphibious landing.

3. Ground/Earth: Consider the terrain in which the battle will take place. This includes analyzing defensible positions, exit routes, and using varying elevation to your advantage. When you plan an ambush, you must know your terrain, and the best location from which to stage that ambush. This knowledge will also help you avoid being ambushed, as you will know where the likely places in which to expect an ambush from your enemy.

4. Leadership: This applies to you as the general, and also to your lieutenants. A leader should be smart and be able to develop good strategies. Leaders should keep their word, and if they break a promise, they should punish themselves as harshly as they would punish subordinates. Leaders should be benevolent to their troops, with almost a fatherly love for them. Leaders must have the ability to make brave and fast decisions. Leaders must have steadfast principles.

5. [Military] Methods: This can also mean laws, rules, principles, model, or system. You must have an efficient organization in place to manage both your troops and supplies. In the modern military, this would be a combination of how your unit is organized, and your SOP (Standard Operating Procedure).
---
Notes: This is a simplistic translation and explanation. Much more is suggested in the actual text of the Art of War (Bing Fa). It would take a lot of study to master all of these aspects. In fact, these five characters can be compared to the modern military acronyms such as BAMCIS or SMEAC.

CJK notes: I have included the Japanese and Korean pronunciations but in Chinese, Korean and Japanese, this does not make a typical phrase (with subject, verb, and object) it is a list that only someone familiar with Sun Tzu's writings would understand.
This in-stock artwork might be what you are looking for, and ships right away...
Gallery Price: $60.00
Your Price: $39.88
The following table may be helpful for those studying Chinese or Japanese...
Title
Characters
Romaji

(Romanized Japanese)

Various forms of Romanized Chinese
The Five Principles of Reiki
今日丈けは怒るな心配すな感謝して業をはけめ人に親切に
kyou da ke wa oko ru na shin pai su na kan sha shi te gyou wo ha ke me hito ni shin setsu ni

---

kyo da ke wa oko ru na shin pai su na kan sha shi te gyo wo ha ke me hito ni shin setsu ni

---

kyodakewaokorunashinpaisunakanshashitegyowohakemehitonishinsetsuni
Having High Principles
不為五斗米折腰

---

不为五斗米折腰
bù wèi wǔ dǒu mǐ zhé yāo

---

bu4 wei4 wu3 dou3 mi3 zhe2 yao1

---

bu wei wu dou mi zhe yao

---

buweiwudoumizheyao
pu wei wu tou mi che yao

---

puweiwutoumicheyao
Art of War: 5 Points of Analysis
道天地將法

---

道天地将法
dou ten chi shou hou

---

doutenchishouhou

---

do ten chi sho ho

---

dotenchishoho
dào tiān dì jiàng fǎ

---

dao4 tian1 di4 jiang4 fa3

---

dao tian di jiang fa

---

daotiandijiangfa
tao t`ien ti chiang fa

---

taotientichiangfa

---

tao tien ti chiang fa
In some entries above you will see that characters have different versions above and below a line.
In these cases, the characters above the line are Traditional Chinese, while the ones below are Simplified Chinese.
Not the results for five principles that you were looking for?
Below are some entries from our dictionary that may match your five principles search...
Characters

If shown, 2nd row is Simp. Chinese

Pronunciation
Romanization
Simple Dictionary Definition

宗

see styles
zōng
zong1

---

tsung

---

sou / so
そう

---

(1) (obscure) origin; source; (2) (obscure) virtuous ancestor; (given name) Motoi

---

Ancestors, ancestral; clan; class, category. kind; school, sect; siddhānta, summary, main doctrine, syllogism, proposition, conclusion, realization. Sects are of two kinds: (1) those founded on principles having historic continuity, as the twenty sects of the Hīnayāna, the thirteen sects of China, and the fourteen sects of Japan: (2) those arising from an individual interpretation of the general teaching of Buddhism, as the sub-sects founded by Yongming 永明 (d. 975), 法相宗, 法性宗, 破相宗, or those based on a peculiar interpretation of one of the recognized sects, as the Jōdo-shinshū 淨土眞宗 found by Shinran-shōnin. There are also divisions of five, six, and ten, which have reference to specific doctrinal differences. Cf. 宗派; a tenet

五法

see styles
wǔ fǎ
wu3 fa3

---

wu fa

---

gohō

僧佉

see styles
sēng qiā
seng1 qia1

---

seng ch`ia
seng chia

---

sōkya

三彌叉

---

三弥叉

see styles
sān mí chā
san1 mi2 cha1

---

san mi ch`a
san mi cha

---

sanmisha

五支戒

see styles
wǔ zhī jiè
wu3 zhi1 jie4

---

wu chih chieh

---

go shikai

金剛界

---

金刚界

see styles
jīn gāng jiè
jin1 gang1 jie4

---

chin kang chieh

---

kongoukai / kongokai
こんごうかい

---

vajradhātu, 金界 The 'diamond', or vajra, element of the universe; it is the 智 wisdom of Vairocana in its indestructibility and activity; it arises from the garbhadhātu 胎藏界q.v., the womb or store of the Vairocana 理 reason or principles of such wisdom, v. 理智. The two, garbhadhātu and vajradhātu, are shown by the esoteric school, especially in the Japanese Shingon, in two maṇḍalas, i.e. groups or circles, representing in various portrayals the ideas arising from the two, fundamental concepts. vajradhātu is intp. as the 智 realm of intellection, and garbhadhātu as the 理 substance underlying it, or the matrix; the latter is the womb or fundamental reason of all things, and occupies the eastern position as 'cause' of the vajradhātu, which is on the west as the resultant intellectual or spiritual expression. But both are one as are Reason and Wisdom, and Vairocana (the illuminator, the 大日 great sun) presides over both, as source and supply. The vajradhātu represents the spiritual world of complete enlightenment, the esoteric dharmakāya doctrine as contrasted with the exoteric nirmāṇakāya doctrine. It is the sixth element 識 mind, and is symbolized by a triangle with the point downwards and by the full moon, which represents 智 wisdom or understanding; it corresponds to 果 fruit, or effect, garbhadhātu being 因 or cause. The 金剛王五部 or five divisions of the vajradhātu are represented by the Five dhyāni-buddhas, thus: centre 大日Vairocana; east 阿閦 Akṣobhya; south 寶生Ratnasambhava; west 阿彌陀 Amitābha; north 不 空 成就 Amoghasiddhi, or Śākyamuni. They are seated respectively on a lion, an elephant, a horse, a peacock, and a garuda. v. 五佛; also 胎; (Skt. vajradhātu)

三綱五常

---

三纲五常

see styles
sān gāng wǔ cháng
san1 gang1 wu3 chang2

---

san kang wu ch`ang
san kang wu chang

五種唯識

---

五种唯识

see styles
wǔ zhǒng wéi shì
wu3 zhong3 wei2 shi4

---

wu chung wei shih

---

goshu yuishiki

和平共處五項原則

---

和平共处五项原则

see styles
hé píng gòng chǔ wǔ xiàng yuán zé
he2 ping2 gong4 chu3 wu3 xiang4 yuan2 ze2

---

ho p`ing kung ch`u wu hsiang yüan tse
ho ping kung chu wu hsiang yüan tse
Many custom options...




And formats...



Successful Chinese Character and Japanese Kanji calligraphy searches within the last few hours...
All of our calligraphy wall scrolls are handmade.
When the calligrapher finishes creating your artwork, it is taken to my art mounting workshop in Beijing where a wall scroll is made by hand from a combination of silk, rice paper, and wood.
After we create your wall scroll, it takes at least two weeks for air mail delivery from Beijing to you.
Allow a few weeks for delivery. Rush service speeds it up by a week or two for $10!
When you select your calligraphy, you'll be taken to another page where you can choose various custom options.
Check out my lists of Japanese Kanji Calligraphy Wall Scrolls and Old Korean Hanja Calligraphy Wall Scrolls.
Some people may refer to this entry as Five Principles Kanji, Five Principles Characters, Five Principles in Mandarin Chinese, Five Principles Characters, Five Principles in Chinese Writing, Five Principles in Japanese Writing, Five Principles in Asian Writing, Five Principles Ideograms, Chinese Five Principles symbols, Five Principles Hieroglyphics, Five Principles Glyphs, Five Principles in Chinese Letters, Five Principles Hanzi, Five Principles in Japanese Kanji, Five Principles Pictograms, Five Principles in the Chinese Written-Language, or Five Principles in the Japanese Written-Language.
5 people have searched for Five Principles in Chinese or Japanese in the past year.
Five Principles was last searched for by someone else on Oct 10th, 2021