Custom Chastity Chinese & Japanese Calligraphy Wall Scroll
We have many options to create artwork with Chastity characters on a wall scroll or portrait.
If you want to create a cool Chastity Asian character tattoo, you can purchase that here: Asian / Chinese / Japanese Tattoo Image Service ...and we'll give you many tattoo image templates of the ancient Asian symbols that express the idea of chastity.
---
---

In Chinese, 貞節 would be defined as "The state of being sexually pure" or "chaste".

Culturally, this especially applies to young women. 貞節 is not actually far off from our western view on this subject. In Japanese and Korean, this could also be used to express virtue, faithfulness, and fidelity.
---
See Also: Modesty
Chastity / Pure Heart
Also: Clean / Innocent / Pure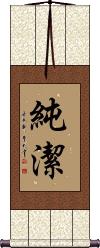 純潔 is associated with "chastity" but with the direct meaning of clean, innocent, and pure.

If you were expressing the idea of a "pure heart" in Chinese, while not literal, this would be the word you would use.

In Japanese, this word is sometimes used to express purity.

In Korean, it describes purity, chastity, virginity, and innocence (basically the same as the Chinese definition).
Ethics / Ethical / Morality

This Chinese, Japanese, and old Korean word can also be defined as "moral principles", morality, ethics, ethical, morals, or virtue.

The first character is the same that is associated with Daoism / Taoism. 道德 is also used to express morality, virtue, or simply morals.
---

There is a slight deviation in the Japanese Kanji form. If you want the modern Japanese version, please click on the special Kanji shown to the right instead of the button above. Note that the traditional Chinese form is still readable and understood by Japanese people.
---
See Also: Prudence

貞烈 is the Japanese Kanji for, "Extreme Faithfulness".

The first Kanji means "firm adherence to one's principles", chastity (of a woman), chaste, etc.

The second Kanji means ardent, intense, fierce, stern, upright, to give one's life for a noble cause, exploits, achievements, virtuous, and in some contexts, heroic.

Now you get the idea why this refers to someone who is extremely faithful (to a cause, themselves, their religious beliefs, or their philosophy.
Fidelity / Personal Integrity / Honor

操守 is the Chinese and Japanese Kanji for personal integrity, constancy, fidelity, and honor/honour.

The original meaning of the first character is chastity, fidelity, honor/honour, and/or faith.

The second character means to defend, guard, keep watch, be observant.

So, this is about being observant of, and guarding your integrity and honor.

節操 means honorable, integrity of principle, constancy, honor, and in a certain context, chastity.

Please note that there are a few ways to relay the idea of integrity in Asian languages, and more than one way to define honor in English. 節操 is far from the only way to express "honor and integrity".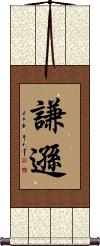 Depending on context, this can be translated as modesty, humbleness or humility.

The first character means "modesty" while the second means "yielding". Together it could be stated as "yielding modesty".
---
See Also: Prudence | Moderation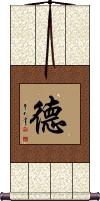 德 is the simple way to express the ideas of having virtue, morals, kindness, benevolence, goodness etc.

德 also happens to be the first character of the Chinese word for Germany.
---

There is a slight deviation in the Japanese Kanji form. If you want the modern Japanese version, please click on the special Kanji shown to the right instead of the button above. Note that the traditional Chinese form is still readable and understood by Japanese people.
---
See Also: Ethics | Prudence | Benevolence | Morality

慎重 conveys the idea of being considerate, having prudence, and being thoughtful when taking action.

慎重 can also mean cautious, careful, discreet, deliberate, or taking all things into consideration.

The general meaning is shared across languages. However, in Chinese, this is more about prudence, while in Japanese, this is more about being considerate.

Chinese Catholics use this word to represent "prudence" in the list of the Seven Heavenly Virtues.
---


Note: Depending on your choice of Chinese or Japanese calligraphers, the first Kanji will vary slightly. It is technically the same character. Japanese tend to leave a space between the upper and lower portions of this particular Kanji. See sample images to the right.
---
See Also: Moderation | Modesty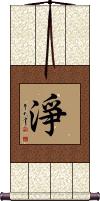 淨 is the most simple way to express purity or cleanliness in Chinese, Japanese Kanji, and old Korean Hanja.

As a single character, the concept is broad: This can be a verb (the act of cleaning, purifying, or to cleanse) but it can also be the state of being clean, pure, and chaste. In some context, it can be a place to clean (like a bathing room for the soul in a Buddhist context). In Japanese, this can be a female given name "Jou" or "jō" (the Japanese equivalent of the English girl's name "Chastity").
The following table may be helpful for those studying Chinese or Japanese...
Title
Characters
Romaji

(Romanized Japanese)

Various forms of Romanized Chinese
Chastity
貞節

---

贞节
teisetsu
zhēn jié / zhen1 jie2 / zhen jie / zhenjie
chen chieh / chenchieh
Chastity
沙史提迪
shā shǐ tí dí

---

sha1 shi3 ti2 di2

---

sha shi ti di

---

shashitidi
sha shih t`i ti

---

shashihtiti

---

sha shih ti ti
Chastity
チャスチチー
chasutitii / chasutiti
Chastity
貞潔

---

贞洁
teiketsu / teketsu
zhēn jié / zhen1 jie2 / zhen jie / zhenjie
chen chieh / chenchieh
Chastity
Pure Heart
純潔

---

纯洁
jun ketsu / junketsu
chún jié / chun2 jie2 / chun jie / chunjie
ch`un chieh / chunchieh / chun chieh
Ethics
Ethical
Morality
道德

---

道德 / 道徳
dou toku / doutoku / do toku
dào dé / dao4 de2 / dao de / daode
tao te / taote
Extreme Faithfulness
貞烈
tei retsu / teiretsu
Fidelity
Personal Integrity
Honor
操守
soushu / soshu
cāo shǒu / cao1 shou3 / cao shou / caoshou
ts`ao shou / tsaoshou / tsao shou
Honor and Integrity
節操

---

节操
sessou / seso
jié cāo / jie2 cao1 / jie cao / jiecao
chieh ts`ao / chiehtsao / chieh tsao
Modesty
謙遜

---

谦逊
kenson
qiān xùn / qian1 xun4 / qian xun / qianxun
ch`ien hsün / chienhsün / chien hsün
Moral and Virtuous
德

---

徳
toku
dé / de2 / de
te
Prudence
Considerate
慎重
shin chou / shinchou / shin cho
shèn zhòng

---

shen4 zhong4

---

shen zhong

---

shenzhong
shen chung

---

shenchung
Purity
淨
jou / jo
jìng / jing4 / jing
ching
In some entries above you will see that characters have different versions above and below a line.
In these cases, the characters above the line are Traditional Chinese, while the ones below are Simplified Chinese.
All of our calligraphy wall scrolls are handmade.
When the calligrapher finishes creating your artwork, it is taken to my art mounting workshop in Beijing where a wall scroll is made by hand from a combination of silk, rice paper, and wood.
After we create your wall scroll, it takes at least two weeks for air mail delivery from Beijing to you.
Allow a few weeks for delivery. Rush service speeds it up by a week or two for $10!
When you select your calligraphy, you'll be taken to another page where you can choose various custom options.
Lu Xiu
...of the history of women in Chinese society, Lu traces the development of men's ... If chastity is to remain a Chinese moral value, Lu proposes that it be a...
10,000 Bullets " Shaolin vs Ninja/Shaolin Chastity Kung Fu
Exploring the world of Cinema from the Arthouse to the Grindhouse ... Lou aka Alexander Lo Rei): Is it true that Chinese people write Chinese?...
Hinton Rowan Helper Opposes Chinese Immigration
...As I Saw It, 1849-1900, Helper set forth his views on Chinese immigration.
... good morals are unknown, they have no regard whatever for chastity or virtue.
Intersections: Sex in the City: Chastity vs Free Love in Interwar Japan
Ejournal examining issues of Gender, History & Culture in the Asian Context ... with assumptions about gender roles, permeated the values of Japanese elites.
Female Chastity Belts
Chastity underwear in Bangkok. Woman Wears CB on Florida Vacation ... More Chastity Devices like Erosart. Japanese Chastity Belt...
Marriage Leads Many Japanese Women to Islam
Two years later, like many Japanese women married to Muslim men in Japan, she ... The chastity and honor of women are protected. No illicit relations are allowed.
Elements of Japanese Garden Design
Japanese gardens are some of the most tranquil spaces I know.
... such as irises symbolizing purity, innocence and chastity; a five-tiered pagoda,...
Japanese Literature
This system is dedicated to the Japanese people and to the enrichment it can ... piety, respect for one's elders, true friendship and chastity were emphasized.
Japanese PSYOP During WWII
...civilian and military Japanese psychological operations (PSYOP) organizations ... They would be last to respect the chastity of Filipino women.