Do Not Worry in Chinese / Japanese...
Buy a Do Not Worry calligraphy wall scroll here!
Personalize your custom "Do Not Worry" project by clicking the button next to your favorite "Do Not Worry" title below...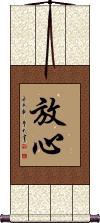 My Australian friends always say, "No worries, mate." It's caught on with me, though I drop the "mate" part since it confuses my fellow Americans.

If you would like to express the idea of "no worries," 放心 is the best and most natural way to say it in Chinese.

The characters you see to the left can be translated as "put your mind at rest" or "to be at ease." You could literally translate "no worries," but it doesn't "flow" like this simple Chinese version.

For your info, the first character means to release, to free, to let go, to relax, or to rest. The second character means your heart or your mind.

Note that in Japanese and Korean, this holds the similar meaning of "peace of mind" but can also mean absentmindedness or carelessness, depending on context.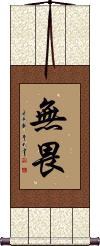 無畏 literally means "No Fear." But perhaps not the most natural Chinese phrase (see our other "No Fear" phrase for a complete thought). However, this two-character version of "No Fear" seems to be a very popular way to translate this into Chinese when we checked Chinese Google.

Note: This also means "No Fear" in Japanese and Korean, but this character pair is not often used in Japan or Korea.

This term appears in various Chinese dictionaries with definitions like "without fear," intrepidity, fearless, dauntless, and bold.

In the Buddhist context, this is a word derived from the word Abhaya, meaning: Fearless, dauntless, secure, nothing, and nobody to fear. Also, from vīra meaning: courageous, bold.
---
See Also: Never Give Up | No Worries | Undaunted | Bravery | Courage | Fear No Man
This in-stock artwork might be what you are looking for, and ships right away...
Not the results for do not worry that you were looking for?
Below are some entries from our dictionary that may match your do not worry search...
Characters

If shown, 2nd row is Simp. Chinese

Pronunciation
Romanization
Simple Dictionary Definition

不虞

see styles
bù yú
bu4 yu2

---

pu yü

---

fugu
ふぐ

---

emergency

不患寡而患不均

see styles
bù huàn guǎ ér huàn bù jun
bu4 huan4 gua3 er2 huan4 bu4 jun1

---

pu huan kua erh huan pu chün

皇帝女兒不愁嫁

---

皇帝女儿不愁嫁

see styles
huáng dì nǚ ér bù chóu jià
huang2 di4 nu:3 er2 bu4 chou2 jia4

---

huang ti nü erh pu ch`ou chia
huang ti nü erh pu chou chia

分憂

---

分忧

see styles
fēn yōu
fen1 you1

---

fen yu

安枕

see styles
ān zhěn
an1 zhen3

---

an chen

寬亮

---

宽亮

see styles
kuān liàng
kuan1 liang4

---

k`uan liang
kuan liang

寬暢

---

宽畅

see styles
kuān chàng
kuan1 chang4

---

k`uan ch`ang
kuan chang

愁腸

---

愁肠

see styles
chóu cháng
chou2 chang2

---

ch`ou ch`ang
chou chang

慰む

see styles
nagusamu
なぐさむ

憂悶

---

忧闷

see styles
yōu mèn
you1 men4

---

yu men

---

yuumon / yumon
ゆうもん

---

(n,vs,vi) anguish; mortification

---

愁悶 Distress, grief, sadness; distress

滅度

---

灭度

see styles
miè dù
mie4 du4

---

mieh tu

---

metsudo
めつど

---

extinguishing illusion and passing over to Nirvana

---

nirvāṇa: extinction of reincarnation and escape from suffering; extinction [of mental activity]

滌慮

---

涤虑

see styles
dí lǜ
di2 lu:4

---

ti lü

煩惱

---

烦恼

see styles
fán nǎo
fan2 nao3

---

fan nao

---

bonnō
ぼんのう

---

(out-dated kanji) (1) worldly desires; evil passions; appetites of the flesh; (2) (Buddhist term) klesha (polluting thoughts such as greed, hatred and delusion, which result in suffering)

---

kleśa, 'pain, affliction, distress,' 'care, trouble' (M.W.). The Chinese tr. is similar, distress, worry, trouble, and whatever causes them. Keith interprets kleśa by 'infection', 'contamination', 'defilement'. The Chinese intp. is the delusions, trials, or temptations of the passions and of ignorance which disturb and distress the mind; also in brief as the three poisons 貪瞋痴 desire, detestation, and delusion. There is a division into the six fundamental 煩惱, or afflictions, v. below, and the twenty which result or follow them and there are other dual divisions. The six are: 貪瞋痴慢疑 and 惡見 desire, detestation, delusion, pride, doubt, and evil views, which last are the false views of a permanent ego, etc. The ten 煩惱 are the first five, and the sixth subdivided into five. 煩惱, like kleśa, implies moral affliction or distress, trial, temptation, tempting, sin. Cf. 使.

脫然

---

脱然

see styles
tuō rán
tuo1 ran2

---

t`o jan
to jan

解脫

---

解脱

see styles
jiě tuō
jie3 tuo1

---

chieh t`o
chieh to

---

gedatsu

---

mukti, 'loosing, release, deliverance, liberation, setting free,... emancipation.' M.W. mokṣa, 'emancipation, deliverance, freedom, liberation, escape, release.' M.W. Escape from bonds and the obtaining of freedom, freedom from transmigration, from karma, from illusion, from suffering; it denotes nirvāṇa and also the freedom obtained in dhyāna-meditation; it is one of the five characteristics of Buddha; v. 五分法身. It is also vimukti and vimokṣa, especially in the sense of final emancipation. There are several categories of two kinds of emancipation, also categories of three and eight. Cf. 毘; and 八解脫.; v. 解; salvation, liberation

主思い

see styles
shuuomoi / shuomoi
しゅうおもい

心配事

see styles
shinpaigoto
しんぱいごと

掛構い

see styles
kakekamai
かけかまい

散じる

see styles
sanjiru
さんじる

散ずる

see styles
sanzuru
さんずる

伸び伸び

see styles
nobinobi
のびのび

多情多恨

see styles
tajoutakon / tajotakon
たじょうたこん

後顧之憂

---

后顾之忧

see styles
hòu gù zhī yōu
hou4 gu4 zhi1 you1

---

hou ku chih yu

心配ごと

see styles
shinpaigoto
しんぱいごと

排憂解難

---

排忧解难

see styles
pái yōu jiě nàn
pai2 you1 jie3 nan4

---

p`ai yu chieh nan
pai yu chieh nan

掛け構い

see styles
kakekamai
かけかまい

新愁舊恨

---

新愁旧恨

see styles
xīn chóu jiù hèn
xin1 chou2 jiu4 hen4

---

hsin ch`ou chiu hen
hsin chou chiu hen

無憂無慮

---

无忧无虑

see styles
wú yōu wú lǜ
wu2 you1 wu2 lu:4

---

wu yu wu lü

無拘無束

---

无拘无束

see styles
wú jū wú shù
wu2 ju1 wu2 shu4

---

wu chü wu shu

舊愁新恨

---

旧愁新恨

see styles
jiù chóu xīn hèn
jiu4 chou2 xin1 hen4

---

chiu ch`ou hsin hen
chiu chou hsin hen
Click here for more do not worry results from our dictionary
The following table may be helpful for those studying Chinese or Japanese...
Title
Characters
Romaji

(Romanized Japanese)

Various forms of Romanized Chinese
No Worries
放心
houshin / hoshin
fàng xīn / fang4 xin1 / fang xin / fangxin
fang hsin / fanghsin
No Fear
無畏

---

无畏
mui
wú wèi / wu2 wei4 / wu wei / wuwei
In some entries above you will see that characters have different versions above and below a line.
In these cases, the characters above the line are Traditional Chinese, while the ones below are Simplified Chinese.
Many custom options...




And formats...



Successful Chinese Character and Japanese Kanji calligraphy searches within the last few hours...
All of our calligraphy wall scrolls are handmade.
When the calligrapher finishes creating your artwork, it is taken to my art mounting workshop in Beijing where a wall scroll is made by hand from a combination of silk, rice paper, and wood.
After we create your wall scroll, it takes at least two weeks for air mail delivery from Beijing to you.
Allow a few weeks for delivery. Rush service speeds it up by a week or two for $10!
When you select your calligraphy, you'll be taken to another page where you can choose various custom options.
Check out my lists of Japanese Kanji Calligraphy Wall Scrolls and Old Korean Hanja Calligraphy Wall Scrolls.
Some people may refer to this entry as Do Not Worry Kanji, Do Not Worry Characters, Do Not Worry in Mandarin Chinese, Do Not Worry Characters, Do Not Worry in Chinese Writing, Do Not Worry in Japanese Writing, Do Not Worry in Asian Writing, Do Not Worry Ideograms, Chinese Do Not Worry symbols, Do Not Worry Hieroglyphics, Do Not Worry Glyphs, Do Not Worry in Chinese Letters, Do Not Worry Hanzi, Do Not Worry in Japanese Kanji, Do Not Worry Pictograms, Do Not Worry in the Chinese Written-Language, or Do Not Worry in the Japanese Written-Language.
14 people have searched for Do Not Worry in Chinese or Japanese in the past year.
Do Not Worry was last searched for by someone else on Oct 17th, 2022