Not what you want?
Try searching again using:
1. Other similar-meaning words.
2. Fewer words or just one word.
No Worries in Chinese / Japanese...
Buy a No Worries calligraphy wall scroll here!
Start your custom "No Worries" project by clicking the button next to your favorite "No Worries" title below...

fàng xīn

houshin

방심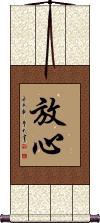 My Australian friends always say "No worries mate." It's caught on with me, though I drop the "mate" part since it confuses my fellow Americans.

If you would like to express the idea of "no worries" this is the best and most natural way to say it in Chinese.

The characters you see to the left can be translated as "put your mind at rest" or "to be at ease." You could literally translate "no worries" but it doesn't "flow" like this simple Chinese version.

For your info, the first character means to release, to free, to let go, to relax, or to rest. The second character means your heart or your mind.

Note that in Japanese and Korean, this holds the similar meaning of "peace of mind" but can also mean absentmindedness or carelessness depending on context.

yǒu bèi wú huàn

유비무환

This really means, "When you are well-prepared, you have nothing to fear." Noting that the third character means "no" or "without" and modifies the last... The last character can mean misfortune, troubles, worries, or fears. It could even be stretched to mean sickness. Therefore you can translate this proverb a few ways. I've also seen it translated as "Preparedness forestalls calamities."

有備無患 is comparable to the English idiom, "Better safe than sorry" but does not directly/literally mean this.

bái tiān bù zuò kuī xīn shì yè bàn qiāo mén bù chī jīng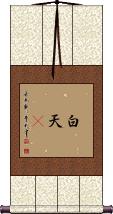 This literally translates as: [If one does] not do bad things in the daytime, one need not be alarmed at knocks on the door in the middle of the night.

The meaning is something like, "A quiet conscience sleeps in thunder." Basically, the message is, "don't commit crimes and you won't be jumpy every time the doorbell rings (so don't do anything wrong and your life will have fewer worries and you can sleep at night)".

wú wèi

mui

무외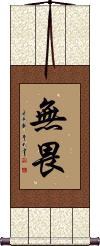 This literally means "No Fear." But perhaps not the most natural Chinese phrase (see our other "No Fear" phrase for a more complete thought). However, this two-character version of "No Fear" seems to be a very popular way to translate this into Chinese, when we checked Chinese Google.

Note: This also means "No Fear" in Japanese and Korean but this character pair is not often used in Japan or Korea.

This term appears in various Chinese dictionaries with definitions like "without fear," intrepidity, fearless, dauntless, and bold.

In Buddhist context, this is a word derived from abhaya meaning: Fearless, dauntless, secure, nothing and nobody to fear. Also from vīra meaning: courageous, bold.
---
See Also: Never Give Up | Undaunted | Bravery | Courage | Fear No Man
Not the results for no worries that you were looking for?
Below are some entries from our dictionary that may match your no worries search...
Characters

If shown, 2nd row is Simp. Chinese

Pronunciation
Romanization
Simple Dictionary Definition

Fatal error: Cannot redeclare mockup() (previously declared in /home/admin/web/orientaloutpost.com/public_html/includes/render5.php:4) in /home/admin/web/orientaloutpost.com/public_html/render5.php on line 537