Buy a wall scroll with Brian in Chinese or Japanese.
We've carefully transliterated the name Brian into Mandarin Chinese and Japanese Katakana. Click a button below to see many custom calligraphy artwork options for Brian.

tiě zhǎng

tetsu-tenohira

철장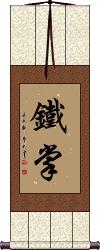 These two characters mean "iron palm," the martial arts technique taught by Brian Gray and others.

This term can mean different things to different people. The consensus is that rather than a type or style of martial arts, this is a technique for refining hand position and strengthening of hands to strike blows for with maximum force and effect.

The regime may include herbal treatments and special exercises to fortify the hands.

In more extreme versions, the carpals and metacarpal bones in the hand are systematically broken, so that when they heal, they will become stronger.

Japanese note: This does make sense in Japanese (though the version shown above is the ancient form of the first Kanji) this is far from a commonly-known term.
The following table may be helpful for those studying Chinese or Japanese...
Title
Characters
Romaji

(Romanized Japanese)

Various forms of Romanized Chinese
Brian
布萊恩

---

布莱恩
bù lái ēn

---

bu4 lai2 en1

---

bu lai en

---

bulaien
pu lai en

---

pulaien
Brian
佈賴恩

---

布赖恩
bù lài ēn

---

bu4 lai4 en1

---

bu lai en

---

bulaien
pu lai en

---

pulaien
Brian
ブライアン
buraian
Iron Palm
鐵掌

---

铁掌
tetsu-tenohira
tiě zhǎng

---

tie3 zhang3

---

tie zhang

---

tiezhang
t`ieh chang

---

tiehchang

---

tieh chang
In some entries above you will see that characters have different versions above and below a line.
In these cases, the characters above the line are Traditional Chinese, while the ones below are Simplified Chinese.
All of our calligraphy wall scrolls are handmade.
When the calligrapher finishes creating your artwork, it is taken to my art mounting workshop in Beijing where a wall scroll is made by hand from a combination of silk, rice paper, and wood.
After we create your wall scroll, it takes at least two weeks for air mail delivery from Beijing to you.
Allow a few weeks for delivery. Rush service speeds it up by a week or two for $10!
When you select your calligraphy, you'll be taken to another page where you can choose various custom options.
Chinese Name Brian - Chinese Characters and Chinese Symbols ...
Chinese Name for Brian - Chinese Names and Characters translated from English names, personal Chinese chop, t-shirts, pendants and Chinese gifts - csymbol.com
"Brian" in Chinese, calligraphy, pronunciation.
Your name in English, Chinese character, Pinyin pronunciation and Calligraphy.
Brian in Chinese Characters and Japanese Kanji Symbols ...
This is the most common transliteration to Mandarin Chinese for the name Brian.
Bryan China Company offers stock and custom dinnerware for ...
While you may not know our name, you have certainly seen our products. Our focus is chinaware, for both decorative and foodservice use. At Bryan China Company, no...
Origin and Meaning of Brian - Baby Boy Name Brian
The Irish Baby Boy Name Brian means - A name that means 'strong and honorable.' ... African Baby Names - Hawaiian Baby Names - Russian Baby Names - Chinese Baby Names
CHINESE NAME Brian - All About The Chinese Name Brian
Chinese Name Brian, EVERYTHING About It. Meanings: Textile; cloth; a copper coin in ancient times\Announce; spread; arrange\A surname. Pigweed; wasteland\Weed\A surname.
Brain Cancer Symbol | eHow.com
Brain Cancer Symbol. Brain cancer is a difficult cancer to deal with: The cause is not fully known, and treatments can be complicated, as they could interfere with normal...
How the Brain Maps Symbols to Numbers: Scientific American
New research shows the prefrontal cortex handles the work of associating numerals with matching quantities
human-brain.org
The second review of brain symbols. Below if the full text of the 'review' I got about brain symbols, and here is my e-mail to the editor. The editor sent my reponse to...
FunBrain Periodic Table Game
FunBrain will show you a periodic table that contains the elements' symbols and their periodic numbers. There are two ways to play: You are given an element's name...
"The Lost Symbol" and the Freemasons: 8 Myths Decoded
Brian Handwerk for National Geographic News ... Since long before The Lost Symbol, Freemasons have been accused of everything from...
Dan Brown - The Lost Symbol
Subscribe Unsubscribe
The Neurons In The Brain Cannot Implement Symbolic Systems
Discussion of implementing symbolic system in the brain (and why it is impossible)
Symbol Technologies Promotes Brian Murphy to Lead Asia ...
HOLTSVILLE, N.Y.--Sept. 8, 2003--Symbol Technologies, Inc. (NYSE: SBL), a global leader in enterprise mobility solutions, today announced the promotion of Brian Murphy, a...