Decision in Chinese / Japanese...
Buy a Decision calligraphy wall scroll here!
Personalize your custom "Decision" project by clicking the button next to your favorite "Decision" title below...
---
---
Justice / Rectitude / Right Decision
Also means: honor loyalty morality righteousness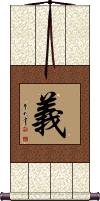 義 is about doing the right thing or making the right decision, not because it's easy but because it's ethically and morally correct.

No matter the outcome or result, one does not lose face if tempering proper justice.

義 can also be defined as righteousness, justice, morality, honor, or "right conduct." In a more expanded definition, it can mean loyalty to friends, loyalty to the public good, or patriotism. This idea of loyalty and friendship comes from the fact that you will treat those you are loyal to with morality and justice.

義 is also one of the five tenets of Confucius's doctrine.



There's also an alternate version of this character sometimes seen in Bushido or Korean Taekwondo tenets. It's just the addition of a radical on the left side of the character. If you want this version, click on the image to the right instead of the button above.
---
This is also a virtue of the Samurai Warrior
See our page with just Code of the Samurai / Bushido here
---
See Also: Judgment | Impartial | Confucius Tenets
Impartial and Fair to the Brotherhood and Sisterhood of the World

一視同仁 is how to write "universal benevolence." This is also how to express the idea that you see all people the same.

If you are kind and charitable to everyone, this is the best way to state that virtue. It is the essence of being impartial to all mankind, regardless of social standing, background, race, sex, etc. You do not judge others, but instead, you see them eye to eye on the same level as you.
---
See Also: Benevolence | Compassion | Equality | Justice | Selflessness | Work Unselfishly for the Common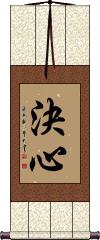 決心 is a Chinese, Japanese, and Korean word that holds the dictionary definition of determination but literally means determined heart.

The first character means to determine or determined.

The second character means heart, mind, or soul, so you can imagine that this form of determination partially means putting your heart into something. It can also be translated as resolve, resolution, or decision (as in a decision made and followed).
---
See Also: Devotion | Tenacious | Passion | Dedication | Will-Power
My Life, My Rules
My life, I call the shots
wǒ de shēng huó wǒ zuò zhǔ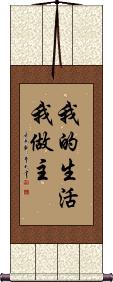 我的生活我做主 is a Chinese phrase that can be translated as "My life, my rules," or "My life, I call the shots."

The first four characters say, "my life."

The fifth character is I, me, and/or my.

The last two characters can be interpreted in a variety of ways, just as to make the decision, to take charge of, to call the shot, or to make the rule.
A Deliberate Inaction is Better than a Blind Action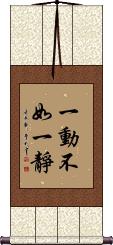 Sometimes 一動不如一靜 is translated by others as "Look before you leap" but the more accurate and direct translation is the one I used in the title.

While somewhat military in its origin, this proverb can apply to any situation where a decision needs to be made, but perhaps there are still some "unknowns."

This phrase suggests that in our "action-based" world, sometimes the "smarter move" is "no move at all."
---
See Also: Better to Choose Nothing Rather Than Make a Poor Choice
No Surrender
Honor Does Not Allow Second Thoughts

義無反顧 is a Chinese proverb that can be translated in a few different ways. Here are some examples:

Honor does not allow one to glance back.
Duty-bound not to turn back.
No surrender.
To pursue justice with no second thoughts.
Never surrender your principles.

This proverb is about the courage to do what is right without questioning your decision to take the right and just course.

自由意志 is a concept that has existed for thousands of years that humans can understand right and wrong, then make a decision one way or the other (thus affecting their fate).

Sources such as Confucius, Buddhist scriptures, the Qur'an, and the Bible all address this idea.

As for the characters shown here, the first two mean free, freedom, or liberty. The last two mean "will."

Can be romanized from Japanese as jiyū-ishi, jiyuu-ishi, and sometimes jiyuu-ishii.
It's 자유의지 or jayuu-yiji in Korean and zìyóu yìzhì in Chinese.
---
See Also: Freedom | Strong Willed | Fate
Goddess of Mercy and Compassion
This is the long or more formal version of this title

觀世音 is the longer and perhaps more formal title for the Buddhist deity known as the Goddess of Mercy or Bodhisattva of Compassion.

The longer title of this bodhisattva is Romanized in the following ways:
Mandarin Chinese: Guanshi Yin, Kuan-shih Yin.
Japanese: Kanzeon.
Sanskrit: Bodhisattva Avalokitesvara.
Korean: Gwan-se-eum.
Vietnamese: Quan Thế Âm.
Thai: Prah Mae Kuan Eim.
English: Bodhisattva of Mercy and Salvation, Goddess of Compassion, Buddha of Mercy, et al.

Please view our more common and shorter version, "Guan Yin" before you make a decision. Also, note that the first character has a slight variation in Japanese. If your audience is specifically Japanese, you may want to select that version.
---
Unselfish: Perfectly Impartial

大公無私 is a Chinese proverb that comes from an old story from some time before 476 BC. About a man named Qi Huangyang, who was commissioned by the king to select the best person for a certain job in the Imperial Court.

Qi Huangyang selected his enemy for the job. The king was very confused by the selection, but Qi Huangyang explained that he was asked to find the best person for the job, not necessarily someone that he liked or had a friendship with.

Later, Confucius commented on how unselfish and impartial Qi Huangyang was by saying, "Da Gong Wu Si" which, if you look it up in a Chinese dictionary, is generally translated as "Unselfish" or "Just and Fair."

If you translate each character, you'd have something like
"Big/Deep Justice Without Self."
Direct translations like this leave out a lot of what the Chinese characters really say. Use your imagination, and suddenly you realize that "without self" means "without thinking about yourself in the decision" - together, these two words mean "unselfish." The first two characters serve to drive the point home that we are talking about a concept that is similar to "blind justice."

One of my Chinese-English dictionaries translates this simply as "just and fair." So that is the short and simple version.

Note: This can be pronounced in Korean, but it's not a commonly used term.
---
See Also: Selflessness | Work Unselfishly for the Common Good | Altruism
These search terms might be related to Decision:
2. Right Resolve / Right Thought / Right Intention / Perfect Resolve

Better to Choose Nothing, Rather Than Make a Poor Choice

Choice / Choose / Select

Determination

Determination to Achieve

Determination to Achieve / Will-Power

Esprit De Corps / Determination

Evil Cause, Evil Result

Never Forget Your First Resolution

Unswerving Determination / Firm and Persistent


The following table may be helpful for those studying Chinese or Japanese...
Title
Characters
Romaji

(Romanized Japanese)

Various forms of Romanized Chinese
Justice
Rectitude
Right Decision
義

---

义
gi
yì / yi4 / yi
i
Impartial and Fair to the Brotherhood and Sisterhood of the World
一視同仁

---

一视同仁
isshidoujin

---

ishidojin
yí shì tóng rén

---

yi2 shi4 tong2 ren2

---

yi shi tong ren

---

yishitongren
i shih t`ung jen

---

ishihtungjen

---

i shih tung jen
Determination
決心

---

决心
kesshin / keshin
jué xīn / jue2 xin1 / jue xin / juexin
chüeh hsin / chüehhsin
Prophet Muhammad
穆聖

---

穆圣
mù shèng / mu4 sheng4 / mu sheng / musheng
My Life, My Rules
我的生活我做主
wǒ de shēng huó wǒ zuò zhǔ

---

wo3 de sheng1 huo2 wo3 zuo4 zhu3

---

wo de sheng huo wo zuo zhu

---

wodeshenghuowozuozhu
wo te sheng huo wo tso chu

---

woteshenghuowotsochu
A Deliberate Inaction is Better than a Blind Action
一動不如一靜

---

一动不如一静
yí dòng bù rú yí jìng

---

yi2 dong4 bu4 ru2 yi2 jing4

---

yi dong bu ru yi jing

---

yidongburuyijing
i tung pu ju i ching

---

itungpujuiching
No Surrender
義無反顧

---

义无反顾
yì wú fǎn gù

---

yi4 wu2 fan3 gu4

---

yi wu fan gu

---

yiwufangu
i wu fan ku

---

iwufanku
Free Will
自由意志
jiyuu ishi / jiyuuishi / jiyu ishi
zì yóu yì zhì

---

zi4 you2 yi4 zhi4

---

zi you yi zhi

---

ziyouyizhi
tzu yu i chih

---

tzuyuichih
Goddess of Mercy and Compassion
觀世音

---

观世音
guān shì yīn

---

guan1 shi4 yin1

---

guan shi yin

---

guanshiyin
kuan shih yin

---

kuanshihyin
Unselfish: Perfectly Impartial
大公無私

---

大公无私
dà gōng wú sī

---

da4 gong1 wu2 si1

---

da gong wu si

---

dagongwusi
ta kung wu ssu

---

takungwussu
In some entries above you will see that characters have different versions above and below a line.
In these cases, the characters above the line are Traditional Chinese, while the ones below are Simplified Chinese.
Many custom options...




And formats...



Successful Chinese Character and Japanese Kanji calligraphy searches within the last few hours...
All of our calligraphy wall scrolls are handmade.
When the calligrapher finishes creating your artwork, it is taken to my art mounting workshop in Beijing where a wall scroll is made by hand from a combination of silk, rice paper, and wood.
After we create your wall scroll, it takes at least two weeks for air mail delivery from Beijing to you.
Allow a few weeks for delivery. Rush service speeds it up by a week or two for $10!
When you select your calligraphy, you'll be taken to another page where you can choose various custom options.
Check out my lists of Japanese Kanji Calligraphy Wall Scrolls and Old Korean Hanja Calligraphy Wall Scrolls.
Some people may refer to this entry as Decision Kanji, Decision Characters, Decision in Mandarin Chinese, Decision Characters, Decision in Chinese Writing, Decision in Japanese Writing, Decision in Asian Writing, Decision Ideograms, Chinese Decision symbols, Decision Hieroglyphics, Decision Glyphs, Decision in Chinese Letters, Decision Hanzi, Decision in Japanese Kanji, Decision Pictograms, Decision in the Chinese Written-Language, or Decision in the Japanese Written-Language.
13 people have searched for Decision in Chinese or Japanese in the past year.
Decision was last searched for by someone else on Apr 20th, 2022