Confucius Tenets in Chinese / Japanese...
Buy a Confucius Tenets calligraphy wall scroll here!
Personalize your custom "Confucius Tenets" project by clicking the button next to your favorite "Confucius Tenets" title below...
---
---
The Five Tenets of Confucius
The Five Cardinal Rules / Virtues of Confucius

仁義禮智信 are the core of Confucius philosophy.

Simply stated:
仁 = Benevolence / Charity
義 = Justice / Rectitude
禮 = Courtesy / Politeness / Tact
智 = Wisdom / Knowledge
信 = Fidelity / Trust / Sincerity

Many of these concepts can be found in various religious teachings. Though it should be clearly understood that Confucianism is not a religion but should instead be considered a moral code for a proper and civilized society.

This title is also labeled, "5 Confucian virtues".
---

If you order this from the Japanese calligrapher, expect the middle Kanji to be written in a more simple form (as seen to the right). This can also be romanized as "jin gi rei satoshi shin" in Japanese. Not all Japanese will recognize this as Confucian tenets but they will know all the meanings of the characters.
---
See Also: Confucius Teachings | Ethics
Justice / Rectitude / Right Decision
Also means: honor loyalty morality righteousness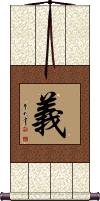 義 is about doing the right thing or making the right decision, not because it's easy but because it's ethically and morally correct.

No matter the outcome or result, one does not lose face if tempering proper justice.

義 can also be defined as righteousness, justice, morality, honor, or "right conduct". In more a more expanded definition, it can mean loyalty to friends, loyalty to the public good, or patriotism. This idea of loyalty and friendship comes from the fact that you will treat those you are loyal to with morality and justice.

義 is also one of the five tenets of Confucius doctrine.



There's also an alternate version of this character sometimes seen in Bushido or Korean Taekwondo tenets. It's just the addition of a radical on the left side of the character. If you want this version, click on the image to the right instead of the button above.
---
This is also a virtue of the Samurai Warrior
See our page with just Code of the Samurai / Bushido here
---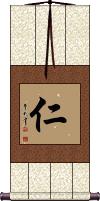 Beyond benevolence, 仁 can be also be defined as "charity" or "mercy" depending on context.

The deeper meaning suggests that one should pay alms to the poor, care for those in trouble, and take care of his fellow man (or woman).

仁 is one of the five tenets of Confucius. In fact, it is a subject in which Confucius spent a great deal of time explaining to his disciples.

I have also seen this benevolent-related word translated as perfect virtue, selflessness, love for humanity, humaneness, goodness, good will, or simply "love" in the non-romantic form.

仁 is so important to me that I named my second daughter with this character. Her name is "Renni" which means "Benevolent Girl".
-Gary.
---
This is also a virtue of the Samurai Warrior
See our page with just Code of the Samurai / Bushido here
---
Respect
Politeness, Gratitude and Propriety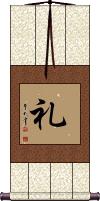 We show respect by speaking and acting with courtesy. We treat others with dignity and honor the rules of our family, school, and nation. Respect yourself, and others will respect you.

礼 is also one of the five tenets of Confucius.

礼, beyond respect, can also be translated as propriety, good manners, politeness, rite, worship or an expression of gratitude.



Please note that Japanese use this simplified 礼 version of the original 禮 character for respect. 礼 also happens to be the same simplification used in mainland China. While 禮 is the traditional and original version, 礼 has been used as a shorthand version for many centuries. Click on the big 禮 character to the right if you want the Traditional Chinese and older Japanese version.
---
This is also a virtue of the Samurai Warrior
See our page with just Code of the Samurai / Bushido here
---
See Also: Confucius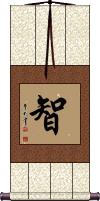 智 is the simplest way to write wisdom in Chinese, Korean Hanja, and Japanese Kanji.

Being a single character, the wisdom meaning is open to interpretation, and can also mean intellect, knowledge or reason, resourcefulness, or wit.

智 is also one of the five tenets of Confucius.

智 is sometimes included in the Bushido code but usually not considered part of the seven key concepts of the code.
---
See our Wisdom in Chinese, Japanese and Korean page for more wisdom-related calligraphy.
---
See Also: Learn From Wisdom | Confucius
The Foundation of Good Conduct
Quote from Confucius
zhì yú dào jù yú dé yī yú rén yóu yú yì

This proverb from the Analects of Confucius translates as:

Resolve yourself in the Dao/Tao/Way.
Rely on Virtue.
Reside in benevolence.
Revel in the arts.

According to Confucius, these are the tenets of good and proper conduct.
---
This was written over 2500 years ago. The composition is in ancient Chinese grammar and phrasing. A modern Chinese person would need a background in Chinese literature to understand this without the aid of a reference.
Believe / Faith / Trust
śraddhā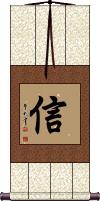 信 can mean to believe, truth, faith, fidelity, sincerity, trust and confidence in Chinese, old Korean Hanja and Japanese Kanji.

This single character is often part of other words with similar meanings.

It is one of the five basic tenets of Confucius.

In Chinese, it sometimes has the secondary meaning of a letter (as in the mail) depending on context but it will not be read that way when seen on a wall scroll.

In Buddhist context, this is śraddhā (faith through hearing or being taught).
---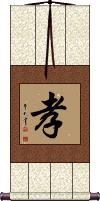 孝 represents filial piety.

Some will define this in more common English as "respect for your parents and ancestors".

孝 is a subject deeply emphasized by the ancient philosophy and teachings of Confucius.

Some have included this in the list for the Bushido, although generally not considered part of the 7 core virtues of the warrior.

Note: 孝 is not the best of meanings when seen along as a single character. Some will read the single-character form to mean "missing my dead ancestors". However, when written at part of Confucian tenets, or in the two-character word that means filial piety, the meaning is better or read differently (context is important for this character).

We suggest one of our other two-character filial piety entries instead of this one.
This in-stock artwork might be what you are looking for, and ships right away...
The following table may be helpful for those studying Chinese or Japanese...
Title
Characters
Romaji

(Romanized Japanese)

Various forms of Romanized Chinese
The Five Tenets of Confucius
仁義禮智信

---

仁义礼智信
jin gi rei tomo nobu

---

jingireitomonobu
rén yì lǐ zhì xìn

---

ren2 yi4 li3 zhi4 xin4

---

ren yi li zhi xin

---

renyilizhixin
jen i li chih hsin

---

jenilichihhsin
Justice
Rectitude
Right Decision
義

---

义
gi
yì / yi4 / yi
i
Benevolence
仁
jin
rén / ren2 / ren
jen
Respect
禮

---

礼
rei
lǐ / li3 / li
Wisdom
智
chi / tomo
zhì / zhi4 / zhi
chih
The Foundation of Good Conduct
誌于道據于德依于仁遊于藝

---

志于道据于德依于仁游于艺
zhì yú dào jù yú dé yī yú rén yóu yú yì

---

zhi4 yu2 dao4 ju4 yu2 de2 yi1 yu2 ren2 you2 yu2 yi4

---

zhi yu dao ju yu de yi yu ren you yu yi
chih yü tao chü yü te i yü jen yu yü i
Believe
Faith
Trust
信
shin
xìn / xin4 / xin
hsin
Filial Piety
孝
kou / ko
xiào / xiao4 / xiao
hsiao
In some entries above you will see that characters have different versions above and below a line.
In these cases, the characters above the line are Traditional Chinese, while the ones below are Simplified Chinese.
Many custom options...




And formats...



Successful Chinese Character and Japanese Kanji calligraphy searches within the last few hours...
All of our calligraphy wall scrolls are handmade.
When the calligrapher finishes creating your artwork, it is taken to my art mounting workshop in Beijing where a wall scroll is made by hand from a combination of silk, rice paper, and wood.
After we create your wall scroll, it takes at least two weeks for air mail delivery from Beijing to you.
Allow a few weeks for delivery. Rush service speeds it up by a week or two for $10!
When you select your calligraphy, you'll be taken to another page where you can choose various custom options.
Check out my lists of Japanese Kanji Calligraphy Wall Scrolls and Old Korean Hanja Calligraphy Wall Scrolls.
Some people may refer to this entry as Confucius Tenets Kanji, Confucius Tenets Characters, Confucius Tenets in Mandarin Chinese, Confucius Tenets Characters, Confucius Tenets in Chinese Writing, Confucius Tenets in Japanese Writing, Confucius Tenets in Asian Writing, Confucius Tenets Ideograms, Chinese Confucius Tenets symbols, Confucius Tenets Hieroglyphics, Confucius Tenets Glyphs, Confucius Tenets in Chinese Letters, Confucius Tenets Hanzi, Confucius Tenets in Japanese Kanji, Confucius Tenets Pictograms, Confucius Tenets in the Chinese Written-Language, or Confucius Tenets in the Japanese Written-Language.
10 people have searched for Confucius Tenets in Chinese or Japanese in the past year.
Confucius Tenets was last searched for by someone else on Jan 7th, 2022