Custom Equality Chinese & Japanese Calligraphy Wall Scroll
We have many options to create artwork with equality characters on a wall scroll or portrait.
If you want to create a cool equality Asian character tattoo, just email us and we'll help you select from many forms of ancient Asian symbols that express the idea of equality.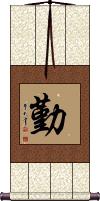 勤 is a single character that means diligence or "sense of duty" in Chinese and Korean (also understood in Japanese but not commonly seen as a stand-alone Kanji).

As a single character on a wall scroll, this will only be seen with this meaning. However, it can also mean industrious, hardworking, frequent, regular, constant, energy, zeal, fortitude, or virility.

In Buddhism, this can represent vīrya (viriya), the idea of energy, diligence, enthusiasm, or effort. It can be defined as an attitude of gladly engaging in wholesome activities, and it functions to cause one to accomplish wholesome or virtuous actions. Some Buddhists may even define this as "manliness" (a definition from a hundred years ago, before equality).

If you or someone you know is a hard worker (or needs a reminder to be diligent), then this is the wall scroll to have in your/their office.
---

In Chinese, 平等 is the word that describes equality among all humans.

Yes, this is equality that means equality no matter of religion, whether you are rich or poor, gay or straight, black white or yellow.

In Japanese and Korean, this can be defined as equality, impartiality, and evenness (basically the same as the Chinese meaning).
Impartial and Fair to the Brotherhood and Sisterhood of the World

一視同仁 is how to write "universal benevolence." This is also how to express the idea that you see all people the same.

If you are kind and charitable to everyone, this is the best way to state that virtue. It is the essence of being impartial to all mankind, regardless of social standing, background, race, sex, etc. You do not judge others, but instead, you see them eye to eye on the same level as you.
---
See Also: Benevolence | Compassion | Justice | Right Decision | Selflessness | Work Unselfishly for the Common
The following table may be helpful for those studying Chinese or Japanese...
Title
Characters
Romaji

(Romanized Japanese)

Various forms of Romanized Chinese
Diligence
勤
kin
qín / qin2 / qin
ch`in / chin
Equality
平等
byou dou / byoudou / byo do
píng děng

---

ping2 deng3

---

ping deng

---

pingdeng
p`ing teng

---

pingteng

---

ping teng
Equality
相等
soutou / soto

---

soto / soto
xiāng děng

---

xiang1 deng3

---

xiang deng

---

xiangdeng
hsiang teng

---

hsiangteng
Impartial and Fair to the Brotherhood and Sisterhood of the World
一視同仁

---

一视同仁
isshidoujin

---

ishidojin
yí shì tóng rén

---

yi2 shi4 tong2 ren2

---

yi shi tong ren

---

yishitongren
i shih t`ung jen

---

ishihtungjen

---

i shih tung jen
In some entries above you will see that characters have different versions above and below a line.
In these cases, the characters above the line are Traditional Chinese, while the ones below are Simplified Chinese.
All of our calligraphy wall scrolls are handmade.
When the calligrapher finishes creating your artwork, it is taken to my art mounting workshop in Beijing where a wall scroll is made by hand from a combination of silk, rice paper, and wood.
After we create your wall scroll, it takes at least two weeks for air mail delivery from Beijing to you.
Allow a few weeks for delivery. Rush service speeds it up by a week or two for $10!
When you select your calligraphy, you'll be taken to another page where you can choose various custom options.