hana wa sakuragi hito wa bushi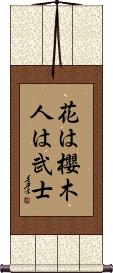 This Japanese proverb simply reads, "[In] Flowers it's Cherry Blossoms, [In] Men it's Warriors."

This is meant to say that of all the flowers in the world, the cherry blossom is the best. And of all men in the world, the Samurai or Warrior is the best

This proverb has been around for a long time. It's believed to have been composed sometime before the Edo Period in Japan (which started in 1603).

Some will drop one syllable and pronounce this, "hana wa sakura hito wa bushi." That's "sakura" instead of "sakuragi," which is like saying "cherry blossom" instead of "cherry tree."
---
The third character was traditionally written as 櫻. But in modern Japan, that became 桜. You may still see 櫻 used from time to time on older pieces of calligraphy. We can do either one, so just make a special request if you want 櫻.
---
Note: Because this selection contains some special Japanese Hiragana characters, it should be written by a Japanese calligrapher.