Not what you want?
Try searching again using:
1. Other similar-meaning words.
2. Fewer words or just one word.
Meeting in Chinese / Japanese...
Buy a Meeting calligraphy wall scroll here!
Start your custom "Meeting" project by clicking the button next to your favorite "Meeting" title below...

yuán fèn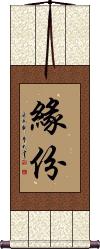 These two characters contain the ideas of fate. But this is specifically the fate or destiny that brings two people together.

緣份 / 緣分 is like the chance meeting of two people that leads some time later to marriage.

This could also be the chance meeting of two business people, who become partners and build a huge and successful company.

Basically, this is an idea often associated with a fateful meeting leading to good fortune.

Some will define this word as, "The destiny brings you two together," or "Meant to be."
---

Note: The second character can also be written without the left radical, as shown to the right. If you have a preference, please let use know in the special instructions for your project. There is no difference in meaning or pronunciation, just two (alternate) ways to write the same character.
---
See Also: Soulmates | Good Fortune

yī qī yī huì

ichigoichie

일기일회

This Japanese title can be translated as "for this time only," "chance meeting," "one meeting, one opportunity," "never again," or "one chance in a lifetime."

The characters literally mean "one time one meeting" - of course, the Kanji characters have meaning far beyond a direct translation like this.

Some might use this proverb to talk of an opportunity that presents itself just once in your life. It could also be the single chance-meeting with your true soul mate. Basically an expression for any event that might happen once in a lifetime.
---
This is primarily a Japanese title, however, there is also a Traditional Chinese (and old Korean) version of this proverb. Just the last character is different.


The traditional form was used in Japan before WWII and in Korea prior to 1900. This title is somewhat known in China.

If you want the older traditional form, just click on the character to the right.

jī huì

kikai

기회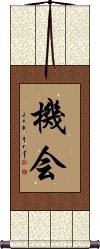 機會 is a common way to express "opportunity" in Japanese. The first character means "chance" and the second can be translated as "meeting." So in Japanese business a "chance meeting" represents a real "opportunity."

Note that this also means opportunity in Chinese but it's more an oral or informal word in Mandarin. Also, the second Kanji is the same as the simplified version of the hui Chinese character.

zài huì

saie

재회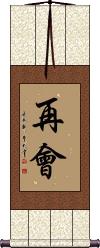 In Chinese, this means to meet again, until we meet again, or goodbye.

In Japanese, this may be understood as reunion or meeting again.

jī yù

기우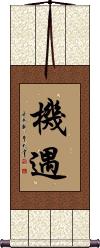 機遇 is the kind of opportunity that comes via good luck or good fortune.

機遇 is sometimes translated as "stroke of good luck."

While there are other ways to express "opportunity," I think this version is best for a calligraphy wall scroll or portrait.

Note: In Korean Hanja, this would also mean "Meeting someone under strange circumstances."
---
See Also: Good Luck

yīn yuán

in nen

인연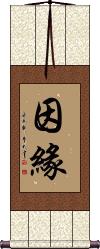 因緣 is the Buddhist concept of a chance meeting or an opportunity that presents itself by fate.

Sometimes this is used to describe a cosmic chain of events or cause and effect.

It also is used to describe predestined relationships between people - and sometimes married couples (although if you want one about marriage, try this: Fate / Destiny of Lovers.

因緣 can also be translated as origin, karma, destiny, affinity, connection, and relation. This all depends on context - seen alone on a wall scroll, this will be read with a "fate / chance" meaning by a Chinese person, or a Korean person who can read Hanja.

The more complex definition of this word would be, "Direct causes and indirect conditions, which underlie the actions of all things."

This concept is known as nidana in the original Sanskrit. Also sometimes presented as hetupratyaya (or "hetu and prataya") which I believe is Pali.
---
Note: Japanese will tend to use this version of the second Kanji:


If you order this from the Japanese master calligrapher, expect that you'll get this version. However, this word often carries a negative connotation in Japanese (bad things happen), as it is used that way in a certain Japanese idiom. Therefore, this may not be the best choice if Japanese is your target language.
---
See Also: Buddhism | Opportunity

yuán

en

연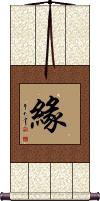 緣 / 縁 is a complicated single character. It can mean a lot of different things depending on how you read it.

In Japanese, it can mean fate; destiny; a mysterious force that binds two people together; a relationship between two people; bond; link; connection; family ties; affinity; opportunity; chance (to meet someone and start a relationship). It can also mean "someone to rely on," relative, reminder, memento, or the female given name, Yori.

It's basically the same in Chinese, where it's defined as cause, reason, karma, fate, or predestined affinity.

In Buddhist context, it's Pratyaya. 緣 / 縁 is the concept of indirect conditions, as opposed to direct causes. It's when something happens (meeting someone) by circumstance, or a contributing environment. Instead of a direct cause or act, it is a conditioning cause without direct input or action by the involved people.

Occasionally, this character is used in a facetious way to say hem, seam, or edge of clothing. In this case, it's the seam that brings or holds the clothing together.
---

Note: Japanese will tend to use the variant of this Kanji shown to the right. If you want this version (and are ordering this from the Japanese master calligrapher), click on the Kanji at the right instead of the button above.
Search for Meeting in my Japanese & Chinese Dictionary
This in-stock artwork might be what you are looking for, and ships right away...
Gallery Price: $200.00
Your Price: $88.88
The following table may be helpful for those studying Chinese or Japanese...
Title
Characters
Romaji

(Romanized Japanese)

Various forms of Romanized Chinese
Fate
Chance Meeting
緣份 / 緣分

---

缘份 / 缘分
yuán fèn / yuan2 fen4 / yuan fen / yuanfen
yüan fen / yüanfen
Once in a Lifetime
一期一會

---

一期一会
ichigoichie
yī qī yī huì

---

yi1 qi1 yi1 hui4

---

yi qi yi hui

---

yiqiyihui
i ch`i i hui

---

ichiihui

---

i chi i hui
Opportunity
機會

---

机会
kikai
jī huì / ji1 hui4 / ji hui / jihui
chi hui / chihui
Fraternity
兄弟會

---

兄弟会
xiōng dì huì

---

xiong1 di4 hui4

---

xiong di hui

---

xiongdihui
hsiung ti hui

---

hsiungtihui
Until We Meet Again
再會

---

再会
saie
zài huì / zai4 hui4 / zai hui / zaihui
tsai hui / tsaihui
Opportunity
Good Luck
機遇

---

机遇
jī yù / ji1 yu4 / ji yu / jiyu
chi yü / chiyü
Fate
Opportunity
Chance
因緣

---

因缘 / 因縁
in nen / innen
yīn yuán / yin1 yuan2 / yin yuan / yinyuan
yin yüan / yinyüan
The Mysterious Bond Between People
緣 / 縁

---

缘
en
yuán / yuan2 / yuan
yüan
In some entries above you will see that characters have different versions above and below a line.
In these cases, the characters above the line are Traditional Chinese, while the ones below are Simplified Chinese.
Successful Chinese Character and Japanese Kanji calligraphy searches within the last few hours...
All of our calligraphy wall scrolls are handmade.
When the calligrapher finishes creating your artwork, it is taken to my art mounting workshop in Beijing where a wall scroll is made by hand from a combination of silk, rice paper, and wood.
After we create your wall scroll, it takes at least two weeks for air mail delivery from Beijing to you.
Allow a few weeks for delivery. Rush service speeds it up by a week or two for $10!
When you select your calligraphy, you'll be taken to another page where you can choose various custom options.
Check out my lists of Japanese Kanji Calligraphy Wall Scrolls and Old Korean Hanja Calligraphy Wall Scrolls.
Some people may refer to this entry as Meeting Kanji, Meeting Characters, Meeting in Mandarin Chinese, Meeting Characters, Meeting in Chinese Writing, Meeting in Japanese Writing, Meeting in Asian Writing, Meeting Ideograms, Chinese Meeting symbols, Meeting Hieroglyphics, Meeting Glyphs, Meeting in Chinese Letters, Meeting Hanzi, Meeting in Japanese Kanji, Meeting Pictograms, Meeting in the Chinese Written-Language, or Meeting in the Japanese Written-Language.
1 people have searched for Meeting in Chinese or Japanese in the past year.
Meeting was last searched for by someone else on Jul 9th, 2018