The name Military Discipline in Chinese / Japanese...
Buy a Military Discipline calligraphy wall scroll here!
Personalize your custom "Military Discipline" project by clicking the button next to your favorite "Military Discipline" title below...
---
---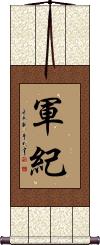 軍紀 means military discipline or military principles.

If maintaining your military discipline is important to you personally or important to your military unit, this is the wall scroll to have up behind your desk. In fact, it's the kind of thing I expect to see behind the desk of a First Sergeant or maybe a hardcore NCO.

Note: In some rare contexts, it could be extended to mean "morale," but "discipline" is much closer to the commonly-held definition.

Note: This term is not well-known outside the military services in Asia (not used by the common person).
---
See Also: Self-Discipline
Discipline / Training / Tempering Character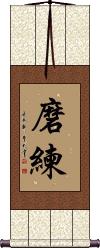 磨鍊 is a form of discipline which suggests training of the mind and character, aimed at producing self-control, obedience, etc.

One of my Chinese-English dictionaries even translates this as "tempering oneself" or turning yourself into hardened steel.
---
In old Korean Hanja, they use these characters in reverse order but with the same meaning. If you want the Korean version, please click this link instead of the button above: Korean version.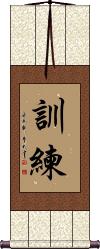 If training or drill is important to you (especially for military drill and training), 訓練 might be just the thing for a drill master to hang behind his/her desk.

This term is universal in Chinese, Japanese Kanji, and old Korean Hanja. It can also mean practice or exercise, depending on context.
Warriors: Quality Over Quantity
bīng zài jīng ér bú zài duō

兵在精而不在多 is a Chinese proverb that means: [The value of] soldiers/warriors lies in [their] quality, not [just] in [their] quantity.

In simple terms, this says that regarding warriors, quality is better than quantity.

Most tacticians will agree that this can aid in the factor known as "force multiplication." Having good troops of high morale, excellent training, and good discipline is like having a force that is three times larger.
---
See Also: 兵在精
Well-Disciplined / Orderly
Special Military Term

When reading an account of some battles in China, I came across the Chinese word, 嚴整. As it turns out, 嚴整 is only used in military circles to describe neat, orderly, and well-disciplined troops. Perhaps this is actually closer to the meaning I was taught while in the U.S. Marines.

The first character literally means stern, serious, strict, or severe (it can also mean airtight or watertight.
The second character means exact, in good order, whole, complete, and orderly.
Together, these two characters multiply each other into a word that expresses the highest military level of discipline.
---
See Also: Self-Control | Will-Power

In Japanese, the modern definition, using simple terms, 剣術 is "A martial art involving swords" or "The art of the sword."

However, in Chinese, this is the word for fencing (as in the Olympic sport).

I will suppose that you want this for the Japanese definition, which comes from skills and techniques developed in the 15th century. At that time, Kenjutsu (or swordsmanship) was a strictly military art taught to Samurai and Bushi (soldiers). The fact that swords are rarely used in military battles anymore, and with the pacification of Japan after WWII, Kenjutsu is strictly a ceremonial practice often studied as a form of martial art (more for the discipline aspect rather than practical purpose).

Language note: The Korean definition is close to the Japanese version described above. However, it should be noted that this can mean "fencing" depending on the context in Japanese, Chinese, and Korean.




Character variation notes: There are slight variations possible with the second character. Either way is correct and understood by both Japanese and Chinese folks.

Since there are about 5 common ways to write the sword character, if you are particular about which version you want, please note that in the "special instructions" when you place your order.

Romanization note: This term is often Romanized as Kenjitsu; however, following the rules of Japanese Romaji, it should be Kenjutsu.
This in-stock artwork might be what you are looking for, and ships right away...
Gallery Price: $220.00
Your Price: $99.88
Not the results for military discipline that you were looking for?
Below are some entries from our dictionary that may match your military discipline search...
Characters

If shown, 2nd row is Simp. Chinese

Pronunciation
Romanization
Simple Dictionary Definition

軍紀

see styles
gunki
ぐんき
(1) military discipline; (2) military regulations; military rules

軍規

see styles
gunki
ぐんき

號令如山

---

号令如山

see styles
hào lìng rú shān
hao4 ling4 ru2 shan1

---

hao ling ju shan

軍紀弛緩

see styles
gunkichikan
ぐんきちかん

Variations:
軍規
軍紀

see styles
gunki
ぐんき
(1) (esp.軍紀) military discipline; (2) (esp. 軍規) military regulations; military rules

三大紀律八項注意

---

三大纪律八项注意

see styles
sān dà jì lǜ bā xiàng zhù yì
san1 da4 ji4 lu:4 ba1 xiang4 zhu4 yi4

---

san ta chi lü pa hsiang chu i
The following table may be helpful for those studying Chinese or Japanese...
Title
Characters
Romaji

(Romanized Japanese)

Various forms of Romanized Chinese
Military Discipline
軍紀

---

军纪
gun ki / gunki
jūn jì / jun1 ji4 / jun ji / junji
chün chi / chünchi
Discipline
Training
Tempering Character
磨練 / 磨鍊 / 磨鍊

---

磨练
mó liàn / mo2 lian4 / mo lian / molian
mo lien / molien
Training
Drill
訓練

---

训练
kunren
xùn liàn / xun4 lian4 / xun lian / xunlian
hsün lien / hsünlien
Warriors: Quality Over Quantity
兵在精而不在多
bīng zài jīng ér bú zài duō

---

bing1 zai4 jing1 er2 bu2 zai4 duo1

---

bing zai jing er bu zai duo

---

bingzaijingerbuzaiduo
ping tsai ching erh pu tsai to

---

pingtsaichingerhputsaito
Well-Disciplined
Orderly
嚴整

---

严整
yán zhěng

---

yan2 zheng3

---

yan zheng

---

yanzheng
yen cheng

---

yencheng
Kenjutsu
Kenjitsu
剣術

---

剑术
kenjutsu
jiàn shù / jian4 shu4 / jian shu / jianshu
chien shu / chienshu
In some entries above you will see that characters have different versions above and below a line.
In these cases, the characters above the line are Traditional Chinese, while the ones below are Simplified Chinese.
Many custom options...




And formats...



Successful Chinese Character and Japanese Kanji calligraphy searches within the last few hours...
All of our calligraphy wall scrolls are handmade.
When the calligrapher finishes creating your artwork, it is taken to my art mounting workshop in Beijing where a wall scroll is made by hand from a combination of silk, rice paper, and wood.
After we create your wall scroll, it takes at least two weeks for air mail delivery from Beijing to you.
Allow a few weeks for delivery. Rush service speeds it up by a week or two for $10!
When you select your calligraphy, you'll be taken to another page where you can choose various custom options.
Check out my lists of Japanese Kanji Calligraphy Wall Scrolls and Old Korean Hanja Calligraphy Wall Scrolls.
Some people may refer to this entry as Military Discipline Kanji, Military Discipline Characters, Military Discipline in Mandarin Chinese, Military Discipline Characters, Military Discipline in Chinese Writing, Military Discipline in Japanese Writing, Military Discipline in Asian Writing, Military Discipline Ideograms, Chinese Military Discipline symbols, Military Discipline Hieroglyphics, Military Discipline Glyphs, Military Discipline in Chinese Letters, Military Discipline Hanzi, Military Discipline in Japanese Kanji, Military Discipline Pictograms, Military Discipline in the Chinese Written-Language, or Military Discipline in the Japanese Written-Language.
30 people have searched for Military Discipline in Chinese or Japanese in the past year.
Military Discipline was last searched for by someone else on Aug 6th, 2023