The name Meditation in Chinese / Japanese...
Buy a Meditation calligraphy wall scroll here!
Personalize your custom "Meditation" project by clicking the button next to your favorite "Meditation" title below...
---
---

This encompasses the idea of meditation.

It's also a term used to describe a deep form of daydreaming, exploring one's imagination, the act of contemplating, or the idea of contemplation. 冥想 is often associated with Buddhism; however, the word "Zen" in Japanese (or "Chan" in Chinese) is probably more commonly used (or better known in the west).
---
See Also: Zen
Zen / Chan / Meditation
...as in Zen Buddhism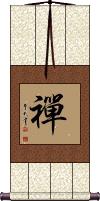 First, let's correct something: The Japanese romanization for this character, "Zen" has penetrated the English language. In English, it's almost always incorrectly used for phrases like "That's so zen." Nobody says, "That's so meditation" - right? As the title of a sect, this would be like saying, "That's so Baptist!"

禪 by itself just means "meditation." In that context, it should not be confined to use by any one religion or sect.

Regardless of the dictionary definition, more often than not, this character is associated with Buddhism. And here is one of the main reasons:
Zen is used as the title of a branch of Mahayana Buddhism, which strongly emphasizes meditation practice.
However, it should be noted that Buddhism came from India, and "Chan Buddhism" evolved and developed in medieval China. The Chinese character "Chan" was eventually pronounced as "Zen" in Japanese. Chan Buddhists in China have much in common with Zen Buddhists in Japan.

More about the history of Zen Buddhism here.

Please also note that the Japanese Kanji character for Zen has evolved a little in Japan, and the two boxes (kou) that you see at the top of the right side of the character have been replaced by three dots with tails.

The original character would still be generally understood and recognized in Japanese (it's considered an ancient version in Japan) but if you want the specifically modern Japanese version, please click on the zen Kanji to the right. Technically, there is no difference between the Tensho and Reisho versions of Zen since they are ancient character styles that existed long before Japan had a written language.



There is also an alternate/shorthand/simplified Chinese version, which has two dots or tails above the right-side radical. This version is also popular for calligraphy in China. If you want this version, just click the character to the right.
---
Further notes: Zen is just one of seven sects of Buddhism practiced in Japan. The others are 律 Ritsu (or Risshū), 法相 Hossō, 論 Sanron 華嚴 Kegon, 天台 Tendai, and 眞言 Shingon.

坐禪 describes the act of sitting in a state of deep meditation.

You'll notice that the second character is Chan/Zen (often used to title the meditative form of Buddhism).

In Korean Hanja, this means "religious meditation" (roughly the same as the Chinese definition).

Buddhists may define this as sitting in dhyāna, abstract meditation, fixed abstraction, or contemplation.
---

Japanese note: This will make sense in Japanese but the Kanji shown to the left are partially in ancient/traditional Japanese form. Japanese Buddhists may use 坐禪, 坐禅, 座禪, or 座禅. The most standard/modern Japanese form of this word is shown to the right. Click on the Kanji to the right (instead of the button above) if you want this specifically Japanese version.
Sit Quietly in Meditation
A state of mind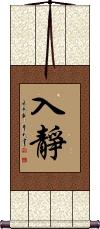 入靜 is used in Taoism and Qi Gong to describe the state you can reach while sitting quietly in meditation. It contains the idea of achieving a highly-tranquil and peaceful state. Some may describe this state as "sleeping while still awake."

If you have a relaxation or meditation room, this is the calming wall scroll that you would want hanging in that room.
Appreciation of Truth by Meditation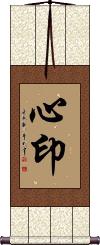 心印 is a Buddhist concept that simply stated is "appreciation of truth by meditation."

It's a deep subject, but my understanding is that you can find truth through meditation, and once you've found the truth, you can learn to appreciate it more through further meditation. This title is not commonly used outside of the Buddhist community (your Asian friends may or may not understand it). The literal translation would be something like "the mind seal," I've seen this term translated this way from Japanese Buddhist poetry. But apparently, the seal that is stamped deep in your mind is the truth. You just have to meditate to find it.

Soothill defines it this way: Mental impression, intuitive certainty; the mind is the Buddha-mind in all, which can seal or assure the truth; the term indicates the intuitive method of the Chan (Zen) school, which was independent of the spoken or written word.
---
Reference: Soothill-Hodous Dictionary of Chinese Buddhism
---
See Also: Zen
Mokuso - Silent Meditation
Reach Peace and Calm Through Meditation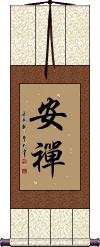 安禪 creates a title that means to reach peace and calm through meditation.

安禪 is an excellent wall scroll for your relaxation or meditation room.

This is also a Buddhist-related term that encompasses the idea of entering into dhyana meditation.

This is also used in Japanese, but in modern times, the second character has changed, so it's 安禅 now. If you want the modern Japanese version, just choose a Japanese calligrapher, and let me know when you place your order.
Inner Bliss and Peace from Meditation

禪悅 is a title that refers to the inner bliss and peace you can achieve from meditation.

This term transcends a few religions, including Taoism and Buddhism. It can also be translated as "joy of the mystic trance" or simply "meditative bliss."

Amazing that such a complex idea can be expressed in just two Chinese characters. Note that the first character is Chan/Zen (Chinese/Japanese), which means "meditation" in both languages.
This in-stock artwork might be what you are looking for, and ships right away...
These search terms might be related to Meditation:
2. Right Resolve / Right Thought / Right Intention / Perfect Resolve

Consideration / Meticulous Care

Consideration / Thought / Ikko

Far-Sighted in Deep Thought

Idea / Thought

Idea / Thought / Meaning

Thought / Thinking / Idea

Zen Contemplation


The following table may be helpful for those studying Chinese or Japanese...
Title
Characters
Romaji

(Romanized Japanese)

Various forms of Romanized Chinese
Meditation
冥想
mei sou / meisou / mei so
míng xiǎng

---

ming2 xiang3

---

ming xiang

---

mingxiang
ming hsiang

---

minghsiang
Zen
Chan
Meditation
禪

---

禅
zen
chán / chan2 / chan
ch`an / chan
Sit in Meditation
坐禪

---

坐禅
za zen / zazen
zuò chán / zuo4 chan2 / zuo chan / zuochan
tso ch`an / tsochan / tso chan
Sit Quietly in Meditation
入靜

---

入静
rù jìng / ru4 jing4 / ru jing / rujing
ju ching / juching
Appreciation of Truth by Meditation
心印
shin nin / shinnin
xīn yìn / xin1 yin4 / xin yin / xinyin
hsin yin / hsinyin
Mokuso - Silent Meditation
黙想
mokusou / mokuso

---

mokuso / mokuso
Reach Peace and Calm Through Meditation
安禪

---

安禅
an zen / anzen
ān chán / an1 chan2 / an chan / anchan
an ch`an / anchan / an chan
Inner Bliss and Peace from Meditation
禪悅

---

禅悦
chán yuè / chan2 yue4 / chan yue / chanyue
ch`an yüeh / chanyüeh / chan yüeh
In some entries above you will see that characters have different versions above and below a line.
In these cases, the characters above the line are Traditional Chinese, while the ones below are Simplified Chinese.
Many custom options...




And formats...



Successful Chinese Character and Japanese Kanji calligraphy searches within the last few hours...
All of our calligraphy wall scrolls are handmade.
When the calligrapher finishes creating your artwork, it is taken to my art mounting workshop in Beijing where a wall scroll is made by hand from a combination of silk, rice paper, and wood.
After we create your wall scroll, it takes at least two weeks for air mail delivery from Beijing to you.
Allow a few weeks for delivery. Rush service speeds it up by a week or two for $10!
When you select your calligraphy, you'll be taken to another page where you can choose various custom options.
Check out my lists of Japanese Kanji Calligraphy Wall Scrolls and Old Korean Hanja Calligraphy Wall Scrolls.
Some people may refer to this entry as Meditation Kanji, Meditation Characters, Meditation in Mandarin Chinese, Meditation Characters, Meditation in Chinese Writing, Meditation in Japanese Writing, Meditation in Asian Writing, Meditation Ideograms, Chinese Meditation symbols, Meditation Hieroglyphics, Meditation Glyphs, Meditation in Chinese Letters, Meditation Hanzi, Meditation in Japanese Kanji, Meditation Pictograms, Meditation in the Chinese Written-Language, or Meditation in the Japanese Written-Language.
63 people have searched for Meditation in Chinese or Japanese in the past year.
Meditation was last searched for by someone else on Aug 10th, 2023