Not what you want?
Try other similar-meaning words, fewer words, or just one word.


Compassion One in Chinese / Japanese...
Buy a Compassion One calligraphy wall scroll here!
Personalize your custom "Compassion One" project by clicking the button next to your favorite "Compassion One" title below...
Loving Heart / One's Love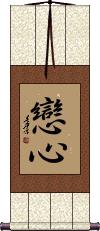 This literally means "loving heart". It can also be translated as "one's love" or "awakening of love".

戀心 is used exclusively for love between boyfriends and girlfriends or husband and wife.

Breaking down the meaning by each Kanji, the first means love, affection, or tender passion. The second Kanji means heart, mind, or soul (most will read it as heart).
---
See Also: Compassion | Love
Loving-Kindness Conquers All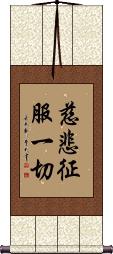 This is a way to express the idea that mercy, compassion, and loving-kindness can overcome all things.

This phrase is composed of 3 Chinese words:
慈悲 = loving-kindness; mercy; compassion; benevolence. It's used in Buddhism a lot to express the idea of how one should treat everyone else and all living beings.
征服 = to conquer; to subdue; to vanquish; to overcome.
一切 = all; everything; the whole; lock, stock, and barrel; without exception.
Om Mani Padme Hum
Oṃ maṇi padme hūṃ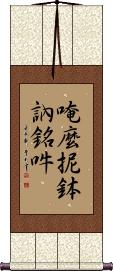 唵麼抳鉢訥銘吽 is one of the earliest and best known mantras in the Buddhist tradition.

It can be heard in temples from Tokyo to Tibet.

This mantra is an expression of the basic attitude of compassion. It translates literally as, "oṃ the jewel in the lotus hūṃ".
---
There are several titles and transliterations for this mantra, including, 六字大明呪 (Great 6-syllable mantra), 六字真言 (6-syllable Sanskrit mantra of Avalokiteshvara bodhisattva), 唵嘛呢叭咪吽, 唵嘛呢叭咪哞, and 唵嘛咪叭呢哞.
Contact me if you need any of these alternates on your wall scroll.
Buddha Heart / Mind of Buddha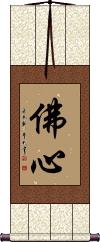 佛心 means the mind of Buddha or the spiritually enlightened heart.

The Buddha Heart is one that is detached from good and evil and other such constructs. The Buddha Heart has mercy, compassion, and loving-kindness for all sentient life, the good, the wicked, and all in between.

The heart and mind (心) are the same concept in the ancient Orient, so you can use heart and mind interchangeably in this context.
Purified Spirit / Enlightened Attitude
A Japanese martial arts title/concept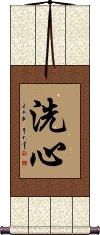 The first Kanji alone means to wash, to bathe, primness, cleanse or purify.

The second Kanji means heart, mind, soul, or essence.

Together, these two Kanji create a word that is defined as "purified spirit" or "enlightened attitude" within the context of Japanese martial arts.

洗心 is one of the five spirits of the warrior (budo), and is often used as a Japanese martial arts tenet. Under that context it's often defined this way: A spirit that protects and harmonizes the universe. Senshin is a spirit of compassion that embraces and serves all humanity and whose function is to reconcile discord in the world. It holds all life to be sacred. It is the Buddha mind.

This title will only be familiar to Japanese who practice certain martial arts. Others may not recognize this word at all.

洗心 does not show up as a word in too many Chinese dictionaries but it can be read and has the same meaning in Chinese.
---

There is an issue with the first character. The original, and probably most correct version is shown above. However, many dojo documents and other sources have used a more simple first character. Arguments ensue about which version is correct. If you want to be correct in the Japanese language, use the "Select and Customize" button above. If you want to match the Kanji used by your dojo, click the Kanji shown to the right. There is a slightly different meaning with this first character which means before, ahead, previous, future, precedence.
This in-stock artwork might be what you are looking for, and ships right away...
The following table may be helpful for those studying Chinese or Japanese...
Title
Characters
Romaji

(Romanized Japanese)

Various forms of Romanized Chinese
Loving Heart
One's Love
戀心

---

恋心
koi gokoro / koigokoro
Loving-Kindness Conquers All
慈悲征服一切
cí bēi zhēng fú yī qiè

---

ci2 bei1 zheng1 fu2 yi1 qie4

---

ci bei zheng fu yi qie

---

cibeizhengfuyiqie
tz`u pei cheng fu i ch`ieh

---

tzupeichengfuichieh

---

tzu pei cheng fu i chieh
Om Mani Padme Hum
唵麼抳鉢訥銘吽

---

唵么抳钵讷铭吽
on mani padomei un

---

onmanipadomeiun
ǎn mó nǐ bō míng hǒu

---

an3 mo2 ni3 bo1 ne4 ming2 hou3

---

an mo ni bo ne ming hou

---

anmoniboneminghou
an mo ni po ne ming hou

---

anmoniponeminghou
Buddha Heart
Mind of Buddha
佛心
busshin / bushin
fó xīn / fo2 xin1 / fo xin / foxin
fo hsin / fohsin
Purified Spirit
Enlightened Attitude
洗心

---

先心
sen shin / senshin
xǐ xīn / xi3 xin1 / xi xin / xixin
hsi hsin / hsihsin
In some entries above you will see that characters have different versions above and below a line.
In these cases, the characters above the line are Traditional Chinese, while the ones below are Simplified Chinese.
Not the results for compassion one that you were looking for?
Below are some entries from our dictionary that may match your compassion one search...
Characters

If shown, 2nd row is Simp. Chinese

Pronunciation
Romanization
Simple Dictionary Definition

觀世音

---

观世音

see styles
guān shì yīn
guan1 shi4 yin1

---

kuan shih yin

---

Kanzeon
かんぜおん

More info & calligraphy:
Guan Shi Yin: Protector Of Life

Guanyin, the Bodhisattva of Compassion or Goddess of Mercy (Sanskrit Avalokiteśvara)

---

(out-dated kanji) Avalokiteshvara (Bodhisattva); Avalokitesvara; Kannon; Kwannon; Guanyin; Buddhist deity of compassion

---

Regarder of the world's sounds, or cries, the so-called Goddess of Mercy; also known as 觀音; 觀世音善薩; 觀自在 (觀世自在); 觀尹; 光世音 (the last being the older form). Avalokiteśvara, v. 阿 8. Originally represented as a male, the images are now generally those of a female figure. The meaning of the term is in doubt; it is intp. as above, but the term 觀自在 (觀世自在) accords with the idea of Sovereign Regarder and is not associated with sounds or cries. Guanyin is one of the triad of Amida, is represented on his left, and is also represented as crowned with Amida; but there are as many as thirty-three different forms of Guanyin, sometimes with a bird, a vase, a willow wand, a pearl, a 'thousand' eyes and hands, etc., and, when as bestower of children, carrying a child. The island of Putuo (Potala) is the chief centre of Guanyin worship, where she is the protector of all in distress, especially of those who go to sea. There are many sūtras, etc., devoted to the cult, but its provenance and the date of its introduction to China are still in doubt. Chapter 25 of the Lotus Sūtra is devoted to Guanyin, and is the principal scripture of the cult; its date is uncertain. Guanyin is sometimes confounded with Amitābha and Maitreya. She is said to be the daughter of king Śubhavyūha 妙莊王, who had her killed by 'stifling because the sword of the executioner broke without hurting her. Her spirit went to hell; but hell changed into paradise. Yama sent her back to life to save his hell, when she was miraculously transported on a Lotus flower to the island of Poo-too'. Eitel; Avalokitêśvara

悲願

---

悲愿

see styles
bēi yuàn
bei1 yuan4

---

pei yüan

---

higan
ひがん

---

The great pitying vow of Buddhas and bodhisattvas to save all beings; vows based on compassion

摩訶薩埵

---

摩诃萨埵

see styles
mó hē sà duǒ
mo2 he1 sa4 duo3

---

mo ho sa to

---

makasatta
Many custom options...




And formats...



Successful Chinese Character and Japanese Kanji calligraphy searches within the last few hours...
All of our calligraphy wall scrolls are handmade.
When the calligrapher finishes creating your artwork, it is taken to my art mounting workshop in Beijing where a wall scroll is made by hand from a combination of silk, rice paper, and wood.
After we create your wall scroll, it takes at least two weeks for air mail delivery from Beijing to you.
Allow a few weeks for delivery. Rush service speeds it up by a week or two for $10!
When you select your calligraphy, you'll be taken to another page where you can choose various custom options.
Check out my lists of Japanese Kanji Calligraphy Wall Scrolls and Old Korean Hanja Calligraphy Wall Scrolls.
Some people may refer to this entry as Compassion One Kanji, Compassion One Characters, Compassion One in Mandarin Chinese, Compassion One Characters, Compassion One in Chinese Writing, Compassion One in Japanese Writing, Compassion One in Asian Writing, Compassion One Ideograms, Chinese Compassion One symbols, Compassion One Hieroglyphics, Compassion One Glyphs, Compassion One in Chinese Letters, Compassion One Hanzi, Compassion One in Japanese Kanji, Compassion One Pictograms, Compassion One in the Chinese Written-Language, or Compassion One in the Japanese Written-Language.
5 people have searched for Compassion One in Chinese or Japanese in the past year.
Compassion One was last searched for by someone else on Oct 10th, 2021