Shadow Puppet Show
The Chinese title basically means "Chinese Leather Puppet Show". These puppets are actually made out of very thin leather (so thin that it's translucent) which has been shaped and painted to form human and animal figures.
After the main title, which is four characters, near the top of the painting, there is a line of four characters that says "China, Huxian". Huxian is the county or area where the artist resides. The four character line is the artist's signature, plus a character that means "made by".
We've actually been thinking about offering these traditional leather shadow puppets as a form of artwork on our website. If you are interested, please let us know, as we are trying to figure out if there is a demand for this very traditional artwork (it was banned during the Cultural Revolution, but I personally know members of a family that secretly kept this art alive through that time, and still make shadow puppets today.
---
About the artist...
This painting is by



(Zhang Qing-Yi) from Huxian County in the Shaanxi Province of China.
---
About the Painting itself...
The artist used "shui fen" (paint powder and water - similar to gouache), on thick paper to create this painting.
If you get a piece of mat board cut for you, this Chinese painting will fit nicely in a standard 18" x 24" frame. If you want really wide matting, you could even use a 22" x 28" standard picture frame. You should probably get the matting cut professionally, but you can probably handle the rest yourself. Please see our step by step guide to framing Asian art if you want some tips.
---
About Chinese Folk Art and its History...
This style of folk art was born in the 1950's just after the Revolution (when Chairman Mao took power). The art developed independently in Huxian (Hu County) in the Shaanxi Province for many years (the same Province where you will find the Terracotta Soldiers).
Things changed drastically when the Cultural Revolution came to pass in China. Within a few years, art was only acceptable if it portrayed some form of socialist propaganda, or showed some form of working together in pursuit of Mao's Communist ideals. This propaganda art seldom provided any pay for the artist who were instead forced into working hard in the fields as peasants on communal farms to survive.

As the last of the Cultural Revolution sputtered to a stop with the death of Chairman Mao in 1976, freedom began to slowly ring again when Deng Xiao-Ping took power. Deng Xiao-Ping brought China out of the dark ages, and away from "Maoism" and Communism (one of the greatest leaders in Chinese history in my humble opinion). By the 1980's, freedom to once again practice 3000 years of artistic tradition emerged. Chinese folk art was finally allowed to be what it was meant to be, a way to freely express various scenes of daily life and snapshots of Chinese village culture.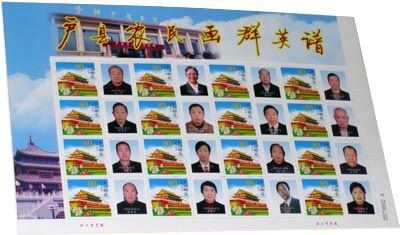 Chinese Folk Art Today
According to Chinese Government statistics, there are now more than 2000 folk artists in Southern China. Sixteen of these artists have been recognized as the "Famous Masters" of Chinese folk art by the Chinese Cultural Arts Bureau. These sixteen artists were recently honored by China Post with the issuing of a set of commemorative postage stamps. Of these sixteen masters, we represent three of them: Pan Xiao-Ling, Cao Quan-Tang, and Zhang Qing-Yi.
A lot has changed in the folk art community of China since I first started selling these paintings about 4 years ago.
Chinese folk artists have become rather famous, and sought after for exhibitions around the world. Recently these artists formed a labor union of sorts, to ensure that they receive a handsome sum for all of their paintings. Most of them have been able to improve their station in life through the sale of their artwork. One of these artists once said, "We've become good little capitalists, just like President Nixon dreamed of".
This item was listed or modified
Jan 16th, 2012
Gary's random little things about China:
Is "Oriental" politically correct?
Everyone is going to hate me for this, but here is the truth:

Some people who currently prefer to call themselves "Asian-Americans" woke up one morning and decided that "Oriental" is now a word to be used only for Oriental rugs, Oriental art and lamps, or any other inanimate object from Eastern Asia.

When I was teaching English in China, many of my students would refer to themselves as "Oriental", and I would correct them and say, It's better to say that you are Asian or Chinese rather than Oriental, but I was at a loss as to explain why.
My Chinese students were very smart, and came back at me with the fact that being from Asia was too broad a term, and asked if Persians and Saudi Arabians should also refer to themselves as "Asian".

I then had to make excuses for my geographically-challenged fellow Americans* who had long ago replaced the correct term of "Oriental" (meaning the bio-geographic region including southern Asia and the Malay Archipelago as far as the Philippines, Borneo and Java), and replaced it with "Asian" which in truth encompasses half the world's population - many of whom do not consider themselves to be of the same race as those from the Orient.
(For those Americans reading this and who've slept through their high school geography class: It's true, the whole Middle East, and half of Russia are located in the Asian continent)

But I admit I am not helping the problem. You see, almost half the people that find our website did so while searching for "Asian art" and I have done a lot to promote our business as "Purveyors of Asian art". So you can blame me too.
To truly be an Asian art gallery, we would have to offer artwork from beyond the Orient, from places like India, Persia (Iran), most Arab nations, and Russia.


Notes:
There are a lot of things that present problems in the English language.
Usually these problems are thanks to mistakes of the past.
That's why we have to say, "He's an Indian from India" versus "He's a Native-American Indian" (Thanks to Mr. Columbus).

Things to learn:
Do not refer to a Persian (Iranian) as Arab.
If you refer to an Arab-American as being Asian, they will look at you funny and possibly be offended.
If you refer to a person from India as Asian, you will mildly amuse them.
If you refer to a Russian as being Asian, they will pour borsch on you (my ex-wife is Russian, so I know this to be true from experience).
Using "Asian" to refer to a person from Singapore is okay, but they will later, as if by accident, mention that they are in fact from the most civilized country in Asia.

*We citizens of the USA call ourselves "Americans" which seems a bit arrogant to our neighbors who reside on the continents of North and South America. Keep in mind, Canadians and Mexicans are also from North America, but refer to themselves in more correct geographic terms.