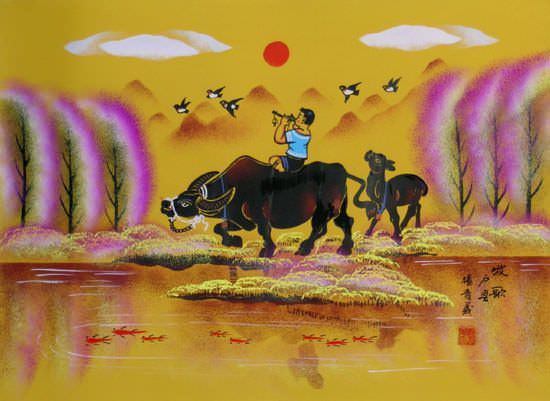 For the best possible display, this portrait should be professionally framed.

A frame is not included with this artwork!
Song for the Herd
The Chinese title of this painting is "Mu Ge".
To break it down:
Mu = Herd (sometimes the act of herding and tending)
Ge = Songs / Music
Surely this young boy that is tending to his animals is playing a traditional song for them. He is holding and blowing a little reed instrument that is made from a gourd and some bamboo.
This painting is by Zhang Qing-Yi from a small town called Qindu in Huxian County in the Shaanxi Province of China.
These folk art paintings show scenes that are typical of village life in the middle of China.
Materials used in this work are "shui fen" (paint powder and water - similar to gouache), on thick paper
This item was listed or modified
May 8th, 2009
Gary's random little things about China:
Are you SURE?
You can search long and hard, in every drugstore and sundries market in China, and you will not find underarm deodorant for sale anywhere.
After traveling all over China, I know this to be true everywhere in China except Hong Kong.

If you ask a Chinese person why there is no deodorant for sale, they will tell you plainly, "Chinese people do not smell bad".

My reply is, "Have you never been on a crowded bus in the summer?"