Scent of Flowers and Bird Song
The Chinese title written on this artwork means "Scent of Flowers and Bird Song" or "Flowers Fragrance, Birds Talk". Also written on the painting is the artist's signature.
---
This work was done in Chengdu by Huang Xin'an (Pronounced a little bit like "who-ong shin un") from the Sichuan (Szechwan) Province of China.
After I bought this work in Chengdu, I later returned to Beijing and had it mounted as a traditional hand-made silk scroll in our workshop. This makes a nice, ready-to-hang piece of wonderful hand-painted art.
---
The story behind how I found this art...
I lost track of Huang Xin'an after my last trip to Chengdu. His phone number was out of order, and I was disappointed that I could not contact him to get more of his paintings.
I make the decision to go to Chengdu on my new art-buying trip mostly because of him.
After 15 hours on a slow train, I arrive in Chengdu. I check-in at Sam's Guesthouse (a hangout for backpackers from around the world, and a hostel with reasonably-priced beds). After a much-needed shower, I head out to find Huang Xin'an.
Taxis drive at the speed-of-light in Chengdu (the city boasts over 1000 fatal auto accidents per year), I arrive in no-time at the place I last found Mr. Huang. Sure enough, as I walk down the alley toward his gallery, he sees me and runs out to greet me. I'm really happy to see him, and the feeling is mutual.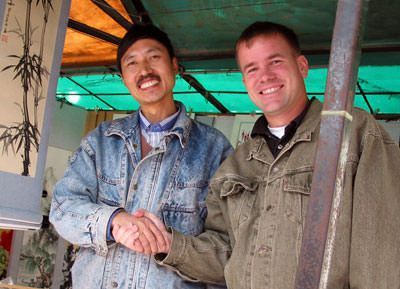 I tell him how I came to Chengdu just to buy art from him (after not being able to reach him on the phone). He is so honored that I think he wants to hug me. He offers me a chair, and says he's painted a lot of work over that last 9 months with both me and my customers in mind. I was also honored by this gesture. He shows me a lot of new work in styles that I like.
I spend 2 days with Mr. Huang and we talk about a lot of new ideas and artwork that I think my western customers will like. He offers to close his gallery for a few days, and paint the art that I asked for. So I took a few days to meet and visit other artists in Chengdu. When I return to Mr. Huang's gallery, I am not disappointed. He did such a great job, words can't describe.
This item was listed or modified
Mar 1st, 2014
Gary's random little things about China:
Is "Oriental" politically correct?
Everyone is going to hate me for this, but here is the truth:

Some people who currently prefer to call themselves "Asian-Americans" woke up one morning and decided that "Oriental" is now a word to be used only for Oriental rugs, Oriental art and lamps, or any other inanimate object from Eastern Asia.

When I was teaching English in China, many of my students would refer to themselves as "Oriental", and I would correct them and say, It's better to say that you are Asian or Chinese rather than Oriental, but I was at a loss as to explain why.
My Chinese students were very smart, and came back at me with the fact that being from Asia was too broad a term, and asked if Persians and Saudi Arabians should also refer to themselves as "Asian".

I then had to make excuses for my geographically-challenged fellow Americans* who had long ago replaced the correct term of "Oriental" (meaning the bio-geographic region including southern Asia and the Malay Archipelago as far as the Philippines, Borneo and Java), and replaced it with "Asian" which in truth encompasses half the world's population - many of whom do not consider themselves to be of the same race as those from the Orient.
(For those Americans reading this and who've slept through their high school geography class: It's true, the whole Middle East, and half of Russia are located in the Asian continent)

But I admit I am not helping the problem. You see, almost half the people that find our website did so while searching for "Asian art" and I have done a lot to promote our business as "Purveyors of Asian art". So you can blame me too.
To truly be an Asian art gallery, we would have to offer artwork from beyond the Orient, from places like India, Persia (Iran), most Arab nations, and Russia.


Notes:
There are a lot of things that present problems in the English language.
Usually these problems are thanks to mistakes of the past.
That's why we have to say, "He's an Indian from India" versus "He's a Native-American Indian" (Thanks to Mr. Columbus).

Things to learn:
Do not refer to a Persian (Iranian) as Arab.
If you refer to an Arab-American as being Asian, they will look at you funny and possibly be offended.
If you refer to a person from India as Asian, you will mildly amuse them.
If you refer to a Russian as being Asian, they will pour borsch on you (my ex-wife is Russian, so I know this to be true from experience).
Using "Asian" to refer to a person from Singapore is okay, but they will later, as if by accident, mention that they are in fact from the most civilized country in Asia.

*We citizens of the USA call ourselves "Americans" which seems a bit arrogant to our neighbors who reside on the continents of North and South America. Keep in mind, Canadians and Mexicans are also from North America, but refer to themselves in more correct geographic terms.