Not what you want?
Try searching again using:
1. Other similar-meaning words.
2. Fewer words or just one word.
Wrong in Chinese / Japanese...
Buy a Wrong calligraphy wall scroll here!
Start your custom "Wrong" project by clicking the button next to your favorite "Wrong" title below...

zé rèn

sekinin

책임

責任 is the Chinese, Japanese, and Korean word for "responsibility."

責任 can also refer to someone who is willing to take the blame when things go wrong (instead of making excuses or passing the blame to someone else). While this is a noble idea, I think it is getting more rare these days in both eastern and western cultures.
---
Also associated with the idea of "duty."

yuán

sono

원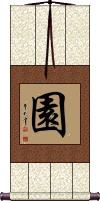 園 is a single character that means garden in Chinese, Japanese Kanji, and old Korean Hanja. This can also mean orchard or park.

園 is not a common single character for a wall scroll but nothing is wrong with it. A lot of customers asked for a single character for garden, so I've provided what I think is the best option here.

zì yóu yì zhì

jiyuu ishi

자유의지

This concept has existed for thousands of years that humans have the ability to understand right and wrong, then make a decision one way or the other (thus affecting their own fate).

Sources such as Confucius, Buddhist scriptures, the Qur'an and the Bible all address this idea.

As for the characters shown here, the first two mean free, freedom, or liberty. The last two simply mean "will."
---
See Also: Freedom | Strong Willed | Fate

zé wéi ěr

澤維爾 is another way that Xavier can be transliterated into Chinese. Neither way is right or wrong. 澤維爾 is just a tough name because there is no sound in Chinese like an initial X in a word.

If you are wondering, when you see a Romanized Chinese word with an X, it is actually pronounced more like SH but with your tongue at the bottom of your mouth. It's kind of a weird convention of Romanizing Chinese.

katte erumono mo areba makete erumono mo aru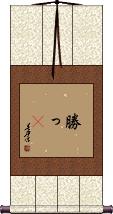 You may learn when everything goes right but the lessons learned when everything goes wrong are more vivid and lead to long-lasting wisdom.

Another way to look at this: One cannot always depend on past successes to guarantee future success but one can always learn from lessons drawn from failure.
---
Note: Because this selection contains some special Japanese Hiragana characters, it should be written by a Japanese calligrapher.

bái tiān bù zuò kuī xīn shì yè bàn qiāo mén bù chī jīng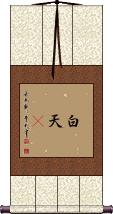 This literally translates as: [If one does] not do bad things in the daytime, one need not be alarmed at knocks on the door in the middle of the night.

The meaning is something like, "A quiet conscience sleeps in thunder." Basically, the message is, "don't commit crimes and you won't be jumpy every time the doorbell rings (so don't do anything wrong and your life will have fewer worries and you can sleep at night)".

bú pà qiān zhāo huì zhǐ pà yī zhāo shú

This Chinese proverb literally translates as: Do not worry about making a thousand clever moves; what [one has to] fear is one bad move.

Figuratively, this means: Even if you have made many clever moves before, one wrong move will ruin the whole game.

I compare this to the English saying, "It takes only one Aw-shit to wipe out a thousand Attaboys."

zhèng yǔ

sei go

정어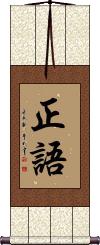 正語 is one of the Noble Eightfold Paths of Buddhism. Right Speech, along with Right Action and Right Living constitute the path to Virtue.

Simply stated, Right Speech is abstaining from lying, abstaining from divisive speech, abstaining from abusive speech, abstaining from idle chatter, abstaining from slander, abstaining from gossip, or any form of harmful or wrong speech.
---
This term is exclusively used by devout Buddhists. It is not a common term, and is remains an unknown concept to most Japanese and Chinese people.
---
See Also: Buddhism | Enlightenment | Noble Eightfold Path

róng shè

you sha

용사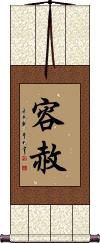 容赦 is the kind of forgiveness that a king might give to his subjects for crimes or wrong-doings.

容赦 is a rather high-level forgiveness. Meaning that it goes from a higher level to lower (not the reverse).

Alone, the first character can mean "to bear," "to allow" and/or "to tolerate," and the second can mean "to forgive," "to pardon" and/or "to excuse."

When you put both characters together, you get forgiveness, pardon, mercy, leniency, or going easy (on someone).
---
See Also: Benevolence

wú

mu

무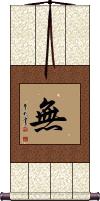 無 is the simple way to express "nothing."

However, this single character leaves a bit of mystery as to what you might really mean if you hang it as a wall scroll. I'm not saying that's a bad thing; as you can decide what it means to you, and you won't be wrong if you stay within the general context.

More info: 無 is usually used as a suffix or prefix for Chinese and Japanese words (also old Korean). It can be compared to "un-" or "-less" in English. It can also mean "not to have," no, none, not, "to lack," or nothingness.

dōng fāng zì zūn

dung fong chi juen

tou hou zi son

동방자존

東方自尊 is the most universal way to write "Asian Pride."

We worked on this one for a long time. The effort involved both Chinese and Japanese translators and lengthy discussions. If you have been searching for this term, there is a reason that it's hard to find the way to write "Asian Pride" in Chinese and Japanese - it's because of the inherent difficulties in figuring out a universal combination of characters that can be read in all languages that use forms of Chinese characters.

This final solution that you see to the left creates a reasonable title in Chinese, and an exotic (perhaps unusual) title in Japanese (This could be read as "Eastern Self-Respect" in Japanese").
Although not as natural, it does have the same meaning in Korean Hanja and the older-generation of Vietnamese people will be able to read it too.

The first two characters literally mean "Oriental" and the second two mean "pride," "self-esteem," or "self-respect" (we chose the most non-arrogant way to say "pride"). If you have "Asian Pride" (sometimes spelled Asian Pryde) these are the characters for you.

Note: For those of you that wonder, there is nothing technically wrong with the word "Oriental." It is a correct word, and any bad meanings were created by so-called "Asian Americans" and Caucasians in the United States. To say "Asian" would not completely correct to the intended meaning, since that would include people from Saudi Arabia, Iraq, Iran, India, and portions of Russia.

For further proof, if you were of East Asian ancestry and born in England, you would be known as a "British Oriental" (The "Oriental stigma" is basically an American creation and, therefore, applies mostly to the American English language - where they get a bit overzealous with political correctness).

Further, since the Chinese and Japanese word for Oriental is not English, it can not be construed having ill-meaning. One trip to China or Japan, and you will find many things titled with these two characters such as malls, buildings, and business names. These places also use "Oriental" as their English title (much as we do, since our Chinese business name starts with these same two characters).

In short, the first two character have the meaning that Americans attach to "Asian" but is more technically correct.
Search for Wrong in my Japanese & Chinese Dictionary
The following table may be helpful for those studying Chinese or Japanese...
Title
Characters
Romaji

(Romanized Japanese)

Various forms of Romanized Chinese
Elisha
艾莉莎
ài lì shā

---

ai4 li4 sha1

---

ai li sha

---

ailisha
Responsibility
責任

---

责任
sekinin
zé rèn / ze2 ren4 / ze ren / zeren
tse jen / tsejen
Garden
Orchard
Park
園

---

园
sono
yuán / yuan2 / yuan
yüan
Free Will
自由意志
jiyuu ishi / jiyuuishi / jiyu ishi / jiyuishi
zì yóu yì zhì

---

zi4 you2 yi4 zhi4

---

zi you yi zhi

---

ziyouyizhi
tzu yu i chih

---

tzuyuichih
Xavier
澤維爾

---

泽维尔
zé wéi ěr

---

ze2 wei2 er3

---

ze wei er

---

zeweier
tse wei erh

---

tseweierh
You May Learn from Victory, You Will Learn from Failure
勝って得るものも有れば負けて得るものも有る
katte erumono mo areba makete erumono mo aru
One Who Does Not Do Bad Things, Worries Not of Knocks at His Door
白天不做虧心事夜半敲門不吃驚

---

白天不做亏心事夜半敲门不吃惊
bái tiān bù zuò kuī xīn shì yè bàn qiāo mén bù chī jīng

---

bai2 tian1 bu4 zuo4 kui1 xin1 shi4 ye4 ban4 qiao1 men2 bu4 chi1 jing1

---

bai tian bu zuo kui xin shi ye ban qiao men bu chi jing
pai t`ien pu tso k`uei hsin shih yeh pan ch`iao men pu ch`ih ching

---

pai tien pu tso kuei hsin shih yeh pan chiao men pu chih ching
1000 good moves ruined by 1 bad
不怕千招會隻怕一招熟

---

不怕千招会只怕一招熟
bú pà qiān zhāo huì zhǐ pà yī zhāo shú

---

bu2 pa4 qian1 zhao1 hui4 zhi3 pa4 yi1 zhao1 shu2

---

bu pa qian zhao hui zhi pa yi zhao shu
pu p`a ch`ien chao hui chih p`a i chao shu

---

pu pa chien chao hui chih pa i chao shu
3. Right Speech
Right Talk
Perfect Speech
正語

---

正语
sei go / seigo
zhèng yǔ / zheng4 yu3 / zheng yu / zhengyu
cheng yü / chengyü
Forgiveness (from the top down)
容赦
you sha / yousha / yo sha / yosha
róng shè / rong2 she4 / rong she / rongshe
jung she / jungshe
Nothing
Nothingness
無

---

无
mu
wú / wu2 / wu
Asian Pride
Oriental Pride
Asian Pryde
AZN Pryde
東方自尊

---

东方自尊
tou hou zi son

---

touhouzison

---

to ho zi son

---

tohozison
dōng fāng zì zūn

---

dong1 fang1 zi4 zun1

---

dong fang zi zun

---

dongfangzizun
tung fang tzu tsun

---

tungfangtzutsun
In some entries above you will see that characters have different versions above and below a line.
In these cases, the characters above the line are Traditional Chinese, while the ones below are Simplified Chinese.
Successful Chinese Character and Japanese Kanji calligraphy searches within the last few hours...
All of our calligraphy wall scrolls are handmade.
When the calligrapher finishes creating your artwork, it is taken to my art mounting workshop in Beijing where a wall scroll is made by hand from a combination of silk, rice paper, and wood.
After we create your wall scroll, it takes at least two weeks for air mail delivery from Beijing to you.
Allow a few weeks for delivery. Rush service speeds it up by a week or two for $10!
When you select your calligraphy, you'll be taken to another page where you can choose various custom options.
Check out my lists of Japanese Kanji Calligraphy Wall Scrolls and Old Korean Hanja Calligraphy Wall Scrolls.
Some people may refer to this entry as Wrong Kanji, Wrong Characters, Wrong in Mandarin Chinese, Wrong Characters, Wrong in Chinese Writing, Wrong in Japanese Writing, Wrong in Asian Writing, Wrong Ideograms, Chinese Wrong symbols, Wrong Hieroglyphics, Wrong Glyphs, Wrong in Chinese Letters, Wrong Hanzi, Wrong in Japanese Kanji, Wrong Pictograms, Wrong in the Chinese Written-Language, or Wrong in the Japanese Written-Language.
1 people have searched for Wrong in Chinese or Japanese in the past year.
Wrong was last searched for by someone else on Jul 7th, 2018