Not what you want?
Try searching again using:
1. Other similar-meaning words.
2. Fewer words or just one word.
Strong Power in Chinese / Japanese...
Buy a Strong Power calligraphy wall scroll here!
Start your custom "Strong Power" project by clicking the button next to your favorite "Strong Power" title below...

yì zhì jiān qiáng

의지견강

This phrase can mean either "strong hearted," "strong willed" or "determination."

The first two characters can be translated as "will," "willpower," "determination," "volition," "intention," or "intent." But, it should be noted that this first part possess the element of "heart" in the lower portion of both characters (they also partially carry the meaning "with whole heart").

The last two characters mean "strong" or "staunch."

Chinese word order and grammar is a bit different than English, so in this case, they are in reverse order of English but have the correct meaning in a natural form.
---
See Also: Strong Willed | Discipline | Will-Power

lì

chikara / ryoku

력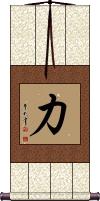 力 is the simplest form of "power" or "strength."

In Japanese it is pronounced "chikara" when used alone, and "ryoku" when used in a sentence (there are also a few other possible pronunciations of this Kanji in Japanese).

In some context, this can mean ability, force, physical strength, capability, and influence.
---

qiáng

kyou

강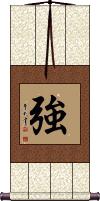 This "strong" character means strength, force, powerful, better, stubborn, and stiff (yes, all of this in one character). This "strong" has less to do with physical strength and more to do with having a winning attitude, or just having the ability to win at something.

Note that most of the time, this character is pronounced "qiang" but when used with the meaning of stubborn, unyielding, or stiff, it is pronounced "jiang" in Chinese.

Also, sometimes "qiang" is used in modern Chinese to describe people that do crazy things (Example: Bicycling from Beijing to Tibet alone). I sometimes can be found outside my Beijing apartment wearing nothing but shorts and a tee-shirt while eating an ice cream during a snow storm, just to hear my neighbors call me "qiang." Maybe they mean "strong" but perhaps they are using the new meaning of "crazy strong."

Also a Korean Hanja with same meaning but mostly used in compound words.

強 is used in Japanese (though normally in compound words). In Japanese, it has the same meaning but in some context can mean "a little more than..." or "a little over [some amount]." Most Japanese would read this as tough, strength, stiff, hard, inflexible, obstinate, or stubborn.
Not the results for strong power that you were looking for?
Below are some entries from our dictionary that may match your strong power search...
Characters

If shown, 2nd row is Simp. Chinese

Pronunciation
Romanization
Simple Dictionary Definition

地藏

see styles
dì zàng

/ di4 zang4

---

ti tsang

---

jizou / jizo / じぞう

Kṣitigarbha, the Bodhisattva of the Great Vow (to save all souls before accepting Bodhi); also translated Earth Treasury, Earth Womb, or Earth Store Bodhisattva

---

(surname) Jizou

---

Ti-tsang, J. Jizō, Kṣitigarbha, 乞叉底蘗沙; Earth-store, Earth-treasury, or Earthwomb. One of the group of eight Dhvani- Bodhisattvas. With hints of a feminine origin, he is now the guardian of the earth. Though associated with Yama as overlord, and with the dead and the hells, his role is that of saviour. Depicted with the alarum staff with its six rings, he is accredited with power over the hells and is devoted to the saving of all creatures between the nirvana of Śākyamuni and the advent of Maitreya the fifth century he has been especially considered as the deliverer from the hells. His central place in China is at Chiu-hua-shan, forty li south-west of Ch'ing-yang in Anhui. In Japan he is also the protector of travellers by land and his image accordingly appears on the roads; bereaved parents put stones by his images to seek his aid in relieving the labours of their dead in the task of piling stones on the banks of the Buddhist Styx; he also helps women in labour. He is described as holding a place between the gods and men on the one hand and the hells on the other for saving all in distress; some say he is an incarnation of Yama. At dawn he sits immobile on the earth 地 and meditates on the myriads of its beings 藏. When represented as a monk, it may be through the influence of a Korean monk who is considered to be his incarnation, and who came to China in 653 and died in 728 at the age of 99 after residing at Chiu-hua-shan for seventy-five years: his body, not decaying, is said to have been gilded over and became an object of worship. Many have confused 眞羅 part of Korea with 暹羅 Siam. There are other developments of Ti-tsang, such as the 六地藏 Six Ti-tsang, i. e. severally converting or transforming those in the hells, pretas, animals, asuras, men, and the devas; these six Ti-tsang have different images and symbols. Ti-tsang has also six messengers 六使者: Yama for transforming those in hell; the pearl-holder for pretas; the strong one or animals; the devīof mercy for asuras; the devī of the treasure for human beings; one who has charge of the heavens for the devas. There is also the 延命地藏 Yanming Ti-tsang, who controls length of days and who is approached, as also may be P'u-hsien, for that Purpose; his two assistants are the Supervisors of good and evil 掌善 and 掌惡. Under another form, as 勝軍地藏 Ti-tsang is chiefly associated with the esoteric cult. The benefits derived from his worship are many, some say ten, others say twenty-eight. His vows are contained in the 地藏菩薩本願經. There is also the 大乘大集地藏十電經 tr. by Xuanzang in 10 juan in the seventh century, which probably influenced the spread of the Ti-tsang cult.

強権

see styles

kyouken / kyoken / きょうけん

strong power of the state; iron fist; heavy hand

那羅延

---

那罗延

see styles
nà luō yán

/ na4 luo1 yan2

---

na lo yen

---

Naraen

五五百年

see styles
wǔ wǔ bǎi nián

/ wu3 wu3 bai3 nian2

---

wu wu pai nien

---

go go hyakunen

意志堅固

see styles

ishikengo / いしけんご

(noun or adjectival noun) (yoji) strong determination; strong-willed; having strong will power; firmness of purpose
Search for Strong Power in my Japanese & Chinese Dictionary
This in-stock artwork might be what you are looking for, and ships right away...
Gallery Price: $65.00
Your Price: $37.88
Gallery Price: $65.00
Your Price: $28.88
The following table may be helpful for those studying Chinese or Japanese...
Title
Characters
Romaji

(Romanized Japanese)

Various forms of Romanized Chinese
Strong Hearted
Strong Willed
意志堅強

---

意志坚强
yì zhì jiān qiáng

---

yi4 zhi4 jian1 qiang2

---

yi zhi jian qiang

---

yizhijianqiang
i chih chien ch`iang

---

ichihchienchiang

---

i chih chien chiang
Power
Strength
力
chikara / ryoku
lì / li4 / li
Strong
Powerful
Force
強

---

强
kyou / kyo
qiáng / qiang2 / qiang
ch`iang / chiang
In some entries above you will see that characters have different versions above and below a line.
In these cases, the characters above the line are Traditional Chinese, while the ones below are Simplified Chinese.
Successful Chinese Character and Japanese Kanji calligraphy searches within the last few hours...
All of our calligraphy wall scrolls are handmade.
When the calligrapher finishes creating your artwork, it is taken to my art mounting workshop in Beijing where a wall scroll is made by hand from a combination of silk, rice paper, and wood.
After we create your wall scroll, it takes at least two weeks for air mail delivery from Beijing to you.
Allow a few weeks for delivery. Rush service speeds it up by a week or two for $10!
When you select your calligraphy, you'll be taken to another page where you can choose various custom options.
Check out my lists of Japanese Kanji Calligraphy Wall Scrolls and Old Korean Hanja Calligraphy Wall Scrolls.
Some people may refer to this entry as Strong Power Kanji, Strong Power Characters, Strong Power in Mandarin Chinese, Strong Power Characters, Strong Power in Chinese Writing, Strong Power in Japanese Writing, Strong Power in Asian Writing, Strong Power Ideograms, Chinese Strong Power symbols, Strong Power Hieroglyphics, Strong Power Glyphs, Strong Power in Chinese Letters, Strong Power Hanzi, Strong Power in Japanese Kanji, Strong Power Pictograms, Strong Power in the Chinese Written-Language, or Strong Power in the Japanese Written-Language.
12 people have searched for Strong Power in Chinese or Japanese in the past year.
Strong Power was last searched for by someone else on Sep 27th, 2017