Uprightness in Chinese / Japanese...
Buy an Uprightness calligraphy wall scroll here!
Personalize your custom "Uprightness" project by clicking the button next to your favorite "Uprightness" title below...
---
---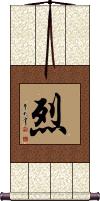 This Chinese word means ardent; intense; fierce; stern; upright; to give one's life for a noble cause.

In another context, this character can refer to one's exploits or achievements.

In Buddhist context, this is burning, fierce, virtuous and/or heroic.

While technically, it had the same meaning in Japanese, it's usually a female given name, Retsu in Japanese these days.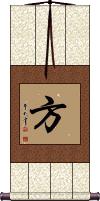 方 is the most common version of a Chinese surname that romanizes as Fong from Taiwan or Fang from mainland China.

The meaning of this character is square, upright, honest, fair and square, direction, place, or side. Sometimes 方 can refer to a method, prescription, or way of doing things.

In Japanese, this can be the given names Michi, Masani, Masashi,Tamotsu, Tadashi. It can also be Japanese surnames Hon, Hou, Ho, Fuon, Pan, Ban, Tokukata, or Kata.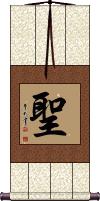 聖 is the simple, single-character religious form of "saint" in Chinese (also holds same meaning in Japanese and Korean, though rarely used alone like this).

This can also mean: holy, sage, master, or priest.
Note: 聖 is often used in compound words (words of more than one character) to create further meanings. In compounds, it can mean holy, sacred or divine.

聖 is also used as the first word for Spanish and English place names such as "San Diego" and "St. Louis" in Chinese (not Japanese).

In Buddhist context, this can represent ārya or sādhu. And mean a sage; wise and good; upright, or correct in all his character; sacred, holy, or saintly.

貞烈 is the Japanese Kanji for, "Extreme Faithfulness".

The first Kanji means "firm adherence to one's principles", chastity (of a woman), chaste, etc.

The second Kanji means ardent, intense, fierce, stern, upright, to give one's life for a noble cause, exploits, achievements, virtuous, and in some contexts, heroic.

Now you get the idea why this refers to someone who is extremely faithful (to a cause, themselves, their religious beliefs, or their philosophy.

Honesty is being truthful and sincere. It is important because it builds trust. When people are honest, they can be relied on not to lie, cheat or steal. Being honest means that you accept yourself as you are. When you are open and trustworthy, others can believe in you.

正直 is one of the 8 key concepts of Tang Soo Do.
---
Note: This entry is cross-listed as "integrity" because it also fits that definition.



Please note that the second Kanji sometimes has an alternate form in Japanese. Let us know if you want the alternate form shown to the right.
---

Integrity is living by your highest values. It is being honest and sincere. Integrity helps you to listen to your conscience, to do the right thing, and to tell the truth. You act with integrity when your words and actions match. Integrity gives you self-respect and a peaceful heart.



Please note that the second Kanji sometimes has an alternate form in Japanese. Let us know if you want the alternate form shown to the right.

Note: This entry is cross-listed as "honesty" because it also fits that definition.
---
Beyond Integrity, this word also means "upright" and "honest" in Chinese. Means "integrity," "honesty" or "frankness" in Japanese.
---

八聖道 is one of two titles for the Buddhist Noble Eightfold Path.

This version specifically has the "noble" idea in the middle character which also means holy, sacred, wise and good, or upright.

The other title also romanizes as Hasshoudou or Hasshōdō in Japanese but is written 八正道.
Undaunted After Repeated Setbacks
Persistence to overcome all challenges

This Chinese proverb means "Be undaunted in the face of repeated setbacks".

More directly-translated, it reads, "[Overcome] a hundred setbacks, without flinching". 百折不撓 is of Chinese origin but is commonly used in Japanese, and somewhat in Korean (same characters, different pronunciation).

This proverb comes from a long, and occasionally tragic story of a man that lived sometime around 25-220 AD. His name was Qiao Xuan and he never stooped to flattery but remained an upright person at all times. He fought to expose the corruption of higher-level government officials at great risk to himself.

Then when he was at a higher level in the Imperial Court, bandits were regularly capturing hostages and demanding ransoms. But when his own son was captured, he was so focused on his duty to the Emperor and the common good that he sent a platoon of soldiers to raid the bandits' hideout, and stop them once and for all even at the risk of his own son's life. While all of the bandits were arrested in the raid, they killed Qiao Xuan's son at first sight of the raiding soldiers.

Near the end of his career, a new Emperor came to power, and Qiao Xuan reported to him that one of his ministers was bullying the people and extorting money from them. The new Emperor refused to listen to Qiao Xuan and even promoted the corrupt Minister. Qiao Xuan was so disgusted that in protest he resigned his post as minister (something almost never done) and left for his home village.

His tombstone reads "Bai Zhe Bu Nao" which is now a proverb used in Chinese culture to describe a person of strength will who puts up stubborn resistance against great odds.

My Chinese-English dictionary defines these 4 characters as, "keep on fighting in spite of all setbacks", "be undaunted by repeated setbacks" and "be indomitable".

Our translator says it can mean, "never give up" in modern Chinese.

Although the first two characters are translated correctly as "repeated setbacks", the literal meaning is "100 setbacks" or "a rope that breaks 100 times". The last two characters can mean "do not yield" or "do not give up".
Most Chinese, Japanese, and Korean people will not take this absolutely literal meaning but will instead understand it as the title suggests above. If you want a single big word definition, it would be indefatigability, indomitableness, persistence, or unyielding.
---
See Also: Tenacity | Fortitude | Strength | Perseverance | Persistence
The following table may be helpful for those studying Chinese or Japanese...
Title
Characters
Romaji

(Romanized Japanese)

Various forms of Romanized Chinese
Uprightness
廉直
kiyonao / kiyotada
lián zhí / lian2 zhi2 / lian zhi / lianzhi
lien chih / lienchih
Ardent
Fierce
烈
retsu
liè / lie4 / lie
lieh
Fong
Fang
方
hou / ho
fāng / fang1 / fang
The Saint
聖

---

圣
sei
shèng / sheng4 / sheng
Clear Blue Sky
青天
seiten
qīng tiān

---

qing1 tian1

---

qing tian

---

qingtian
ch`ing t`ien

---

chingtien

---

ching tien
Extreme Faithfulness
貞烈
tei retsu / teiretsu
Honesty
正直
shoujiki / shojiki
zhèng zhí

---

zheng4 zhi2

---

zheng zhi

---

zhengzhi
cheng chih

---

chengchih
Integrity
正直
shoujiki / shojiki
zhèng zhí

---

zheng4 zhi2

---

zheng zhi

---

zhengzhi
cheng chih

---

chengchih
Noble Eightfold Path
八聖道

---

八圣道
hasshoudou / hashodo
bā shèng dào

---

ba1 sheng4 dao4

---

ba sheng dao

---

bashengdao
pa sheng tao

---

pashengtao
Undaunted After Repeated Setbacks
百折不撓

---

百折不挠
hyaku setsu su tou

---

hyakusetsusutou

---

hyaku setsu su to
bǎi zhé bù náo

---

bai3 zhe2 bu4 nao2

---

bai zhe bu nao

---

baizhebunao
pai che pu nao

---

paichepunao
In some entries above you will see that characters have different versions above and below a line.
In these cases, the characters above the line are Traditional Chinese, while the ones below are Simplified Chinese.
Many custom options...




And formats...



Successful Chinese Character and Japanese Kanji calligraphy searches within the last few hours...
All of our calligraphy wall scrolls are handmade.
When the calligrapher finishes creating your artwork, it is taken to my art mounting workshop in Beijing where a wall scroll is made by hand from a combination of silk, rice paper, and wood.
After we create your wall scroll, it takes at least two weeks for air mail delivery from Beijing to you.
Allow a few weeks for delivery. Rush service speeds it up by a week or two for $10!
When you select your calligraphy, you'll be taken to another page where you can choose various custom options.
Check out my lists of Japanese Kanji Calligraphy Wall Scrolls and Old Korean Hanja Calligraphy Wall Scrolls.
Some people may refer to this entry as Uprightness Kanji, Uprightness Characters, Uprightness in Mandarin Chinese, Uprightness Characters, Uprightness in Chinese Writing, Uprightness in Japanese Writing, Uprightness in Asian Writing, Uprightness Ideograms, Chinese Uprightness symbols, Uprightness Hieroglyphics, Uprightness Glyphs, Uprightness in Chinese Letters, Uprightness Hanzi, Uprightness in Japanese Kanji, Uprightness Pictograms, Uprightness in the Chinese Written-Language, or Uprightness in the Japanese Written-Language.
19 people have searched for Uprightness in Chinese or Japanese in the past year.
Uprightness was last searched for by someone else on Apr 21st, 2022