Tactics in Chinese / Japanese...
Buy a Tactics calligraphy wall scroll here!
Personalize your custom "Tactics" project by clicking the button next to your favorite "Tactics" title below...
---
---

戰術 can mean "tactics of war," "battle tactics" or simply "tactics" (being that warfare is implied in that English word).

This word is written in the ancient and traditional form of Chinese, Japanese, and Korean.
---



In modern Japan, the first character has been simplified or modified. If you want the modern Japanese Kanji version, just click on that character shown to the right.
Sun Tzu - Art of War
military strategy, tactics, and procedure

孫子兵法 is the full title of the most famous book of military proverbs about warfare.

The English title is "Sun Tzu's The Art of War."

The last two characters have come to be known in the west as "The Art of War," but a better translation would be "military strategy and tactics," "military skills" or "army procedures."

Note: Sometimes the author's name is Romanized as "Sun Zi" or "Sunzi."

It's written the same in Chinese, Japanese Kanji, and Korean Hanja.
---
Art of War: 5 Points of Analysis

道天地將法 is a list of five key points to analyzing your situation from the first chapter of Sun Tzu's Art of War.

This reads like a 5-part military proverb. Sun Tzu says that to sharpen your skills, you must plan. To plan well, you must know your situation. Therefore, you must consider and discuss the following:

1. Philosophy and Politics: Make sure your way or your policy is agreeable among all of your troops (and the citizens of your kingdom as well). For when your soldiers believe in you and your way, they will follow you to their deaths without hesitation and will not question your orders.

2. Heaven/Sky: Consider climate / weather. This can also mean considering whether God is smiling upon you. In the modern military, this could be waiting for clear skies so that you can have air support for an amphibious landing.

3. Ground/Earth: Consider the terrain in which the battle will take place. This includes analyzing defensible positions, and exit routes, while using varying elevations to your advantage. When you plan an ambush, you must know your terrain and the best location from which to stage that ambush. This knowledge will also help you avoid being ambushed, as you will know where the likely places in which to expect an ambush from your enemy.

4. Leadership: This applies to you as the general and your lieutenants. A leader should be smart and be able to develop good strategies. Leaders should keep their word, and if they break a promise, they should punish themselves as harshly as they would punish subordinates. Leaders should be benevolent to their troops, with almost a fatherly love for them. Leaders must have the ability to make brave and fast decisions. Leaders must have steadfast principles.

5. [Military] Methods: This can also mean laws, rules, principles, models, or systems. You must have an efficient organization in place to manage both your troops and supplies. In the modern military, this would be a combination of how your unit is organized and your SOP (Standard Operating Procedure).
---
Notes: This is a simplistic translation and explanation. Much more is suggested in the actual text of the Art of War (Bing Fa). It would take a lot of study to master all of these aspects. In fact, these five characters can be compared to the modern military acronyms such as BAMCIS or SMEAC.

CJK notes: I have included the Japanese and Korean pronunciations but in Chinese, Korean and Japanese, this does not make a typical phrase (with subject, verb, and object) it is a list that only someone familiar with Sun Tzu's writings would understand.
Shaolin Generational Poem
sōng shān shào lín sì cáo dòng zhèng zōng chuán xù qī shí zì bèi jué fú huì zhì zǐ jiào le běn yuán kě wù zhōu hóng pǔ guǎng zōng dào qìng tóng xuán zǔ qīng jìng zhēn rú hǎi zhàn jì chún zhēn sù dé xíng yong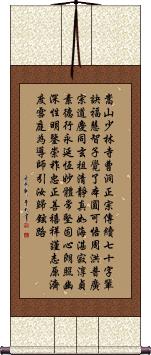 This is a poem, including a title, that celebrates the tactics and virtues of the Shaolin Kung Fu Monks for future generations.
Drain the pond to get all the fish
Kill the goose that lays the golden eggs

In 632 BC, Duke Wen of the Kingdom of Jin was about to lead an army against the forces of the Kingdom of Chu.
The Duke asked one of his advisers, Jiu Fan, how they could win the impending battle, as they were drastically outnumbered.
Jiu Fan said, "All is fair in war," and suggested a plan of dishonorable tactics (cheating).
The Duke was unsure of this advice, so he asked another adviser, Yong Ji, who replied, "If you catch fish by draining the pond, you can certainly get all the fish. But there will be no fish the following year. You can cheat this one time in battle, but such tactics can only be used once, as the enemy will be wise in future encounters."

The Duke heard the words of his wiser adviser but cheated to gain victory in the battle. However, he rewarded Yong Ji more than Jiu Fan at the victory celebration, stating that while Jiu Fan's advice gained one victory, the wise words of Yong Ji would last forever.

This Chinese idiom/proverb is still used, over 2600 years later to remind people not to burn bridges, cheat, or dishonor themselves in exchange for a short-term gain while sacrificing the future.

竭澤而漁 is very similar to the meaning of the English phrase, "Kill the goose that lays the golden eggs."
Value of Warrior Generals
bīng zài jīng ér bú zài duō jiàng zài móu ér bú zài yǒng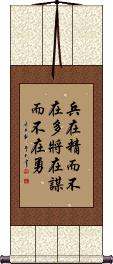 兵在精而不在多將在謀而不在勇 is a proverb that informs how it is better to have warriors of quality, rather than just a large quantity of warriors in your army/force.

This literally means: [Just as] warriors [are valued for their] quality and not [just] for quantity, [so] generals [are valued] for their tactics, not [just] for [their] bravery.
---
See Also: 兵在精而不在多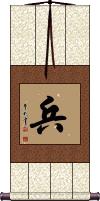 兵 can be used to express soldiers, troops, a force, an army, weapons, arms, military, warfare, tactics, strategy, or warlike.

The final meaning depends on context. It's also part of the Chinese title for the Terracotta soldiers. In fact, this character is usually used in compound words (words of more than one character). Sometimes this single character is the title used for the pawns in a chess game (in a related issue, this is also a nickname for soldiers with the rank of Private).
---

合気道 is the modern Japanese way to write Aikido.

Aikido is often referred to as the defensive martial art.

While Aikido was born in Japan, it has become a somewhat famous form of defensive tactics taught to soldiers and Marines, as well as some law enforcement officers in the West.

Looking at the characters, the first means "union" or "harmony."
The second character means "universal energy" or "spirit."
The third means "way" or "method."
---
Please note that while the original 合氣道 characters can be pronounced in Chinese, this word is not well-known in China and is not considered part of the Chinese lexicon.

Note: It is somewhat accepted that this is the origin of Hapkido in Korea. And other than a modern simplification to the middle Kanji of this 3-Kanji word, it is written the same in Korean Hanja.
---
See Also: Martial Arts | Hapkido
The following table may be helpful for those studying Chinese or Japanese...
Title
Characters
Romaji

(Romanized Japanese)

Various forms of Romanized Chinese
Tactics of War
戰術 / 戦術

---

战术
senjutsu
zhàn shù / zhan4 shu4 / zhan shu / zhanshu
chan shu / chanshu
Art of War
兵法
hyou hou / hyouhou / hyo ho
bīng fǎ / bing1 fa3 / bing fa / bingfa
ping fa / pingfa
Sun Tzu - Art of War
孫子兵法

---

孙子兵法
son shi hyou hou

---

sonshihyouhou

---

son shi hyo ho
sūn zǐ bīng fǎ

---

sun1 zi3 bing1 fa3

---

sun zi bing fa

---

sunzibingfa
sun tzu ping fa

---

suntzupingfa
Art of War: 5 Points of Analysis
道天地將法

---

道天地将法
dou ten chi shou hou

---

doutenchishouhou

---

do ten chi sho ho
dào tiān dì jiàng fǎ

---

dao4 tian1 di4 jiang4 fa3

---

dao tian di jiang fa

---

daotiandijiangfa
tao t`ien ti chiang fa

---

taotientichiangfa

---

tao tien ti chiang fa
Shaolin Generational Poem
嵩山少林寺曹洞正宗傳續七十字輩訣福慧智子覺了本圓可悟周洪普廣宗道慶同玄祖清靜真如海湛寂淳貞素德行永延恆妙體常堅固心朗照幽深性明鑒崇祚忠正善禧祥謹志原濟度雪庭為導師引汝歸鉉路

---

嵩山少林寺曹洞正宗传续七十字辈诀福慧智子觉了本圆可悟周洪普广宗道庆同玄祖清静真如海湛寂淳贞素德行永延恒妙体常坚固心朗照幽深性明鉴崇祚忠正善禧祥谨志原济度雪庭为导师引汝归铉路
sōng shān shào lín sì cáo dòng zhèng zōng chuán xù qī shí zì bèi jué fú huì zhì zǐ jiào le běn yuán kě wù zhōu hóng pǔ guǎng zōng dào qìng tóng xuán zǔ qīng jìng zhēn rú hǎi zhàn jì chún zhēn sù dé xíng yong

---

song1 shan1 shao4 lin2 si4 cao2 dong4 zheng4 zong1 chuan2 xu4 qi1 shi2 zi4 bei4 jue2 fu2 hui4 zhi4 zi3 jiao4 le5 ben3 yuan2 ke3 wu4 zhou1 hong2 pu3 guang3 zong1 dao4 qing4 tong2 xuan2 zu3 qing1 jing4 zhen1 ru2 hai3 zhan4 ji4 chun2 zhen1 su4 de2 xing2 yong

---

song shan shao lin si cao dong zheng zong chuan xu qi shi zi bei jue fu hui zhi zi jiao le ben yuan ke wu zhou hong pu guang zong dao qing tong xuan zu qing jing zhen ru hai zhan ji chun zhen su de xing yong
sung shan shao lin ssu ts`ao tung cheng tsung ch`uan hsü ch`i shih tzu pei chüeh fu hui chih tzu chiao le pen yüan k`o wu chou hung p`u kuang tsung tao ch`ing t`ung hsüan tsu ch`ing ching chen ju hai chan chi ch`un chen su te hsing yung

---

sung shan shao lin ssu tsao tung cheng tsung chuan hsü chi shih tzu pei chüeh fu hui chih tzu chiao le pen yüan ko wu chou hung pu kuang tsung tao ching tung hsüan tsu ching ching chen ju hai chan chi chun chen su te hsing yung
Drain the pond to get all the fish
竭澤而漁

---

竭泽而渔
jié zé ér yú

---

jie2 ze2 er2 yu2

---

jie ze er yu

---

jiezeeryu
chieh tse erh yü

---

chiehtseerhyü
Value of Warrior Generals
兵在精而不在多將在謀而不在勇

---

兵在精而不在多将在谋而不在勇
bīng zài jīng ér bú zài duō jiàng zài móu ér bú zài yǒng

---

bing1 zai4 jing1 er2 bu2 zai4 duo1 jiang4 zai4 mou2 er2 bu2 zai4 yong3

---

bing zai jing er bu zai duo jiang zai mou er bu zai yong
ping tsai ching erh pu tsai to chiang tsai mou erh pu tsai yung
Soldiers
兵
hei
bīng / bing1 / bing
ping
Aikido
合氣道

---

合気道
ai ki dou / aikidou / ai ki do
hé qì dào

---

he2 qi4 dao4

---

he qi dao

---

heqidao
ho ch`i tao

---

hochitao

---

ho chi tao
In some entries above you will see that characters have different versions above and below a line.
In these cases, the characters above the line are Traditional Chinese, while the ones below are Simplified Chinese.
Many custom options...




And formats...



Successful Chinese Character and Japanese Kanji calligraphy searches within the last few hours...
All of our calligraphy wall scrolls are handmade.
When the calligrapher finishes creating your artwork, it is taken to my art mounting workshop in Beijing where a wall scroll is made by hand from a combination of silk, rice paper, and wood.
After we create your wall scroll, it takes at least two weeks for air mail delivery from Beijing to you.
Allow a few weeks for delivery. Rush service speeds it up by a week or two for $10!
When you select your calligraphy, you'll be taken to another page where you can choose various custom options.
Check out my lists of Japanese Kanji Calligraphy Wall Scrolls and Old Korean Hanja Calligraphy Wall Scrolls.
Some people may refer to this entry as Tactics Kanji, Tactics Characters, Tactics in Mandarin Chinese, Tactics Characters, Tactics in Chinese Writing, Tactics in Japanese Writing, Tactics in Asian Writing, Tactics Ideograms, Chinese Tactics symbols, Tactics Hieroglyphics, Tactics Glyphs, Tactics in Chinese Letters, Tactics Hanzi, Tactics in Japanese Kanji, Tactics Pictograms, Tactics in the Chinese Written-Language, or Tactics in the Japanese Written-Language.
19 people have searched for Tactics in Chinese or Japanese in the past year.
Tactics was last searched for by someone else on Aug 11th, 2022