Not what you want?
Try other similar-meaning words, fewer words, or just one word.

Enter your email below, and get an automatic notice when results for Live for the Now are added or updated...
Live for the Now in Chinese / Japanese...
Buy a Live for the Now calligraphy wall scroll here!
Personalize your custom "Live for the Now" project by clicking the button next to your favorite "Live for the Now" title below...
Live In The Moment / Live In The Now
現世 is a very short way to write "live in the moment" or "live in the now" in Japanese.

This short word is open to interpretation. It's used in Japanese Buddhism to mean "the current epoch" or "the current age" (the current age is but a brief moment in the greater scope of existence). When used in that context, this is pronounced "utsushiyo" or "ustusiyo" in Japanese. Otherwise, it's pronounced "gensei" in Japanese.

Other translation possibilities include:
Live for now
Earthly world
This world
This life

Earthly life
Present life
Present generation
Present incarnation

Current age
This existence
This (momentary) reality

---
Note: This is also a word in Chinese and old Korean Hanja. While the meaning is more or less the same, this is not recommended for a wall scroll if your audience is Chinese or Korean. This selection is best if your audience is Japanese.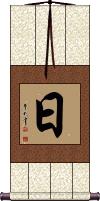 日 is how to write "day" in Chinese, Japanese and Korean Hanja.

This can also mean "Sun", the star in the middle of the Solar system in which we live. In Japanese, it can also mean "sunshine" or even "Sunday".

When writing the date in modern Chinese and Japanese, putting a number in front of this character indicates the day of the month. Of course, you need to indicate the month too... The month is expressed with a number followed by the character for the moon. So "three moons ten suns" would be "March 10th" or "3/10".

Note: 日 is also the first character for the proper name of Japan. Remember that Japan is "The land of the rising sun"? Well, the first character for Japan means "sun" the second means "origin" so you get the real meaning now. Sometimes, in China, this sun character can be a short name for Japan or a suffix for something of or from Japan.

This demon title comes from the ancient Sanskrit word Asura.

阿修羅 is often used in Buddhism when describing various demons. Sometimes defined as "Fighting and battling giant demon".

In the context of Buddhism: This title originally meant a spirit, spirits, or even the gods (perhaps before 1700 years ago). It now generally indicates titanic demons, enemies of the gods, with whom, especially Indra, they wage constant war. They are defined as "not devas", and "ugly", and "without wine". There are four classes of asuras, separated according to their manner of rebirth. They can be egg-born, womb-born, transformation-born, and spawn- or water-born. Their abode is in the ocean, north of Sumeru but certain of the weaker dwell in a western mountain cave. They have realms, rulers, and palaces, as have the devas.

In terms of power, Asuras rank above humans but below most of the other deities. They live in the area near the coastal foot of Mount Sumeru (on the northern side). Their domain is partially or wholly in the ocean.
Better Late Than Never
It's Never Too Late Too Mend
wáng yáng bǔ láo yóu wèi wéi wǎn

Long ago in what is now China, there were many kingdoms throughout the land. This time period is known as "The Warring States Period" by historians because these kingdoms often did not get along with each other.

Some time around 279 B.C. the Kingdom of Chu was a large but not particularly powerful kingdom. Part of the reason it lacked power was the fact that the King was surrounded by "yes men" who told him only what he wanted to hear. Many of the King's court officials were corrupt and incompetent which did not help the situation.

The King was not blameless himself, as he started spending much of his time being entertained by his many concubines.

One of the King's ministers, Zhuang Xin, saw problems on the horizon for the Kingdom, and warned the King, "Your Majesty, you are surrounded by people who tell you what you want to hear. They tell you things to make you happy, and cause you to ignore important state affairs. If this is allowed to continue, the Kingdom of Chu will surely perish, and fall into ruins".

This enraged the King who scolded Zhuang Xin for insulting the country and accused him of trying to create resentment among the people. Zhuang Xin explained, "I dare not curse the Kingdom of Chu but I feel that we face great danger in the future because of the current situation". The King was simply not impressed with Zhuang Xin's words.
Seeing the King's displeasure with him and the King's fondness for his court of corrupt officials, Zhuang Xin asked permission of the King that he may take leave of the Kingdom of Chu, and travel to the State of Zhao to live. The King agreed, and Zhuang Xin left the Kingdom of Chu, perhaps forever.

Five months later, troops from the neighboring Kingdom of Qin invaded Chu, taking a huge tract of land. The King of Chu went into exile, and it appeared that soon, the Kingdom of Chu would no longer exist.

The King of Chu remembered the words of Zhuang Xin, and sent some of his men to find him. Immediately, Zhuang Xin returned to meet the King. The first question asked by the King was, "What can I do now?"

Zhuang Xin told the King this story:

A shepherd woke one morning to find a sheep missing. Looking at the pen saw a hole in the fence where a wolf had come through to steal one of his sheep. His friends told him that he had best fix the hole at once. But the Shepherd thought since the sheep is already gone, there is no use fixing the hole.
The next morning, another sheep was missing. And the Shepherd realized that he must mend the fence at once. Zhuang Xin then went on to make suggestions about what could be done to reclaim the land lost to the Kingdom of Qin, and reclaim the former glory and integrity in the Kingdom of Chu.

The Chinese idiom shown above came from this reply from Zhuang Xin to the King of Chu almost 2,300 years ago.
It translates roughly into English as...
"Even if you have lost some sheep, it's never too late to mend the fence".

This proverb is often used in modern China when suggesting in a hopeful way that someone change their ways, or fix something in their life. It might be used to suggest fixing a marriage, quit smoking, or getting back on track after taking an unfortunate path in life among other things one might fix in their life.

I suppose in the same way that we might say, "Today is the first day of the rest of your life" in our western cultures to suggest that you can always start anew.

Note: This does have Korean pronunciation but is not a well-known proverb in Korean (only Koreans familiar with ancient Chinese history would know it). Best if your audience is Chinese.

These four characters together relay the meaning that can be expressed in English as, "When three people say there's a tiger running in the street, you believe it".

Of course, there is an ancient story behind this idiom...

三人成虎 is actually a proverb that resulted from a conversation that occurred around 300 B.C.

The conversation was between the king of the Wei kingdom and one of the king's ministers named Pang Cong.

It was near the end of one of many wars, this time with the Zhao kingdom. Pang Cong was to be sent by the king to the Zhao kingdom with the king's son who was to be held hostage. It was common at the time for a king to make his son a hostage to secure stable peace between warring kingdoms.
Before minister Pang Cong departed, he asked his king, "If one person told you there was a tiger running in the street, would you believe it?".


"No", the king said.

The minister continued, "What if two people told you?"

The king replied, "Well, I would have my doubts but I might believe it".

The minister continued, "So, what if three people told you that there is a tiger running in the streets?"

The king replied, "Yes, I would believe it, it must be true if three people say it".

The minister then reminded the king, "Your son and I are now traveling far away to live in the distant Zhao kingdom - much farther from your palace than the street. Rumors may fly about me in my absence, so I hope your majesty will weight such rumors appropriately".

The king replied, "I have every trust in you, do not worry"
While the minister was gone, the king's enemies gossiped about minister Pang Cong on many occasions. At first, the king thought nothing of these comments and rumors. But slowly as the rumors mounted, the king began to suspect ill of his minister.

Some time later when peace was well-established, the minister and prince were freed and returned to the kingdom of Wei. The king received his son, BUT DID NOT EVEN SUMMON MINISTER PANG CONG TO THE PALACE!

Hopefully this story will help you see how dangerous words can be when used to promote rumors, or create ill will. And perhaps will inspire you to not believe everything you hear.

There is also a secondary suggestion in this idiom that gossip is as ferocious as a tiger. Some Chinese people who don't know the ancient story above may believe that this scroll means that rumors are as vicious as three tigers.

Note: This proverb appears in my Korean dictionary but is not well-known in Korea.
This in-stock artwork might be what you are looking for, and ships right away...
The following table may be helpful for those studying Chinese or Japanese...
Title
Characters
Romaji

(Romanized Japanese)

Various forms of Romanized Chinese
Live In The Moment
Live In The Now
現世

---

现世
gen sei / gensei
xiàn shì / xian4 shi4 / xian shi / xianshi
hsien shih / hsienshih
Day
日
hi / nichi
rì / ri4 / ri
jih
Frightful Demon
Asura
阿修羅

---

阿修罗
ashura
ē xiū luó

---

e1 xiu1 luo2

---

e xiu luo

---

exiuluo
o hsiu lo

---

ohsiulo
Better Late Than Never
亡羊補牢猶未為晚

---

亡羊补牢犹未为晚
wáng yáng bǔ láo yóu wèi wéi wǎn

---

wang2 yang2 bu3 lao2 you2 wei4 wei2 wan3

---

wang yang bu lao you wei wei wan
wang yang pu lao yu wei wei wan

---

wangyangpulaoyuweiweiwan
Tiger Rumor
三人成虎
sān rén chéng hǔ

---

san1 ren2 cheng2 hu3

---

san ren cheng hu

---

sanrenchenghu
san jen ch`eng hu

---

sanjenchenghu

---

san jen cheng hu
In some entries above you will see that characters have different versions above and below a line.
In these cases, the characters above the line are Traditional Chinese, while the ones below are Simplified Chinese.
Not the results for live for the now that you were looking for?
Below are some entries from our dictionary that may match your live for the now search...
Characters

If shown, 2nd row is Simp. Chinese

Pronunciation
Romanization
Simple Dictionary Definition

善劫

see styles
shàn jié

/ shan4 jie2

---

shan chieh

---

zenkō

寅吃卯糧

---

寅吃卯粮

see styles
yín chī mǎo liáng

/ yin2 chi1 mao3 liang2

---

yin ch`ih mao liang

/ yin chih mao liang

種瓜得瓜,種豆得豆

---

种瓜得瓜,种豆得豆

see styles
zhòng guā dé guā , zhòng dòu dé dòu / zhong4 gua1 de2 gua1 , zhong4 dou4 de2 dou4

---

chung kua te kua , chung tou te tou
Many custom options...




And formats...



Successful Chinese Character and Japanese Kanji calligraphy searches within the last few hours...
All of our calligraphy wall scrolls are handmade.
When the calligrapher finishes creating your artwork, it is taken to my art mounting workshop in Beijing where a wall scroll is made by hand from a combination of silk, rice paper, and wood.
After we create your wall scroll, it takes at least two weeks for air mail delivery from Beijing to you.
Allow a few weeks for delivery. Rush service speeds it up by a week or two for $10!
When you select your calligraphy, you'll be taken to another page where you can choose various custom options.
Check out my lists of Japanese Kanji Calligraphy Wall Scrolls and Old Korean Hanja Calligraphy Wall Scrolls.
Some people may refer to this entry as Live for the Now Kanji, Live for the Now Characters, Live for the Now in Mandarin Chinese, Live for the Now Characters, Live for the Now in Chinese Writing, Live for the Now in Japanese Writing, Live for the Now in Asian Writing, Live for the Now Ideograms, Chinese Live for the Now symbols, Live for the Now Hieroglyphics, Live for the Now Glyphs, Live for the Now in Chinese Letters, Live for the Now Hanzi, Live for the Now in Japanese Kanji, Live for the Now Pictograms, Live for the Now in the Chinese Written-Language, or Live for the Now in the Japanese Written-Language.
1 people have searched for Live for the Now in Chinese or Japanese in the past year.
Live for the Now was last searched for by someone else on May 20th, 2018