Awakening in Chinese / Japanese...
Buy an Awakening calligraphy wall scroll here!
Personalize your custom "Awakening" project by clicking the button next to your favorite "Awakening" title below...
---
---
Bodhi - Awakening Enlightenment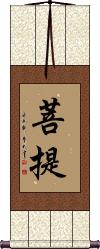 The Bodhi or 菩提 is the moment of completion in Buddhism.

It is when all things become known and you have completed your journey to enlightenment.

The reference is to the Bodhi tree where Siddhartha Gautama (the legendary man who established the Buddhist religion) achieved enlightenment. Sometimes this is referred to as "the tree of enlightenment," but if you want the full version with the character for a tree at the end, please see the Bodhi Tree entry.
---
See Also: Buddhism | Buddha | Nirvana | Enlightenment

菩提心 means Bodhi-mind or Bodhi-heart.

This title represents the will to realize supreme enlightenment. The awakening of the Bodhi-mind is of utmost importance in Buddhist training.

Other definitions include the mind for or of bodhi, the awakened, enlightened mind, or having Buddha-nature.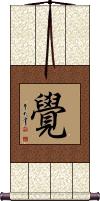 覺 can mean to feel; to figure out; thinking; awake; aware; bodhi; knowing; understanding; enlightenment; illumination; apprehend; perceive; realize.

覺 is a character that is impossible to define in a single word.

This term is often associated with Buddhism where it's understood to be: Illumination, enlightenment, or awakening in regard to the real in contrast to the seeming. However, it can also refer to enlightenment in regard to morality and evil.
---
Notes:

In Japanese, this can be the personal name Satoru.

In certain context, and only when pronounced as "jiao" in Chinese, it can refer to a nap, sleep or the state of sleeping. However, as a single character on a wall scroll, everyone will read this with the awareness or enlightenment context.

By no means is this the only way to write enlightenment. In fact, you should only choose this character if you are looking more for a word meaning awareness.
---
See Also: Enlightenment | Wisdom | Knowledge
Loving Heart / One's Love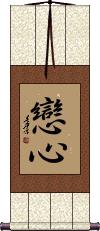 戀心 literally means "loving heart." It can also be translated as "one's love" or "awakening of love."

戀心 is used exclusively for love between boyfriends and girlfriends or husband and wife.

Breaking down the meaning of each Kanji, the first means love, affection, or tender passion. The second Kanji means heart, mind, or soul (most will read it as the heart).
---
See Also: Compassion | Love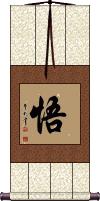 悟 means enlightenment but can also mean to perceive, discern, realize, understand or comprehend.

悟 has the same meaning in Chinese, Japanese and Korean, though used most often with deep significance in Japanese culture and language. 悟 is often seen in Japan along with a secondary Hiragana character. We also offer that option but this is the more universal single-character entry.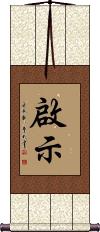 Beyond inspire or inspiration, 啟示 is a Chinese word that can mean enlightenment or revelation.

This is used as the Biblical revelation in the Chinese Bible, so it can also mean apocalypse depending on context.

Separately, the first character can mean: to open; to start; to initiate; to enlighten; to awaken; to state; to inform.

The second character alone can mean: to show; to reveal; to indicate; to proclaim.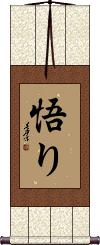 悟り is the Japanese term for enlightenment which can also mean to perceive, discern, realize, understand, or comprehend.

The first character has the same meaning in Chinese and Korean but has deeper significance in Japanese culture and language. This version of Satori incorporates the Japanese secondary character (Hiragana, not Kanji) that adds the "ri" to Satori. It's unnecessary to have the second character, as it does not add to the meaning as much as clarity for the context in which you are using this term.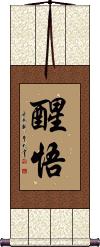 醒悟 is a Chinese word that expresses the idea of reality or coming to understand what is true and real.

The first character means to wake up, awaken, comprehend, introspect, or visit.

The second character means to comprehend or understand (be enlightened).

The meanings of Chinese words are not necessarily the sum of their parts. In this case, at best, you can derive that the characters express "understanding what is real" or "knowing what is real." Any Chinese person will perceive this word in a similar way to how we use "reality" in English.
---

Note: The first character can also be written in a different form as shown to the right. Same meaning in Chinese, either way it's written.
覺醒武士 is not a commonly used title in Chinese but is sometimes used in Martial arts and military contexts to refer to a warrior who seems always to be fully aware, enlightened, knowledgeable, noble, and just.

The first two characters are a word that means: to awaken; to come to realize; awakened to the truth; the truth dawns upon one; scales fall from the eyes; to become aware.

The last two characters mean warrior but can also refer to a samurai, soldier, or fighter.
Worldwide Wish for Peace and Prosperity
qǐ shèng shì kāi tài píng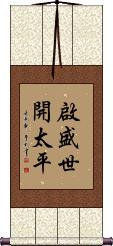 啟盛世開太平 means "To bring flourishing peace and security to the world (our current era)."

It's a wish that a new door leading to peace and prosperity could be opened to mankind.

Character and word breakdown:
啟 to open; to start; to initiate; to enlighten or awaken.
盛世 a flourishing period; period of prosperity; a golden age.
開 to open; to start; to turn on.
太平 peace and security; peace and tranquility; peace; tranquility.
I don't like to do breakdowns like this, as the words altogether create their unique meaning (encompassed in the main title above).
These search terms might be related to Awakening:
The following table may be helpful for those studying Chinese or Japanese...
Title
Characters
Romaji

(Romanized Japanese)

Various forms of Romanized Chinese
Bodhi - Awakening Enlightenment
菩提
bodai
pú tí / pu2 ti2 / pu ti / puti
p`u t`i / puti / pu ti
The Bodhi Mind
菩提心
bo dai shin

---

bodaishin
pú tí xīn

---

pu2 ti2 xin1

---

pu ti xin

---

putixin
p`u t`i hsin

---

putihsin

---

pu ti hsin
Awareness
覺

---

觉
gaku / satoru
jué / jiào

---

jue2 / jiao4

---

jue / jiao

---

jue/jiao
chüeh chiao

---

chüehchiao
Loving Heart
One's Love
戀心

---

恋心
koi gokoro / koigokoro
Satori
Enlightenment
悟
sato / go
wù / wu4 / wu
Inspire
啟示

---

启示
qǐ shì / qi3 shi4 / qi shi / qishi
ch`i shih / chishih / chi shih
Open Mind
開覺

---

开觉
kaikaku / kaikaku
kāi jué / kai1 jue2 / kai jue / kaijue
k`ai chüeh / kaichüeh / kai chüeh
Satori
Enlightenment
悟り
satori
Reality
醒悟 / 省悟

---

醒悟
xǐng wù / xing3 wu4 / xing wu / xingwu
hsing wu / hsingwu
Enlightened Warrior
覺醒武士

---

觉醒武士
jué xǐng wǔ shì

---

jue2 xing3 wu3 shi4

---

jue xing wu shi

---

juexingwushi
chüeh hsing wu shih

---

chüehhsingwushih
Worldwide Wish for Peace and Prosperity
啟盛世開太平

---

启盛世开太平
qǐ shèng shì kāi tài píng

---

qi3 sheng4 shi4 kai1 tai4 ping2

---

qi sheng shi kai tai ping

---

qishengshikaitaiping
ch`i sheng shih k`ai t`ai p`ing

---

chishengshihkaitaiping

---

chi sheng shih kai tai ping
In some entries above you will see that characters have different versions above and below a line.
In these cases, the characters above the line are Traditional Chinese, while the ones below are Simplified Chinese.
Many custom options...




And formats...



Successful Chinese Character and Japanese Kanji calligraphy searches within the last few hours...
All of our calligraphy wall scrolls are handmade.
When the calligrapher finishes creating your artwork, it is taken to my art mounting workshop in Beijing where a wall scroll is made by hand from a combination of silk, rice paper, and wood.
After we create your wall scroll, it takes at least two weeks for air mail delivery from Beijing to you.
Allow a few weeks for delivery. Rush service speeds it up by a week or two for $10!
When you select your calligraphy, you'll be taken to another page where you can choose various custom options.
Check out my lists of Japanese Kanji Calligraphy Wall Scrolls and Old Korean Hanja Calligraphy Wall Scrolls.
Some people may refer to this entry as Awakening Kanji, Awakening Characters, Awakening in Mandarin Chinese, Awakening Characters, Awakening in Chinese Writing, Awakening in Japanese Writing, Awakening in Asian Writing, Awakening Ideograms, Chinese Awakening symbols, Awakening Hieroglyphics, Awakening Glyphs, Awakening in Chinese Letters, Awakening Hanzi, Awakening in Japanese Kanji, Awakening Pictograms, Awakening in the Chinese Written-Language, or Awakening in the Japanese Written-Language.
25 people have searched for Awakening in Chinese or Japanese in the past year.
Awakening was last searched for by someone else on Oct 22nd, 2022