Not what you want?
Try searching again using:
1. Other similar-meaning words.
2. Fewer words or just one word.
Eight in Chinese / Japanese...
Buy an Eight calligraphy wall scroll here!
Start your custom "Eight" project by clicking the button next to your favorite "Eight" title below...

bā

hachi

팔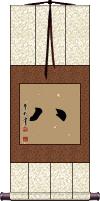 八 is the number eight in Chinese, Japanese Kanji, and old Korean Hanja.

八 is a strange selection for a wall scroll, so it's here mostly for reference. I guess it's OK if the number eight is important to you.
---
Because this character is rather simple (just two strokes), 捌 instead of 八 is an anti-fraud way to write eight on bank documents.

shichi ten hakki / nana korobi ya oki

칠전팔기

This Japanese proverb relays the vicissitudes of life, with the meaning "seven times down eight times up."

Some would more naturally translate it into English as "Always rising after a fall or repeated failures" or compare it to the English, "If at first you don't succeed, try, try again."

The first Kanji is literally "7." The second means "fall down" (sometimes this Kanji means "turn around," "revolve" or "turn over" but in this case, it holds the meaning of "fall"). The third is "8." And the last is "get up," "rouse," or "rise."

Basically, if you fail 7 times, you should recover from those events and be prepared to rise an 8th time. This also applies if it is the world or circumstances that knock you down seven times...
...just remember that you have the ability to bounce back from any kind of adversity.

Note: This can be pronounced two ways. One is "shichi ten hakki" or "shichitenhakki." The other is "nana korobi ya oki" also written, "nanakorobi-yaoki."

Special Note: The second character is a Kanji that is not used in China. Therefore, please only select our Japanese master calligrapher for this selection.

zhèng jiàn zhèng sī wéi zhèng yǔ zhèng yè zhèng mìng zhèng jīng jìn zhèng niàn zhèng dìng

shouken shoushiyui shougo shougo shoumyou shoushoujin shounen shoujou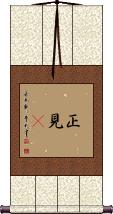 These are the eight tenets of the Buddhist Noble Eightfold Path written altogether.

Here's this list of tenets in English:
1. Right View / Right Understanding / Right Perspective / Perfect View
2. Right Resolve / Right Thought / Right Intention / Perfect Resolve
3. Right Speech / Right Talk / Perfect Speech
4. Right Action / Perfect Conduct
5. Right Living / Right Livelihood / Perfect Livelihood
6. Right Effort / Right Endeavor / Perfect Effort
7. Right Mindfulness / Right Memory / Perfect Mindfulness
8. Right Concentration / Perfect Concentration

bā jí quán

hakkyo ku ken

八極拳 is "Ba Ji Quan" or "Eight Extremes Fist."

Some also translate this as "Eight Extremities Fist," though I don't feel that's accurate.

八極拳 (Bājíquán) is a Chinese martial art that features explosive, short-range power and is famous for its elbow strikes. It originated in the Hebei Province in Northern China but spread to Taiwan and other places.

The full title is 開門八極拳 (Kāimén Bājíquán), which means Open-Door Bajiquan.

Other romanizations include: BaJiQuan, Pa Chi Ch`üan, or Pa Chi Chuan.

In Japan, this is known as Hakkyokuken.

lóng shén

ryuu jin

용신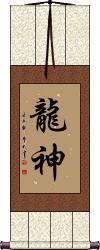 This Chinese, Japanese Kanji, and old Korean Hanja title can mean, "dragon god," "dragon king," or "dragon spirit."

In the context of Buddhism, this is one of eight kinds of spiritual beings found in Mahāyāna texts.

bā guà zhǎng

hakkeshou

八卦掌 is the title Baguazhang, a form of Chinese boxing.

Literally-translated, this means, "Eight Trigrams Palm.

You will see this romanized as, "Ba Gua Zhang," or "Pa Kua Chang" (same characters, just different romanization used in mainland China versus Taiwan).

八卦掌 is also known in Japan as hakkeshou or hakkesho.

xiān

sento / sen

선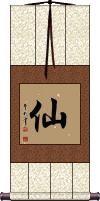 仙 means immortal (as in a being or person).

In some context, it can mean hermit, ascetic, man of the hills, or wizard. The Buddha is often put in this category.

In Chinese mythology and folklore, there is a famous group of eight immortals (八仙).

The 楞嚴經 (Śūraṅgama Sūtra) speaks of many kinds of immortals including walkers on the earth, fliers, wanderers at will (into space or into the deva heavens), beings with the ability to transform themselves into any form, etc.
Search for Eight in my Japanese & Chinese Dictionary
This in-stock artwork might be what you are looking for, and ships right away...
Gallery Price: $214.00
Your Price: $118.88
The following table may be helpful for those studying Chinese or Japanese...
Title
Characters
Romaji

(Romanized Japanese)

Various forms of Romanized Chinese
Eight
八
hachi
bā / ba1 / ba
pa
Eight Black Horses
黑八馬

---

黑八马
hēi bā mǎ

---

hei1 ba1 ma3

---

hei ba ma

---

heibama
hei pa ma

---

heipama
Eight Immortals
八仙
hassen / hasen
bā xiān / ba1 xian1 / ba xian / baxian
pa hsien / pahsien
Fall Down Seven Times, Get Up Eight
七転八起
shichi ten hakki / nana korobi ya oki

---

shichi ten haki / nana korobi ya oki

---

shichitenhaki/nanakorobiyaoki
All Tenets of the Noble Eightfold Path
正見正思唯正語正業正命正精進正念正定

---

正见正思唯正语正业正命正精进正念正定
shouken shoushiyui shougo shougo shoumyou shoushoujin shounen shoujou

---

shoken shoshiyui shogo shogo shomyo shoshojin shonen shojo

---

shokenshoshiyuishogoshogoshomyoshoshojinshonenshojo
zhèng jiàn zhèng sī wéi zhèng yǔ zhèng yè zhèng mìng zhèng jīng jìn zhèng niàn zhèng dìng

---

zheng4 jian4 zheng4 si1 wei2 zheng4 yu3 zheng4 ye4 zheng4 ming4 zheng4 jing1 jin4 zheng4 nian4 zheng4 ding4

---

zheng jian zheng si wei zheng yu zheng ye zheng ming zheng jing jin zheng nian zheng ding
cheng chien cheng ssu wei cheng yü cheng yeh cheng ming cheng ching chin cheng nien cheng ting
Ba Ji Quan
八極拳

---

八极拳
hakkyo ku ken

---

hakkyokuken

---

hakyo ku ken

---

hakyokuken
bā jí quán

---

ba1 ji2 quan2

---

ba ji quan

---

bajiquan
pa chi ch`üan

---

pachichüan

---

pa chi chüan
Ba Gua
八卦
bā guà / ba1 gua4 / ba gua / bagua
pa kua / pakua
Dragon Spirit
龍神

---

龙神
ryuu jin / ryuujin / ryu jin / ryujin
lóng shén

---

long2 shen2

---

long shen

---

longshen
lung shen

---

lungshen
Ba Gua Zhang
八卦掌
hakkeshou / hakesho
bā guà zhǎng

---

ba1 gua4 zhang3

---

ba gua zhang

---

baguazhang
pa kua chang

---

pakuachang
Immortal
仙
sento / sen
xiān / xian1 / xian
hsien
In some entries above you will see that characters have different versions above and below a line.
In these cases, the characters above the line are Traditional Chinese, while the ones below are Simplified Chinese.
Successful Chinese Character and Japanese Kanji calligraphy searches within the last few hours...
All of our calligraphy wall scrolls are handmade.
When the calligrapher finishes creating your artwork, it is taken to my art mounting workshop in Beijing where a wall scroll is made by hand from a combination of silk, rice paper, and wood.
After we create your wall scroll, it takes at least two weeks for air mail delivery from Beijing to you.
Allow a few weeks for delivery. Rush service speeds it up by a week or two for $10!
When you select your calligraphy, you'll be taken to another page where you can choose various custom options.
Check out my lists of Japanese Kanji Calligraphy Wall Scrolls and Old Korean Hanja Calligraphy Wall Scrolls.
Some people may refer to this entry as Eight Kanji, Eight Characters, Eight in Mandarin Chinese, Eight Characters, Eight in Chinese Writing, Eight in Japanese Writing, Eight in Asian Writing, Eight Ideograms, Chinese Eight symbols, Eight Hieroglyphics, Eight Glyphs, Eight in Chinese Letters, Eight Hanzi, Eight in Japanese Kanji, Eight Pictograms, Eight in the Chinese Written-Language, or Eight in the Japanese Written-Language.