Wanna buy a goldfish?
Do it South-China-style from the back of a tricycle...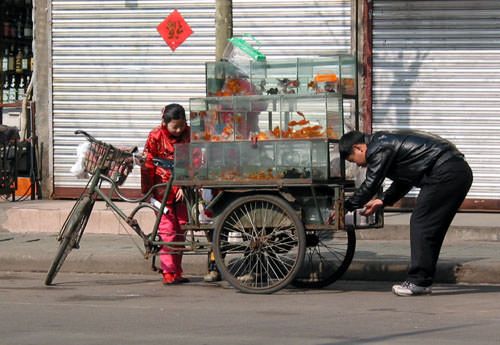 This little Chinese girl found a gold fish she likes, as the seller fills bag of water for her selection.
I travel all over China, and often see interesting things. Of course, some of these things are part normal everyday life in China's eastern culture, but might be very different from what you'll see in western cultures.
If you want to buy a goldfish or baby koi fish in Nanjing, this is where you will end up.
Of course, in China, you can buy a lot of things from the back of big tricycles. Everything from fruits and vegetables to cakes, candy, and even heating coal.
These tricycles are actually totally mobile stores, and can be found on different street corners every day.
I think it's brilliant, because once you've sold your goods to everyone in a neighborhood, you simply pedal your tricycle a few blocks away, and see how sales go there.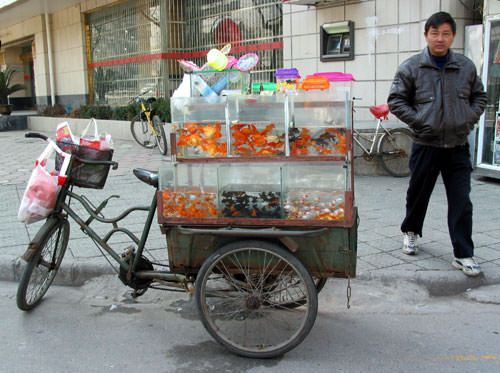 This tricycle retailer is selling goldfish and baby koi fish on the streets of China.
Of course, many of these entrepreneurs are not actually licensed businesses in China. So when the police come by, the tricycle retailer becomes a tricycle transporter, and zips down the street looking for a police-free area.
In Nanjing, all of these tricycle-goldfish-retailers seem to wear the same uniform, of a black leather jacket, black slacks and running shoes.
Proof of this can be seen in these two pictures. These are two completely different goldfish sellers, but they are both donning the same outfit.
One of the sellers told me that he offers a "one-week-no-die" guarantee. It seems like a good policy to me, except for the fact that in a week, you'd have to search pretty hard to find next week's street corner location.
---
Click here to learn more about us and the origin of this art
---