Benevolent in Chinese / Japanese...
Buy a Benevolent calligraphy wall scroll here!
Personalize your custom "Benevolent" project by clicking the button next to your favorite "Benevolent" title below...
---
---

慈悲の心 means benevolent heart, compassionate heart, or merciful heart in Japanese.

This is a Japanese-only phrase and should be ordered from our Japanese master calligrapher. This is because the third character is unique Hiragana.

Chances are you are into Inuyasha and are seeking the title of chapter 471 which is often translated as "Merciful Heart."
---
Benevolent and Skilled Doctor
Short version
Benevolent and Skilled Doctor
miào shǒu rén xīn xuán hú jì shì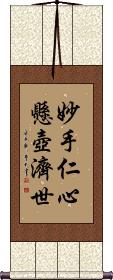 妙手仁心悬壶济世 is a phrase that celebrates the benevolence, skill, and service to his/her patients.

Here's a breakdown of the characters:
妙手 miào shǒu admirable skill in curing disease (when used in reference to doctors).
仁心 rén xīn kindheartedness, charity, benevolent heart.
悬壶济世 xuán hú jì shì practice medicine or pharmacy to help the people or the public.

Compassionate Heart / Benevolent Heart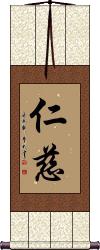 仁慈 word is used in Chinese, Korean, Japanese, and Asian Buddhism to relay the important idea of loving kindness.

仁慈 can also be defined as: benevolent; charitable; kind; merciful; kind-hearted; benevolence; kindness; humanity; mercy.

In Japanese, this can also be the given name Hitoji. This would also be a good Mandarin Chinese given name romanized as Jentzu (in Taiwan) or Renci (which sounds like ren-tsuh).
---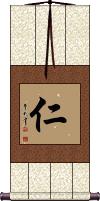 Beyond benevolence, 仁 can also be defined as "charity" or "mercy" depending on context.

The deeper meaning suggests that one should pay alms to the poor, care for those in trouble, and take care of his fellow man (or woman).

仁 is one of the five tenets of Confucius. In fact, it is a subject that Confucius spent a great deal of time explaining to his disciples.

I have also seen this benevolent-related word translated as perfect virtue, selflessness, love for humanity, humaneness, goodness, goodwill, or simply "love" in the non-romantic form.
---
This is also a virtue of the Samurai Warrior
See our page with just Code of the Samurai / Bushido here
---
Confucius: Golden Rule / Ethic of Reciprocity
Do not do to others what you do not want done to yourself
jǐ suǒ bú yù wù shī yú rén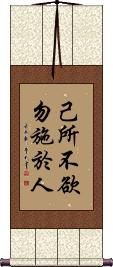 Some may think of this as a "Christian trait," but actually, it transcends many religions.

This Chinese teaching dates back to about 2,500 years ago in China. Confucius had always taught the belief in being benevolent (ren), but this idea was hard to grasp for some of his students, as benevolence could be kind-heartedness or an essence of humanity itself.

When answering Zhong Gong's question as to what "ren" actually meant, Confucius said:
己所不欲勿施于人 or "When you go out, you should behave as if you were in the presence of a distinguished guest; when people do favors for you, act as if a great sacrifice was made for you. Whatever you wouldn't like done to you, do not do that thing to others. Don't complain at work or home."
Hearing this, Zhong Gong said humbly, "Although I am not clever, I will do what you say."

From this encounter, the Chinese version of the "Golden Rule" or "Ethic of Reciprocity" came to be.
The characters you see above express, "Do not do to others whatever you do not want to be done to yourself."
---
See Also: Confucius Teachings | Benevolence
Kindheartedness / Benevolence / Humanity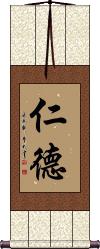 仁德 is a word that can be translated as love, kindheartedness, benevolence, and humanity.

The first character means benevolence by itself.
The second character means virtue or morality.

Japanese note: The second Kanji of this word has been slightly simplified (one tiny horizontal stroke removed). It is still readable for Japanese but if you select our Japanese calligrapher, expect that stroke to be missing on your wall scroll.
Learning leads to Knowledge, Study leads to Benevolence, Shame leads to Courage
This in-stock artwork might be what you are looking for, and ships right away...
Gallery Price: $65.00
Your Price: $39.88
These search terms might be related to Benevolent:
Caring

Compassionate Heart / Benevolent Heart

Goodness / Kind-Hearted

Kind Words

Kindness / Caring


The following table may be helpful for those studying Chinese or Japanese...
Title
Characters
Romaji

(Romanized Japanese)

Various forms of Romanized Chinese
Benevolent Heart
慈悲の心
ji hi no kokoro

---

jihinokokoro
Benevolent and Skilled Doctor
妙手仁心
miào shǒu rén xīn

---

miao4 shou3 ren2 xin1

---

miao shou ren xin

---

miaoshourenxin
miao shou jen hsin

---

miaoshoujenhsin
Benevolent and Skilled Doctor
妙手仁心懸壺濟世

---

妙手仁心悬壶济世
miào shǒu rén xīn xuán hú jì shì

---

miao4 shou3 ren2 xin1 xuan2 hu2 ji4 shi4

---

miao shou ren xin xuan hu ji shi
miao shou jen hsin hsüan hu chi shih
Benevolent Love
仁愛

---

仁爱
jinai
rén ài / ren2 ai4 / ren ai / renai
jen ai / jenai
Compassionate Heart
Benevolent Heart
慈心
jishin
cí xīn / ci2 xin1 / ci xin / cixin
tz`u hsin / tzuhsin / tzu hsin
Kindness
Benevolence
仁慈
jin ji / jinji
rén cí / ren2 ci2 / ren ci / renci
jen tz`u / jentzu / jen tzu
Benevolence
仁
jin
rén / ren2 / ren
jen
Confucius: Golden Rule
Ethic of Reciprocity
己所不欲勿施於人

---

己所不欲勿施于人
jǐ suǒ bú yù wù shī yú rén

---

ji3 suo3 bu2 yu4, wu4 shi1 yu2 ren2

---

ji suo bu yu, wu shi yu ren

---

jisuobuyu,wushiyuren
chi so pu yü, wu shih yü jen

---

chisopuyü,wushihyüjen
Kindheartedness
Benevolence
Humanity
仁德
jintoku
rén dé / ren2 de2 / ren de / rende
jen te / jente
Learning leads to Knowledge, Study leads to Benevolence, Shame leads to Courage
好學近乎知力行近乎仁知恥近乎勇

---

好学近乎知力行近乎仁知耻近乎勇
hào xué jìn hū zhī lì xíng jìn hū rén zhī chǐ jìn hū yǒng

---

hao4 xue2 jin4 hu1 zhi1 li4 xing2 jin4 hu1 ren2 zhi1 chi3 jin4 hu1 yong3

---

hao xue jin hu zhi li xing jin hu ren zhi chi jin hu yong
hao hsüeh chin hu chih li hsing chin hu jen chih ch`ih chin hu yung

---

hao hsüeh chin hu chih li hsing chin hu jen chih chih chin hu yung
In some entries above you will see that characters have different versions above and below a line.
In these cases, the characters above the line are Traditional Chinese, while the ones below are Simplified Chinese.
Many custom options...




And formats...



Successful Chinese Character and Japanese Kanji calligraphy searches within the last few hours...
All of our calligraphy wall scrolls are handmade.
When the calligrapher finishes creating your artwork, it is taken to my art mounting workshop in Beijing where a wall scroll is made by hand from a combination of silk, rice paper, and wood.
After we create your wall scroll, it takes at least two weeks for air mail delivery from Beijing to you.
Allow a few weeks for delivery. Rush service speeds it up by a week or two for $10!
When you select your calligraphy, you'll be taken to another page where you can choose various custom options.
Check out my lists of Japanese Kanji Calligraphy Wall Scrolls and Old Korean Hanja Calligraphy Wall Scrolls.
Some people may refer to this entry as Benevolent Kanji, Benevolent Characters, Benevolent in Mandarin Chinese, Benevolent Characters, Benevolent in Chinese Writing, Benevolent in Japanese Writing, Benevolent in Asian Writing, Benevolent Ideograms, Chinese Benevolent symbols, Benevolent Hieroglyphics, Benevolent Glyphs, Benevolent in Chinese Letters, Benevolent Hanzi, Benevolent in Japanese Kanji, Benevolent Pictograms, Benevolent in the Chinese Written-Language, or Benevolent in the Japanese Written-Language.
75 people have searched for Benevolent in Chinese or Japanese in the past year.
Benevolent was last searched for by someone else on Feb 6th, 2023