Altruism in Chinese / Japanese...
Buy an Altruism calligraphy wall scroll here!
Personalize your custom "Altruism" project by clicking the button next to your favorite "Altruism" title below...
---
---

There are a few different words used to express charity in Chinese characters, Japanese Kanji and old Korean Hanja but 慈善 is the most common.

Some of the other words describe acts such as "giving alms" etc.
---
Note: Sometimes this is translated as benevolence or benevolent.
Also, this considered to be one of the Seven Heavenly Virtues.

If you need a different meaning, just contact me.
---
See Also: Benevolence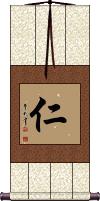 Beyond benevolence, 仁 can also be defined as "charity" or "mercy" depending on context.

The deeper meaning suggests that one should pay alms to the poor, care for those in trouble, and take care of his fellow man (or woman).

仁 is one of the five tenets of Confucius. In fact, it is a subject that Confucius spent a great deal of time explaining to his disciples.

I have also seen this benevolent-related word translated as perfect virtue, selflessness, love for humanity, humaneness, goodness, goodwill, or simply "love" in the non-romantic form.
---
This is also a virtue of the Samurai Warrior
See our page with just Code of the Samurai / Bushido here
---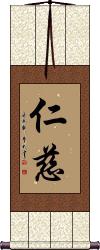 仁慈 word is used in Chinese, Korean, Japanese, and Asian Buddhism to relay the important idea of loving kindness.

仁慈 can also be defined as: benevolent; charitable; kind; merciful; kind-hearted; benevolence; kindness; humanity; mercy.

In Japanese, this can also be the given name Hitoji. This would also be a good Mandarin Chinese given name romanized as Jentzu (in Taiwan) or Renci (which sounds like ren-tsuh).
---
Doing good is the greatest source of happiness

為善最樂 can be translated as "Doing good is the greatest source of happiness" or "doing good deeds brings the greatest joy."

The origin is not known but is sometimes used in the context of Buddhism. However, this Chinese proverb or philosophy is a relatively mainstream idea of benevolence.
Confucius: Golden Rule / Ethic of Reciprocity
Do not do to others what you do not want done to yourself
jǐ suǒ bú yù wù shī yú rén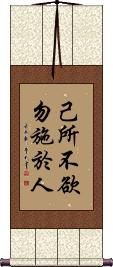 Some may think of this as a "Christian trait," but actually, it transcends many religions.

This Chinese teaching dates back to about 2,500 years ago in China. Confucius had always taught the belief in being benevolent (ren), but this idea was hard to grasp for some of his students, as benevolence could be kind-heartedness or an essence of humanity itself.

When answering Zhong Gong's question as to what "ren" actually meant, Confucius said:
己所不欲勿施于人 or "When you go out, you should behave as if you were in the presence of a distinguished guest; when people do favors for you, act as if a great sacrifice was made for you. Whatever you wouldn't like done to you, do not do that thing to others. Don't complain at work or home."
Hearing this, Zhong Gong said humbly, "Although I am not clever, I will do what you say."

From this encounter, the Chinese version of the "Golden Rule" or "Ethic of Reciprocity" came to be.
The characters you see above express, "Do not do to others whatever you do not want to be done to yourself."
---
See Also: Confucius Teachings | Benevolence
Learning leads to Knowledge, Study leads to Benevolence, Shame leads to Courage
Kindheartedness / Benevolence / Humanity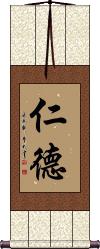 仁德 is a word that can be translated as love, kindheartedness, benevolence, and humanity.

The first character means benevolence by itself.
The second character means virtue or morality.

Japanese note: The second Kanji of this word has been slightly simplified (one tiny horizontal stroke removed). It is still readable for Japanese but if you select our Japanese calligrapher, expect that stroke to be missing on your wall scroll.
Work Unselfishly for the Common Good

克己奉公 is a Chinese proverb that is often used to express how one should act as a government official. Most of us wish our public officials would hold themselves to higher standards. I wish I could send this scroll, along with the meaning to every member of Congress, and the President (or if I was from the UK, all the members of Parliament, and the PM)

This can also mean: "Place Strict Standards on Oneself in Public Service."
The story behind this ancient Chinese idiom:
Cai Zun was born in China a little over 2000 years ago. In 24 AD, he joined an uprising led by Liu Xiu, who later became the emperor of the Eastern Han Dynasty.

Later, the new emperor put Cai Zun in charge of the military court. Cai Zun exercised his power in strict accordance with military law, regardless of the offender's rank or background. He even ordered the execution of one of the emperor's close servants after the servant committed a serious crime.

Cai Zun led a simple life but put great demands on himself to do all things honorably. The emperor rewarded him for his honest character and honorable nature by promoting him to the rank of General and granting him the title of Marquis.

Whenever Cai Zun would receive an award, he would give credit to his men and share the reward with them.
Cai Zun was always praised by historians who found many examples of his selfless acts that served the public interest.
Sometime long ago in history, people began to refer to Cai Zun as "ke ji feng gong."
---
See Also: Unselfish | Selflessness
These search terms might be related to Altruism:
...And This Above All to Thine Own Self Be True

Better to Sacrifice Your Life Than Your Principles

Changing Oneself / Self Reformation

Consciousness of Self

Empathy / Humanity

Human Race / Humanity / Mankind

Inner Strength / Self-Improvement

Introspection / Self-Awareness

Jiko No Kansei / Self-Completion

Kindheartedness / Benevolence / Humanity

Love for Humanity / Brotherly Love

Oneness of Heaven and Humanity

Power of Oneself / Self-Sufficient

Prideful Mind / Self-Respecting Heart

Sacrifice

Sacrifice / Devotion / Dedication

Self Actualization

Self Awareness Becomes a Buddha

Self Consciousness

Self Sacrifice

Self-Confidence

Self-Control

Self-Defense

Self-Discipline / Will-Power

Self-Improvement

Self-Love / Love Yourself / Love Oneself

Self-Reliance

Self-Respect / Self-Esteem

Self-Restraint / Self-Control

Selflessness

The Tao or Dao of Being Human / Humanity

To Thine Own Self Be True

Will-Power / Self-Control


The following table may be helpful for those studying Chinese or Japanese...
Title
Characters
Romaji

(Romanized Japanese)

Various forms of Romanized Chinese
Charity
慈善
ji zen / jizen
cí shàn / ci2 shan4 / ci shan / cishan
tz`u shan / tzushan / tzu shan
Benevolence
仁
jin
rén / ren2 / ren
jen
Kindness
Benevolence
仁慈
jin ji / jinji
rén cí / ren2 ci2 / ren ci / renci
jen tz`u / jentzu / jen tzu
Doing good is the greatest source of happiness
為善最樂

---

为善最乐
wéi shàn zuì lè

---

wei2 shan4 zui4 le4

---

wei shan zui le

---

weishanzuile
wei shan tsui le

---

weishantsuile
Confucius: Golden Rule
Ethic of Reciprocity
己所不欲勿施於人

---

己所不欲勿施于人
jǐ suǒ bú yù wù shī yú rén

---

ji3 suo3 bu2 yu4, wu4 shi1 yu2 ren2

---

ji suo bu yu, wu shi yu ren

---

jisuobuyu,wushiyuren
chi so pu yü, wu shih yü jen

---

chisopuyü,wushihyüjen
Learning leads to Knowledge, Study leads to Benevolence, Shame leads to Courage
好學近乎知力行近乎仁知恥近乎勇

---

好学近乎知力行近乎仁知耻近乎勇
hào xué jìn hū zhī lì xíng jìn hū rén zhī chǐ jìn hū yǒng

---

hao4 xue2 jin4 hu1 zhi1 li4 xing2 jin4 hu1 ren2 zhi1 chi3 jin4 hu1 yong3

---

hao xue jin hu zhi li xing jin hu ren zhi chi jin hu yong
hao hsüeh chin hu chih li hsing chin hu jen chih ch`ih chin hu yung

---

hao hsüeh chin hu chih li hsing chin hu jen chih chih chin hu yung
Kindheartedness
Benevolence
Humanity
仁德
jintoku
rén dé / ren2 de2 / ren de / rende
jen te / jente
Work Unselfishly for the Common Good
克己奉公
kè jǐ fèng gōng

---

ke4 ji3 feng4 gong1

---

ke ji feng gong

---

kejifenggong
k`o chi feng kung

---

kochifengkung

---

ko chi feng kung
In some entries above you will see that characters have different versions above and below a line.
In these cases, the characters above the line are Traditional Chinese, while the ones below are Simplified Chinese.
Many custom options...




And formats...



Successful Chinese Character and Japanese Kanji calligraphy searches within the last few hours...
All of our calligraphy wall scrolls are handmade.
When the calligrapher finishes creating your artwork, it is taken to my art mounting workshop in Beijing where a wall scroll is made by hand from a combination of silk, rice paper, and wood.
After we create your wall scroll, it takes at least two weeks for air mail delivery from Beijing to you.
Allow a few weeks for delivery. Rush service speeds it up by a week or two for $10!
When you select your calligraphy, you'll be taken to another page where you can choose various custom options.
Check out my lists of Japanese Kanji Calligraphy Wall Scrolls and Old Korean Hanja Calligraphy Wall Scrolls.
Some people may refer to this entry as Altruism Kanji, Altruism Characters, Altruism in Mandarin Chinese, Altruism Characters, Altruism in Chinese Writing, Altruism in Japanese Writing, Altruism in Asian Writing, Altruism Ideograms, Chinese Altruism symbols, Altruism Hieroglyphics, Altruism Glyphs, Altruism in Chinese Letters, Altruism Hanzi, Altruism in Japanese Kanji, Altruism Pictograms, Altruism in the Chinese Written-Language, or Altruism in the Japanese Written-Language.
23 people have searched for Altruism in Chinese or Japanese in the past year.
Altruism was last searched for by someone else on Dec 17th, 2022