Reincarnation in Chinese / Japanese...
Buy a Reincarnation calligraphy wall scroll here!
Personalize your custom "Reincarnation" project by clicking the button next to your favorite "Reincarnation" title below...
---
---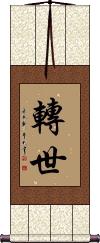 轉世 is the Buddhist idea of reincarnation or transmigration.

Other definitions of this term: "Attainer of Nirvana from within the desire realm," "A practitioner who enters directly into Nirvana from the desire realm, without traversing the form and formless realms. One of the 27 kinds of Hinayana sages," or simply, "to return again to this life."

轉世 is also a Japanese title, but the first Kanji was slightly simplified after WWII. Just let us know if you want the modern Japanese version when you order.
---
Reincarnation / Transmigration of Souls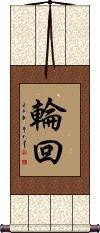 輪回 is a universal word in Japanese and Chinese that expresses the Buddhist idea of "reincarnation," "transmigration of souls," or "the eternal cycle of birth and death."

In some contexts, this can also mean "karma," and others will say it represents "samsara."

The first character means wheel, ring, turn, circle, loop, or rotate.
The second character can be thought of as a suffix meaning "-times." This second character can also refer to something that revolves, returns, goes back, or is a counter of the number of occurrences of some event.
Together the sum supersedes the parts, and it means reincarnation. But knowing the essence of each character may help you understand some of the meaning behind the word.
---

Shown to the right is the more common way to write the second character in Japanese. it's an alternate form of this character in Chinese (so neither way is technically wrong in either language). If you select a Japanese calligrapher, expect that is will look like the Kanji to the right.
---
Reincarnation / Life in Flux
Phoenix Rise from the Ashes

鳳凰涅磐 is a proverb that suggests "Legendary Phoenix rises from the ashes." It means "Legendary Phoenix [reaches] Nirvana."

There is a legend in China of a great bird reborn once every 500 years. This bird gathers all the ill will, suffering, desire, and other negative things of the world. The bird then plunges into the fire to burn away all negative things, sacrificing itself in the process (achieving Nirvana, or perhaps allowing others the opportunity to reach Nirvana).

500 years later, the phoenix is reborn from the ashes again, and the cycle repeats.

重生 is the Chinese word for rebirth. This can be used literally or metaphorically. As a metaphor, you could use this to say something like, "We are watching the rebirth of New Orleans after the disaster of Katrina."

重生 is sometimes translated as "renaissance."

Note: 重生 is not the Buddhist concept of reincarnation or re-birth.
---
See Also: Reincarnation
Eternal Life / Everlasting Life / Immortality

永生 are the last two words from John 3:16 in the Chinese Union Bible.

Although not specifically Christian, this is the way to express ever-lasting life or eternal life in Chinese.

In Japanese, this can either mean eternal life or immortality.
---
See Also: Eternity | Rebirth | Reincarnation | Immortality
Eternal Life / Future Life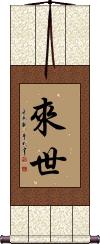 來世 is a word that can be used in many different ways.

It is often used to express the next life (life in heaven or wherever your soul is bound for). So it does have a religious overtone. However, it can also be used to express your life in the future - perhaps during your present lifetime.

It can also be translated as "the next world," "the next generation," "the time that is to come," "otherworld," or simply "posterity."
---
See Also: Eternity | Rebirth | Reincarnation | Immortality
The Buddha is in Each Sentient Being
butsu wa shujou no naka ni ari

佛は衆生の中に在り is "Butsu wa shujo no naka ni ari" and means that the Buddha (potential for Buddhahood) exists in all beings in the universe.

So yes, your dog has the potential to be a Buddha (but only in a future reincarnation as a human). But all things, from the tiny cricket to the humpback whale have Buddha nature within them. If one takes the time to look and contemplate, one will see the Buddha in all things.

In Japan, sometimes the Buddha character is written 仏 instead of 佛, so you might see the whole phrase written as 仏は衆生の中に在り.
---
Note: Because this selection contains some special Japanese Hiragana characters, it should be written by a Japanese calligrapher.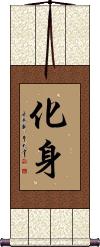 化身 is a way to say avatar in Chinese characters, Korean Hanja, and Japanese Kanji.

This is the original Buddhist idea of an avatar (not the movie). This can also mean: incarnation; reincarnation; embodiment; personification; impersonation.

化身 is the Chinese word used for the original Sanskrit, nirmāṇakāya. Alternates for nirmāṇakāya include 應身, 應化身, or 變化身. In the context of Buddhism, this is a Buddha's metamorphosic body, which has the power to assume any shape to propagate the Truth. This title, 化身, is used for the appearance of a Buddha's many forms.
These search terms might be related to Reincarnation:
Re-Birth / Renaissance

Rehabilitation / Rebirth

Resurrection / Re-Birth

Samsara / Endless Cycle of Rebirth


The following table may be helpful for those studying Chinese or Japanese...
Title
Characters
Romaji

(Romanized Japanese)

Various forms of Romanized Chinese
Reincarnation (Buddhism)
轉世

---

转世
ten sei / tensei
zhuǎn shì

---

zhuan3 shi4

---

zhuan shi

---

zhuanshi
chuan shih

---

chuanshih
Reincarnation
Transmigration of Souls
輪回 / 輪廻

---

轮回
rin ne / rinne
lún huí / lun2 hui2 / lun hui / lunhui
Reincarnation
Life in Flux
輪廻転生
rinne tenshou

---

rinnetenshou

---

rinne tensho
Phoenix Rise from the Ashes
鳳凰涅磐

---

凤凰涅磐
fèng huáng niè pán

---

feng4 huang2 nie4 pan2

---

feng huang nie pan

---

fenghuangniepan
feng huang nieh p`an

---

fenghuangniehpan

---

feng huang nieh pan
Re-Birth
Renaissance
重生
chóng shēng

---

chong2 sheng1

---

chong sheng

---

chongsheng
ch`ung sheng

---

chungsheng

---

chung sheng
Eternal Life
Everlasting Life
Immortality
永生
eisei
yǒng shēng

---

yong3 sheng1

---

yong sheng

---

yongsheng
yung sheng

---

yungsheng
Eternal Life
Future Life
來世

---

来世
rai-se
lái shì / lai2 shi4 / lai shi / laishi
lai shih / laishih
The Buddha is in Each Sentient Being
佛は衆生の中に在り
butsu wa shujou no naka ni ari

---

butsuwashujounonakaniari

---

butsu wa shujo no naka ni ari
Avatar
化身
keshin
huà shēn / hua4 shen1 / hua shen / huashen
In some entries above you will see that characters have different versions above and below a line.
In these cases, the characters above the line are Traditional Chinese, while the ones below are Simplified Chinese.
Many custom options...




And formats...



Successful Chinese Character and Japanese Kanji calligraphy searches within the last few hours...
All of our calligraphy wall scrolls are handmade.
When the calligrapher finishes creating your artwork, it is taken to my art mounting workshop in Beijing where a wall scroll is made by hand from a combination of silk, rice paper, and wood.
After we create your wall scroll, it takes at least two weeks for air mail delivery from Beijing to you.
Allow a few weeks for delivery. Rush service speeds it up by a week or two for $10!
When you select your calligraphy, you'll be taken to another page where you can choose various custom options.
Check out my lists of Japanese Kanji Calligraphy Wall Scrolls and Old Korean Hanja Calligraphy Wall Scrolls.
Some people may refer to this entry as Reincarnation Kanji, Reincarnation Characters, Reincarnation in Mandarin Chinese, Reincarnation Characters, Reincarnation in Chinese Writing, Reincarnation in Japanese Writing, Reincarnation in Asian Writing, Reincarnation Ideograms, Chinese Reincarnation symbols, Reincarnation Hieroglyphics, Reincarnation Glyphs, Reincarnation in Chinese Letters, Reincarnation Hanzi, Reincarnation in Japanese Kanji, Reincarnation Pictograms, Reincarnation in the Chinese Written-Language, or Reincarnation in the Japanese Written-Language.
215 people have searched for Reincarnation in Chinese or Japanese in the past year.
Reincarnation was last searched for by someone else on Jan 27th, 2023