Custom Rebirth Chinese & Japanese Calligraphy Wall Scroll
We have many options to create artwork with Rebirth characters on a wall scroll or portrait.
If you want to create a cool Rebirth wall scroll, this is the place. Below you will find a few Asian symbols that express the idea of Rebirth.

重生 is the Chinese word for rebirth. This can be used literally or metaphorically. As a metaphor, you could use this to say something like "We are watching the rebirth of New Orleans after the disaster of Katrina."

重生 is sometimes translated as "renaissance."

Note: 重生 is not the Buddhist concept of reincarnation or re-birth.
---
See Also: Reincarnation

復活 is the Chinese, Japanese and Korean word for resurrection or rebirth. Basically this means "return to life."

It is the term used in most Asian Bibles to refer to the resurrection of Christ. In Japanese, it is sometimes used to mean a Christian Revival. In some context it can mean resuscitation.
---
See Also: Christianity | Jesus Christ | God of Abraham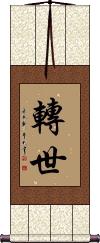 轉世 is the Buddhist idea of reincarnation or transmigration.

Other definitions of this term: "Attainer of Nirvana from within the desire realm," "A practitioner who enters directly into Nirvana from the desire realm, without traversing the form and formless realms. One of the 27 kinds of Hinayana sages," or simply, "to return again to this life."

轉世 is also a Japanese title but the first Kanji was slightly simplified after WWII. Just let us know if you want the modern Japanese version when you order.
---
See Also: Buddhism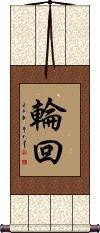 輪回 / 輪廻 is a universal word in Japanese and Chinese that expresses the Buddhist idea of "reincarnation," "transmigration of souls" or "the eternal cycle of birth and death."

In some context, this can also mean "karma," and others will say it represents "samsara."

The first character means wheel, ring, turn, circle, loop or rotate.
The second character can be thought of as a suffix meaning "-times." This second character can also refer to something that revolves, returns, goes back, or a counter for the number of occurrences of some event.
Together the sum supersedes the parts and it means reincarnation. But knowing the seeing the essence of each character may help you understand some of the meaning behind the word.
---

Shown to the right is the more common way to write the second character in Japanese. It's an alternate form of this character in Chinese (so neither way is technically wrong in either language). If you select a Japanese calligrapher, expect that is will look like the Kanji to the right.
---
See Also: Buddhism

This demon title comes from the ancient Sanskrit word Asura.

阿修羅 is often used in Buddhism when describing various demons. Sometimes defined as "Fighting and battling giant demon."

In the context of Buddhism: This title originally meant a spirit, spirits, or even the gods (perhaps before 1700 years ago). It now generally indicates titanic demons, enemies of the gods, with whom, especially Indra, they wage constant war. They are defined as "not devas," and "ugly," and "without wine." There are four classes of asuras, separated according to their manner of rebirth. They can be egg-born, womb-born, transformation-born, and spawn- or water-born. Their abode is in the ocean, north of Sumeru but certain of the weaker dwell in a western mountain cave. They have realms, rulers, and palaces, as have the devas.

In terms of power, Asuras rank above humans but below most of the other deities. They live in the area near the coastal foot of Mount Sumeru (on the northern side). Their domain is partially or wholly in the ocean.

These are the last two words from John 3:16 in the Chinese Union Bible.

Although not specifically Christian, this is the way to express ever-lasting life or eternal life in Chinese.

In Japanese, this can either mean eternal life or immortality.
---
See Also: Eternity | Reincarnation | Immortality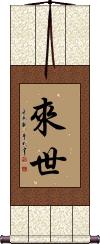 來世 can be used in many different ways.

It is often used to express the next life (life in heaven or wherever your soul is bound for). So it does have a religious overtone. However, it can also be used to express your life in the future - perhaps during your present lifetime.

It can also be translated as "the next world," "the next generation," "the time that is to come," "otherworld," or simply "posterity."
---
See Also: Eternity | Reincarnation | Immortality

This literally means "new life" or "new birth" in Chinese, Japanese Kanji, and old Korean Hanja.

Depending on context, this word can also mean newborn, new student, rebirth, new birth, nascent.
In Japanese, this can be the given name Wakaki.
---
Note: This is not the most common word selection for a calligraphy wall scroll. But if you're a westerner, you can bend the rules a bit.

八正道 is a complex set of steps that Buddhists much take to cleanse karma, achieve enlightenment, eventually cease the cycle of rebirth and live in a state of Nirvana.
---
If the idea of 8 separate wall scrolls plus this title is too much for you, we can custom-arrange all eight of these concepts on a single wall scroll. Just contact me, and we can discuss options.

Note: This term is exclusively used by devout Buddhists. It is not a common term and remains an unknown concept to most Japanese and Chinese people.
---
See Also: Buddhism | Enlightenment
itami naku shite erumono wa nashi

This Japanese phrase means "no pain, no gain."

Literally, this suggests that with pain, a gain must follow.

The pain Kanji here can also be translated as sorrow or suffering. The gain can also mean profit, advantage, or benefit. In Japanese Buddhist context, that gain Kanji can mean rebirth in paradise, entering nirvana.

The character break down:
痛みなく (itami naku) pain; ache; sore; grief; distress. The naku part adds a meaning of "a lot of" or "extended"
して (shite) and then. (indicates a causative expression; acts as a connective particle)
得る (eru) to get; to acquire; to obtain; to procure; to earn; to win; to gain; to secure; to attain.
もの (mono) conjunctive particle indicating a cause or reason.
なし (nashi) none of; -less; without; no.
---
Note: Because this selection contains some special Japanese Hiragana characters, it should be written by a Japanese calligrapher.

This proverb suggests "Legendary Phoenix rises from the ashes." Literally, it means, "Legendary Phoenix [reaches] Nirvana."

There is a legend in China of a great bird which is reborn once every 500 years. This bird gathers all the ill-will, suffering, desire, and other negative things of the whole world. The bird then plunges into the fire to burn away all negative things, sacrificing itself in the process (achieving Nirvana, or perhaps allowing others the opportunity to reach Nirvana).

500 years later, the phoenix is reborn from the ashes again, and the cycle repeats.

This literally means "pure land" or "clean earth."

淨土 is also the abbreviated title of a Buddhist sect which involves faith in rebirth of Buddha Amitabha (Amitābha) in the Western Heaven. Sometimes this sect is translated as "Paradise of the West." Other titles of this school of Buddhism include Amidism or Elvsium.
---
See Also: Nirvana | Shin Buddhism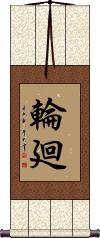 輪廻 is one of a few ways to express संसार or Saṃsāra in Chinese, Japanese, and old Korean.

The Buddhist term can be translated several ways, including:
Endless cycle of death and rebirth.
The turning of the wheel.
To revolve.
Transmigration in the six ways.
The wheel of transmigration.
The round of existence.
The following table may be helpful for those studying Chinese or Japanese...
Title
Characters
Romaji

(Romanized Japanese)

Various forms of Romanized Chinese
Re-Birth
Renaissance
重生
chóng shēng

---

chong2 sheng1

---

chong sheng

---

chongsheng
ch`ung sheng

---

chungsheng

---

chung sheng
Resurrection
Re-Birth
復活

---

复活
hukkatsu / hukatsu
fù huó / fu4 huo2 / fu huo / fuhuo
Reincarnation (Buddhism)
轉世

---

转世
ten sei / tensei
zhuǎn shì

---

zhuan3 shi4

---

zhuan shi

---

zhuanshi
chuan shih

---

chuanshih
Reincarnation
Transmigration of Souls
輪回 / 輪廻

---

轮回
rin ne / rinne
lún huí / lun2 hui2 / lun hui / lunhui
Frightful Demon
Asura
阿修羅

---

阿修罗
ashura
ē xiū luó

---

e1 xiu1 luo2

---

e xiu luo

---

exiuluo
o hsiu lo

---

ohsiulo
Eternal Life
Everlasting Life
Immortality
永生
eisei
yǒng shēng

---

yong3 sheng1

---

yong sheng

---

yongsheng
yung sheng

---

yungsheng
Eternal Life
Future Life
來世

---

来世
rai-se
lái shì / lai2 shi4 / lai shi / laishi
lai shih / laishih
New Life
新生
waka ki / wakaki
xīn shēng

---

xin1 sheng1

---

xin sheng

---

xinsheng
hsin sheng

---

hsinsheng
The Noble Eightfold Path
八正道
ha sshou dou

---

hasshoudou

---

ha sho do

---

hashodo
bā zhèng dào

---

ba1 zheng4 dao4

---

ba zheng dao

---

bazhengdao
pa cheng tao

---

pachengtao
No Pain No Gain
痛みなくして得るものなし
itami naku shite erumono wa nashi
Phoenix Rise from the Ashes
鳳凰涅磐

---

凤凰涅磐
fèng huáng niè pán

---

feng4 huang2 nie4 pan2

---

feng huang nie pan

---

fenghuangniepan
feng huang nieh p`an

---

fenghuangniehpan

---

feng huang nieh pan
Pure Land
Jodo
淨土

---

净土
jou do / joudo / jo do / jodo
jìng tǔ / jing4 tu3 / jing tu / jingtu
ching t`u / chingtu / ching tu
Samsara
Endless Cycle of Rebirth
輪廻

---

轮廻
rinne
lún huí / lun2 hui2 / lun hui / lunhui
In some entries above you will see that characters have different versions above and below a line.
In these cases, the characters above the line are Traditional Chinese, while the ones below are Simplified Chinese.
All of our calligraphy wall scrolls are handmade.
When the calligrapher finishes creating your artwork, it is taken to my art mounting workshop in Beijing where a wall scroll is made by hand from a combination of silk, rice paper, and wood.
After we create your wall scroll, it takes at least two weeks for air mail delivery from Beijing to you.
Allow a few weeks for delivery. Rush service speeds it up by a week or two for $10!
When you select your calligraphy, you'll be taken to another page where you can choose various custom options.