Buddhist Monk in Chinese / Japanese...
Buy a Buddhist Monk calligraphy wall scroll here!
Personalize your custom "Buddhist Monk" project by clicking the button next to your favorite "Buddhist Monk" title below...
---
---

僧侶/僧侶 is a Japanese title for a Buddhist monk.

The first Kanji means Buddhist priest or monk by itself.
The second Kanji means follower or companion.
---

Note, if you order this from the Japanese master calligrapher, the first character will look a bit more like the Kanji shown to the right than the Kanji shown above. Let us know if you have a preference, as both versions are technically-correct in both Chinese and Japanese.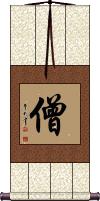 僧 is the single-character or short form of Sangha, the Buddhist idea of community or order (of monks, nuns, or followers of the Buddha).

Alone, this character can simply mean "monk" (Just means monk in Japanese).
---


Note that when writing this as Kanji, Japanese will tend to write this in the form shown to the right. If you select our Japanese master calligrapher, please expect this special Kanji form.
To Know Hardship, One Must Experience It
bù dāng hé shàng bù zhī tóu lěng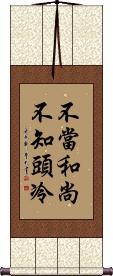 不當和尚不知頭冷 is a Chinese proverb that literally translates as: [One who has] not been a monk [does] not know [the feeling of a] cold head.
I need to explain that a Chinese Buddhist monk always has a shaved head, and thus a cold head in winter.

Figuratively, this means: One cannot know the true meaning of hardship until one has experienced it oneself.
---
This is an idiom in Chinese, so the figurative meaning is what people perceive when they hear or read this phrase. Just as in English, when someone says, "The grass is always greener," one will think about the idea of jealousy, rather than the quality of one's lawn.

涅槃/涅盤 are the Chinese characters that mean Nirvāṇa. I will let you decide what Nirvana means to you.

This can also be translated as "Buddha's death and salvation" or "death of a Buddhist monk," depending on the context. However, this is not seen with any bad meaning. You could replace "death" with "moving on," as that is how it's seen in a Buddhist context.
---
More info from our dictionary: Nirvana
十戒 means Ten Commandments or Ten Precepts.

In the Buddhist context, these are prohibitions consisting of five commandments for the layman:
1. Not to destroy life 不殺生 Pāṇātipātāveramaṇi.
2. Not to steal 不倫盜 Adinnādānāver.
3. Not to commit adultery 不婬慾 Abrahmacaryaver.
4. Not to lie 不妄語 Musāvādāver.
5. Not to take intoxicating liquor 不飮酒 Suramereyya-Majjapamādaṭṭhānāver.

The ten commandments for the monk are the preceding five plus:
6. Not to eat food outside of regulated hours 不非時食 Vikāla-Bhojanāver.
7. Not to use garlands or perfumes 不著華鬘好香塗身 Mālā- Gandha-Vilepana-Dhāraṇa-Maṇḍana-Vibhūṣanaṭṭhānā.
8. Not to sleep on high or broad beds (chastity) 不坐高廣大牀 Uccāsayanā-Mahāsayanā.
9. Not to take part in singing, dancing, musical or theatrical performances 不歌舞倡伎不往觀聽 Nacca-Gīta-Vādita-Visūkadassanāver.
10. To refrain from acquiring uncoined or coined gold, or silver, or jewels 不得捉錢金銀寶物 Jātarūpa-Rajata-Paṭīggahaṇāver.

These original Buddhist commandments date back to about 2500 years ago. The English definitions above are followed by Chinese characters and original Pali pronunciation.

Under the Māhayāna Buddhism, these ten commands for the monk were changed, to accord with the new environment of the monk, to the following: not to kill, not to steal, to avoid all unchastity, not to lie, not to slander, not to insult, not to chatter, not to covet, not to give way to anger, to harbor no skepticism.
Meet the Buddha, Kill the Buddha
butsu ni atte wa butsu o korosu

This controversial Buddhist koan means "On encountering Buddha, you should kill him."

This is the short concise Japanese version of an original statement by ninth-century Chinese Buddhist monk Linji Yixuan, "If You Meet The Buddha On The Road, Kill Him."

This takes some explaining... The concept here is that if you think you have seen, experienced, or achieved true enlightenment, the chances that you really have are so slim that you should kill or dismiss that idea.

Another suggestion is that one's path to becoming a Buddha is one's own, and one should not get caught up in religious fervor, and avoid "showing off" that they are a Buddhist.
---
Helpful references for this concept:
Lion's Roar addresses "If You Meet The Buddha On The Road, Kill Him"
Kill the Buddha
---
Note: Because this selection contains some special Japanese Hiragana characters, it should be written by a Japanese calligrapher.
Grand Master / Great Teacher

大師 is a way to title a great master, grand master, or great teacher.

This can be used in the context of martial arts or a Buddhist teacher. Thus, it can be used to title a living Buddha, Bodhisattva, or high-ranking monk.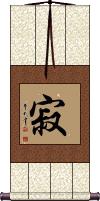 寂 means silent, solitary, quiet, calm, still, rest, or tranquil.

This also has a strong association with Buddhism where it can mean "entering into Nirvana." In that context, this is sometimes used to refer to the passing of a Buddhist monk (he is silent, as he has entered Nirvana). For the living, this is about tranquility (especially of mind).

Some will also use this to mean "elegant simplicity."

From Sanskrit, this can represent praśama, vivikta, śānti, or nibbāna (nirvāṇa).

波羅末陀 is the Chinese and Japanese way to write the ancient Sanskrit word Paramārtha or परमार्थ which now means the highest truth, ultimate truth, ultimate reality, or fundamental meaning.

Paramārtha is the name of a famous Buddhist monk born in 499 CE. Paramārtha traveled the world (including Cambodia and territories that are now part of China) to spread the teachings of Buddhism by translating scriptures into the local languages so the truth could be understood by the masses.

So, we should all want to be a Paramārtha who brings the ultimate truth, knowledge, and enlightenment to others.
This in-stock artwork might be what you are looking for, and ships right away...
The following table may be helpful for those studying Chinese or Japanese...
Title
Characters
Romaji

(Romanized Japanese)

Various forms of Romanized Chinese
Buddhist Monk
僧侶 / 僧侶

---

僧侶
sou ryo / souryo / so ryo
Sangha
Order of Monks
僧
sou / so
sēng / seng1 / seng
To Know Hardship, One Must Experience It
不當和尚不知頭冷

---

不当和尚不知头冷
bù dāng hé shàng bù zhī tóu lěng

---

bu4 dang1 he2 shang4 bu4 zhi1 tou2 leng3

---

bu dang he shang bu zhi tou leng
pu tang ho shang pu chih t`ou leng

---

pu tang ho shang pu chih tou leng
Nirvana
涅槃 / 涅盤

---

涅盘
ne han / nehan
niè pán / nie4 pan2 / nie pan / niepan
nieh p`an / niehpan / nieh pan
Ten Commandments
十戒
jukkai / jukai
shí jiè / shi2 jie4 / shi jie / shijie
shih chieh / shihchieh
Ikkyu
一休
Ikkyū / Ikyū
yī xiū / yi1 xiu1 / yi xiu / yixiu
i hsiu / ihsiu
Meet the Buddha, Kill the Buddha
佛に逢っては佛を殺す
butsu ni atte wa butsu o korosu
Grand Master
Great Teacher
大師

---

大师
daishi
dà shī / da4 shi1 / da shi / dashi
ta shih / tashih
Silent
Solitary
寂
jaku
jì / ji4 / ji
chi
Paramartha
波羅末陀

---

波罗末陀
ha ra ma da

---

haramada
bō luó mò tuó

---

bo1 luo2 mo4 tuo2

---

bo luo mo tuo

---

boluomotuo
po lo mo t`o

---

polomoto

---

po lo mo to
In some entries above you will see that characters have different versions above and below a line.
In these cases, the characters above the line are Traditional Chinese, while the ones below are Simplified Chinese.
Many custom options...




And formats...



Successful Chinese Character and Japanese Kanji calligraphy searches within the last few hours...
All of our calligraphy wall scrolls are handmade.
When the calligrapher finishes creating your artwork, it is taken to my art mounting workshop in Beijing where a wall scroll is made by hand from a combination of silk, rice paper, and wood.
After we create your wall scroll, it takes at least two weeks for air mail delivery from Beijing to you.
Allow a few weeks for delivery. Rush service speeds it up by a week or two for $10!
When you select your calligraphy, you'll be taken to another page where you can choose various custom options.
Check out my lists of Japanese Kanji Calligraphy Wall Scrolls and Old Korean Hanja Calligraphy Wall Scrolls.
Some people may refer to this entry as Buddhist Monk Kanji, Buddhist Monk Characters, Buddhist Monk in Mandarin Chinese, Buddhist Monk Characters, Buddhist Monk in Chinese Writing, Buddhist Monk in Japanese Writing, Buddhist Monk in Asian Writing, Buddhist Monk Ideograms, Chinese Buddhist Monk symbols, Buddhist Monk Hieroglyphics, Buddhist Monk Glyphs, Buddhist Monk in Chinese Letters, Buddhist Monk Hanzi, Buddhist Monk in Japanese Kanji, Buddhist Monk Pictograms, Buddhist Monk in the Chinese Written-Language, or Buddhist Monk in the Japanese Written-Language.
22 people have searched for Buddhist Monk in Chinese or Japanese in the past year.
Buddhist Monk was last searched for by someone else on Jan 1st, 2023