Not what you want?
Try searching again using:
1. Other similar-meaning words.
2. Fewer words or just one word.
永生 in Chinese / Japanese...
Buy a 永生 calligraphy wall scroll here!
Start your custom "永生" project by clicking the button next to your favorite "永生" title below...

yǒng shēng

eisei

영생

These are the last two words from John 3:16 in the Chinese Union Bible.

Although not specifically Christian, this is the way to express ever-lasting life or eternal life in Chinese.

In Japanese, this can either mean eternal life or immortality.
---
See Also: Eternity | Rebirth | Reincarnation | Immortality

shén ài shì rén shèn zhì jiāng tā de dú shēng zǐ cì gè tā mén jiào yí qiè xìn tā de bú zhì miè wáng fǎn dé yǒng shēng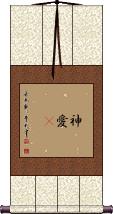 神愛世人甚至將他的獨生子賜給他們叫一切信他的不至滅亡反得永生 is the full translation of John 3:16 into Chinese.

This is from the Chinese Union Bible which comes from a revised version of the King James. This Chinese Bible was originally translated and printed in 1919 (several revisions since then).

Because of the origin being the KJV, I'll say that in English, this would be, "For God so loved the world, that he gave his only begotten Son, that whosoever believeth in him should not perish but have everlasting life."

As with any translation, there are interesting cultural and linguistic issues. For instance, the word used for "world" in Chinese can also mean "common people." So you could say that it means "For God so loved the common people..."
This does not take away from the text, as it will be understood with the same meaning and connotation.

There is no direct Greek to Chinese translation in print (that I know of), so this is the best available. Of course, you can ask any Greek person of faith, and they will claim that a bit is lost from the original Greek of the New Testament to any of the English versions of the Bible in print.
Not the results for 永生 that you were looking for?
Below are some entries from our dictionary that may match your 永生 search...
Characters

If shown, 2nd row is Simp. Chinese

Pronunciation
Romanization
Simple Dictionary Definition

永生

see styles
yǒng shēng

/ yong3 sheng1

---

yung sheng

---

eisei / ese / えいせい

More info & calligraphy:
Eternal Life / Everlasting Life
Immortality

to live forever; eternal life; all one's life

---

eternal life; immortality; (personal name) Hisaki; (given name) Hisao; (surname) Nagasu; (given name) Nagao; (personal name) Eisei

---

Eternal life; immortality; nirvana is defined as 不生 not being born, i. e. not reborn, and therefore 不滅 not dying; 永生 is also perpetual life; the Amitābha cult says in the Pure Land.
Search for 永生 in my Japanese & Chinese Dictionary
The following table may be helpful for those studying Chinese or Japanese...
Title
Characters
Romaji

(Romanized Japanese)

Various forms of Romanized Chinese
Eternal Life
Everlasting Life
Immortality
永生
eisei
yǒng shēng

---

yong3 sheng1

---

yong sheng

---

yongsheng
yung sheng

---

yungsheng
The key to immortality is first living a life worth remembering
獲得永生的鑰匙是先要活得精彩

---

获得永生的钥匙是先要活得精彩
huò dé yǒng shēng de yào shí shì xiān yào huó dé jīng cǎi

---

huo4 de2 yong3 sheng1 de yao4 shi2 shi4 xian1 yao4 huo2 de2 jing1 cai3

---

huo de yong sheng de yao shi shi xian yao huo de jing cai
huo te yung sheng te yao shih shih hsien yao huo te ching ts`ai

---

huo te yung sheng te yao shih shih hsien yao huo te ching tsai
John 3:16
神愛世人甚至將他的獨生子賜給他們叫一切信他的不至滅亡反得永生

---

神爱世人甚至将他的独生子赐给他们叫一切信他的不至灭亡反得永生
shén ài shì rén shèn zhì jiāng tā de dú shēng zǐ cì gè tā mén jiào yí qiè xìn tā de bú zhì miè wáng fǎn dé yǒng shēng

---

shen2 ai4 shi4 ren2 shen4 zhi4 jiang1 ta1 de du2 sheng1 zi3 ci4 gei3 ta1 men2 jiao4 yi2 qie4 xin4 ta1 de bu2 zhi4 mie4 wang2 fan3 de2 yong3 sheng1

---

shen ai shi ren shen zhi jiang ta de du sheng zi ci gei ta men jiao yi qie xin ta de bu zhi mie wang fan de yong sheng
shen ai shih jen shen chih chiang t`a te tu sheng tzu tz`u kei t`a men chiao i ch`ieh hsin t`a te pu chih mieh wang fan te yung sheng

---

shen ai shih jen shen chih chiang ta te tu sheng tzu tzu kei ta men chiao i chieh hsin ta te pu chih mieh wang fan te yung sheng
In some entries above you will see that characters have different versions above and below a line.
In these cases, the characters above the line are Traditional Chinese, while the ones below are Simplified Chinese.
Successful Chinese Character and Japanese Kanji calligraphy searches within the last few hours...
All of our calligraphy wall scrolls are handmade.
When the calligrapher finishes creating your artwork, it is taken to my art mounting workshop in Beijing where a wall scroll is made by hand from a combination of silk, rice paper, and wood.
After we create your wall scroll, it takes at least two weeks for air mail delivery from Beijing to you.
Allow a few weeks for delivery. Rush service speeds it up by a week or two for $10!
When you select your calligraphy, you'll be taken to another page where you can choose various custom options.
Check out my lists of Japanese Kanji Calligraphy Wall Scrolls and Old Korean Hanja Calligraphy Wall Scrolls.
1 people have searched for 永生 in Chinese or Japanese in the past year.
永生 was last searched for by someone else on Jul 8th, 2018