Not what you want?
Try searching again using:
1. Other similar-meaning words.
2. Fewer words or just one word.
Study in Chinese / Japanese...
Buy a Study calligraphy wall scroll here!
Start your custom "Study" project by clicking the button next to your favorite "Study" title below...
Quick links to words on this page...

záo bì tōu guāng

This Chinese proverb means, "Bore a hole on the wall to make use of the neighbor's light to study."

This is a nice gift for a very studious person.

Kuang Heng was born during the Western Han period. He was very fond of reading ever since he was young. However, he could not go to school since his family was poor, and he had to borrow books from people to learn.

In order to borrow these books he normally did chores for people who had them. When he became older, he had to work in the field from sunrise to sunset since his family's financial situation did not get any better. Thus, he tried to study at night but he had no lamp.

One day, he noticed that there was light from the neighbor's house coming through a crack in the wall. This made him very happy, so he dug a larger hole from the crack and read in the light that shone through. This diligent study eventually made him an accomplished person.

dú

doku

독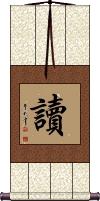 This Chinese character means, "to read out loud," or "to study books."

Very seldom used in Japanese anymore (except occasionally in Buddhism).

xué

gaku

학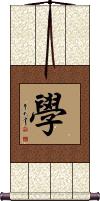 學 is "study" or "learn" in Chinese, Japanese Kanji, and old Korean Hanja.

學 is a very broad character that can mean a lot of things related to scholarship. It can refer to a school (in fact, if you put the character for "big" in front of this, you have "college" or "university," if you put the word for "middle," you have "middle school." This can also mean science; the process of acquiring knowledge; learning; scholarship; erudition; knowledge. It can also add the Chinese or Japanese version of "-ology" (the study of) to many words.
---

There is a very common simplified version of this character. You will see this form in modern Japan and mainland China, Singapore, and other places. If you want this simplified version, please click on the character shown to the right instead of the "select and customize" button above.

hǎo hǎo xué xí tiān tiān xiàng shàng

This is a famous proverb by Chairman Mao Zedong that sounds really strange when directly translated into English. I include it in our database of phrases to illustrate how different the construction and grammar can be between Chinese and English. The direct translation is "Good Good Study, Day Day Up." In Chinese, a repeated character/word can often serve to reinforce the idea (like saying "very" or suggesting "a lot of"). So "good good" really means "a lot of good." While "day day" can be better translated as "day in day out." The idea of "up" has a meaning in China of "rising above" or "improving."

After understanding all of this, we come up with a slightly better translation of "With lot of good study, day in day out, we raise above."

The more natural translation of this proverb would be something like, "study hard, and keep improving."

jiàn xián sī qí

견현사제

When you meet a wise person, you should learn from them and be inspired to become as wise as they are.

This is a pretty long proverb in English but in Chinese it's only four characters.
However, in Chinese the deeper meaning often surpass the dictionary definition of each character.

In this case, you should seek wise people to learn from throughout your life...
Always try to learn enough to become equal to them. It also suggests that the process of learning and seeking wisdom is a non-ending cycle.
---
See Also: Knowledge

wēn gù zhī xīn

on ko chi shin

온고지신

溫故知新 is a proverb from Confucius that is used in Chinese, Japanese, and Korean cultures.

It can be translated several ways:
Coming up with new ideas based on things learned in the past.
Examine things of the past, and obtain the new knowledge.
Developing new ideas based on study of the past.
Gain new insights through restudying old issues.
Understand the present by reviewing the past.
Learning from the past.
Review the old and know the new.
Taking a lesson from the past.
Taking a lesson from the wisdom of the ancients.
Follow the old ways.

The direct translation would be, "By asking old things know new things."
The Character meanings breakdown this way:
溫故 = ask old
知新 = know new

Explained: To learn new things that are outside of your experience, you can learn from old things of the past. You can find wisdom from history.
---

Note: Japanese use a simplified version of the first Kanji in modern times. So if you order this from our Japanese master calligrapher, expect the first Kanji to look like the one shown to the right.

dú wàn juǎn shū, xíng wàn lǐ lù

This is a lifelong suggestion for expanding your horizons by gaining knowledge, experience, and seeing the world.

Of course, this was written long ago when it was hard to travel 10,000 miles.
With air travel and the business I'm in, I often achieve that lifetime goal on a monthly basis.
However, I am a little behind in the book count.

Note: An ancient Chinese mile (里 or lǐ) referred to in this proverb is about a third of a British/American mile. However, at that time, this was a great distance to travel (being written at least 1000 years before the invention of the airplane).

qián chē zhī fù hòu chē zhī jiàn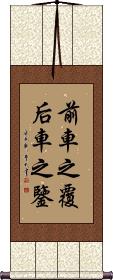 This Chinese proverb suggests looking at the circumstances and toils of those you proceeded before you, and learning from their experience.

This more literally means, "the cart in front overturns, a warning to the following cart."

This is figuratively translated as, "draw lesson from the failure of one's predecessor," "learn from past mistakes," or compared to the English idiom, "once bitten twice shy."

Other more-direct translations:
Make the overturning of the chariot in front a warning for the chariot behind.
Learn caution through an unpleasant experience.
The wrecked coach in front should be a warning.
The overturned cart in front serves as a warning to the carts behind.

xíng wàn lǐ lù shèng dú wàn juǎn shū

This translates a few ways:
To travel ten-thousand miles beats reading ten-thousand books.
Better to travel ten thousand li than to read ten thousand books. (a "li" is an ancient Chinese mile)
Travelling thousands of miles is better than reading thousands of books.

No matter how you slice it, this Chinese proverb is claiming that experience is more profound and meaningful than what you can get from a book. Go do it! Don't just read about it.

bǎi shèng nán lǜ dí sān zhé nǎi liáng yī

This Chinese proverb literally translates as: [Even a general who has won a] hundred victories [may be] hard put to see through the enemy's [strategy], [but one who has] broken [his] arm three [times] [will] be a good doctor.

Figuratively, this means: One cannot always depend on past successes to guarantee future success but one can always learn from lessons drawn from failure.
---
See Also: Failure - Mother of Success | Experience - Mother of Success | Fall Down 7 Times Get Up 8 | Hard Knocks

katte erumono mo areba makete erumono mo aru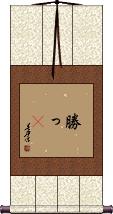 You may learn when everything goes right but the lessons learned when everything goes wrong are more vivid and lead to long-lasting wisdom.

Another way to look at this: One cannot always depend on past successes to guarantee future success but one can always learn from lessons drawn from failure.
---
Note: Because this selection contains some special Japanese Hiragana characters, it should be written by a Japanese calligrapher.
Search for Study in my Japanese & Chinese Dictionary
The following table may be helpful for those studying Chinese or Japanese...
Title
Characters
Romaji

(Romanized Japanese)

Various forms of Romanized Chinese
Diligent Study Proverb
鑿壁偷光

---

凿壁偷光
záo bì tōu guāng

---

zao2 bi4 tou1 guang1

---

zao bi tou guang

---

zaobitouguang
tsao pi t`ou kuang

---

tsaopitoukuang

---

tsao pi tou kuang
Read
Study
讀

---

读
doku
dú / du2 / du
tu
Study
Learn
School
學

---

学
gaku
xué / xue2 / xue
hsüeh
Good Good Study, Day Day Up
好好學習天天向上

---

好好学习天天向上
hǎo hǎo xué xí tiān tiān xiàng shàng

---

hao3 hao3 xue2 xi2 tian1 tian1 xiang4 shang4

---

hao hao xue xi tian tian xiang shang
hao hao hsüeh hsi t`ien t`ien hsiang shang

---

hao hao hsüeh hsi tien tien hsiang shang
Learn from Wisdom
見賢思齊

---

见贤思齐
jiàn xián sī qí

---

jian4 xian2 si1 qi2

---

jian xian si qi

---

jianxiansiqi
chien hsien ssu ch`i

---

chienhsienssuchi

---

chien hsien ssu chi
Learn New Ways From Old
溫故知新

---

温故知新
on ko chi shin

---

onkochishin
wēn gù zhī xīn

---

wen1 gu4 zhi1 xin1

---

wen gu zhi xin

---

wenguzhixin
wen ku chih hsin

---

wenkuchihhsin
Read 10,000 Books, Travel 10,000 Miles
讀萬卷書行萬里路

---

读万卷书行万里路
dú wàn juǎn shū, xíng wàn lǐ lù

---

du2 wan4 juan3 shu1 xing2 wan4 li3 lu4

---

du wan juan shu xing wan li lu

---

duwanjuanshuxingwanlilu
tu wan chüan shu hsing wan li lu
Learn From Your Predecessors
前車之覆后車之鑒

---

前车之覆后车之鉴
qián chē zhī fù hòu chē zhī jiàn

---

qian2 che1 zhi1 fu4 hou4 che1 zhi1 jian4

---

qian che zhi fu hou che zhi jian
ch`ien ch`e chih fu hou ch`e chih chien

---

chien che chih fu hou che chih chien
Better to Travel 10,000 Miles than Read 10,000 Books
行萬里路勝讀萬捲書

---

行万里路胜读万卷书
xíng wàn lǐ lù shèng dú wàn juǎn shū

---

xing2 wan4 li3 lu4 sheng4 du2 wan4 juan3 shu1

---

xing wan li lu sheng du wan juan shu
hsing wan li lu sheng tu wan chüan shu
You May Learn from Victory, You Will Learn from Failure
百勝難慮敵三折乃良醫

---

百胜难虑敌三折乃良医
bǎi shèng nán lǜ dí sān zhé nǎi liáng yī

---

bai3 sheng4 nan2 lv4 di2 san1 zhe2 nai3 liang2 yi1

---

bai sheng nan lv di san zhe nai liang yi
pai sheng nan lü ti san che nai liang i
You May Learn from Victory, You Will Learn from Failure
勝って得るものも有れば負けて得るものも有る
katte erumono mo areba makete erumono mo aru
In some entries above you will see that characters have different versions above and below a line.
In these cases, the characters above the line are Traditional Chinese, while the ones below are Simplified Chinese.
Successful Chinese Character and Japanese Kanji calligraphy searches within the last few hours...
All of our calligraphy wall scrolls are handmade.
When the calligrapher finishes creating your artwork, it is taken to my art mounting workshop in Beijing where a wall scroll is made by hand from a combination of silk, rice paper, and wood.
After we create your wall scroll, it takes at least two weeks for air mail delivery from Beijing to you.
Allow a few weeks for delivery. Rush service speeds it up by a week or two for $10!
When you select your calligraphy, you'll be taken to another page where you can choose various custom options.
Check out my lists of Japanese Kanji Calligraphy Wall Scrolls and Old Korean Hanja Calligraphy Wall Scrolls.
Some people may refer to this entry as Study Kanji, Study Characters, Study in Mandarin Chinese, Study Characters, Study in Chinese Writing, Study in Japanese Writing, Study in Asian Writing, Study Ideograms, Chinese Study symbols, Study Hieroglyphics, Study Glyphs, Study in Chinese Letters, Study Hanzi, Study in Japanese Kanji, Study Pictograms, Study in the Chinese Written-Language, or Study in the Japanese Written-Language.