Not what you want?
Try searching again using:
1. Other similar-meaning words.
2. Fewer words or just one word.
Divine Light in Chinese / Japanese...
Buy a Divine Light calligraphy wall scroll here!
Start your custom "Divine Light" project by clicking the button next to your favorite "Divine Light" title below...

jourei

Jyorei or Johrei is a healing art that uses divine light to dissolve the spiritual impurities that are the source of all physical, emotional, and personal problems.

This is a Japanese title that can refer to the purification of spirit described above, but this is also the word for exorcism in Japanese.
---
Romanization variations include Jyorei, Johrei, Jourei and Jore. Regardless of romanization, the actual pronunciation is like "Joe Ray."
Not the results for divine light that you were looking for?
Below are some entries from our dictionary that may match your divine light search...
Characters

If shown, 2nd row is Simp. Chinese

Pronunciation
Romanization
Simple Dictionary Definition

靈光

---

灵光

see styles
líng guāng

/ ling2 guang1

---

ling kuang
divine light (around the Buddha); a halo; a miraculous column of light; (slang) jolly good!

---

三光

see styles
guang 

/ guang1 

---

guang 

---

miteru

みてる




mitsuteru

みつてる




mitsukou / mitsuko

みつこう




sankou / sanko

さんこう




kazumitsu

かずみつ



the sun, the moon, and the stars

---

(in hanafuda) a collection of three non-rain light cards; (personal name) Miteru; (surname, given name) Mitsuteru; (surname) Mitsukou; (place-name) Sankou; (given name) Kazumitsu

---

(三光天) Sun, moon, and stars. Also, in the second dhyāna of the form-world there are the two deva regions 少光天, 無量光天, and 光音天q.v. Also 觀音 Avalokiteśvara is styled 日天子sun-prince, or divine son of the sun, 大勢至 Mahāsthāmaprapta is styled 月天子 divine son of the moon, and 虛空藏菩薩 the bodhisattva of the empyrean, is styled 明星天子 divine son of the bright stars; three illuminators

---

神通

see styles
shén tōng

/ shen2 tong1

---

shen t`ung

/ shen tung

---

jintsuu / jintsu

じんづう




jinzuu / jinzu

じんつう




jinshiu

じんずう




kamitsuu / kamitsu

じんしう



remarkable ability; magical power

---

(place-name) Jindzuu; (surname) Jintsuu; (place-name) Jinzuu; (surname) Jinshiu; (personal name) Kamitsuu

---

(神通力) Ubiquitous supernatural power, especially of a Buddha, his ten powers including power to shake the earth, to issue light from his pores, extend his tongue to the Brahma-heavens effulgent with light, cause divine flowers, etc., to rain from the sky, be omnipresent, and other powers. Supernatural powers of eye, ear, body, mind, etc; supernormal cognition

---

迦葉

---

迦叶

see styles
jiā yè

/ jia1 ye4

---

chia yeh

---

kashou / kasho

かしょう



(person) Kasyapa (Hindu sage); Kashou

---

(迦葉波) kāśyapa, 迦攝 (迦攝波) inter alia 'a class of divine beings similar to or equal to prajāpati'; the father 'of gods, demons, men, fish, reptiles, and all animals'; also 'a constellation'. M.W. It is intp. as 'drinking light', i.e. swallowing sun and moon, but without apparent justification. (1) One of the seven or ten ancient Indian sages. (2) Name of a tribe or race. (3) Kāśyapa Buddha, the third of the five buddhas of the present kalpa, the sixth of the seven ancient buddhas. (4) Mahākāśyapa, a brahman of Magadha, who became one of the principal disciples of Śākyamuni, and after his death became leader of the disciples, 'convoked and directed the first synod, whence his title Ārya Sthavira (上坐, lit. chairman) is derived.' Eitel. He is accounted the chief of the ascetics before the enlightenment; the first compiler of the canon and the first patriarch. (5) There were five Kāśyapas, disciples of the Buddha, Mahā-Kāśyapa, Uruvilā-Kāśyapa, Gayā-Kāśyapa, Nadī-Kāśyapa, and Daśabala-Kāśyapa; the second, third, and fourth are said to have been brothers. (6) A bodhisattva, whose name heads a chapter in the Nirvana Sutra. (7) 迦葉摩騰 Kāśyapa-Mātaṅga, the monk who with Gobharana, or Dharmarakṣa, i.e. Zhu Falan 竺法蘭, according to Buddhist statements, brought images and scriptures to China with the commissioners sent by Mingdi, arriving in Luoyang A.D. 67.

---
Search for Divine Light in my Japanese & Chinese Dictionary
This in-stock artwork might be what you are looking for, and ships right away...
Gallery Price: $200.00
Your Price: $78.88
Gallery Price: $200.00
Your Price: $78.88
Gallery Price: $200.00
Your Price: $78.88
Gallery Price: $200.00
Your Price: $78.88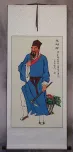 Gallery Price: $53.00
Your Price: $29.00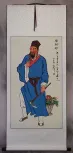 Gallery Price: $53.00
Your Price: $29.00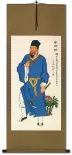 Gallery Price: $63.00
Your Price: $35.00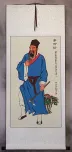 Gallery Price: $58.00
Your Price: $32.00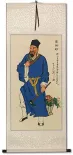 Gallery Price: $53.00
Your Price: $29.00
The following table may be helpful for those studying Chinese or Japanese...
Title
Characters
Romaji

(Romanized Japanese)

Various forms of Romanized Chinese
Divine Light
靈光

---

灵光
líng guāng

---

ling2 guang1

---

ling guang

---

lingguang
ling kuang

---

lingkuang
Johrei
Jyorei
浄霊 / 浄靈

---

浄霊 / 浄灵
jourei / jorei
In some entries above you will see that characters have different versions above and below a line.
In these cases, the characters above the line are Traditional Chinese, while the ones below are Simplified Chinese.



Successful Chinese Character and Japanese Kanji calligraphy searches within the last few hours...

All of our calligraphy wall scrolls are handmade.

When the calligrapher finishes creating your artwork, it is taken to my art mounting workshop in Beijing where a wall scroll is made by hand from a combination of silk, rice paper, and wood.
After we create your wall scroll, it takes at least two weeks for air mail delivery from Beijing to you.

Allow a few weeks for delivery. Rush service speeds it up by a week or two for $10!

When you select your calligraphy, you'll be taken to another page where you can choose various custom options.





Check out my lists of Japanese Kanji Calligraphy Wall Scrolls and Old Korean Hanja Calligraphy Wall Scrolls.

Some people may refer to this entry as Divine Light Kanji, Divine Light Characters, Divine Light in Mandarin Chinese, Divine Light Characters, Divine Light in Chinese Writing, Divine Light in Japanese Writing, Divine Light in Asian Writing, Divine Light Ideograms, Chinese Divine Light symbols, Divine Light Hieroglyphics, Divine Light Glyphs, Divine Light in Chinese Letters, Divine Light Hanzi, Divine Light in Japanese Kanji, Divine Light Pictograms, Divine Light in the Chinese Written-Language, or Divine Light in the Japanese Written-Language.





var istablet=0;