Not what you want?
Try searching again using:
1. Other similar-meaning words.
2. Fewer words or just one word.

If all else fails, email me and
tell me what you need.
Brief in Chinese / Japanese...
Buy a Brief calligraphy wall scroll here!
Personalize your custom "Brief" project by clicking the button next to your favorite "Brief" title below...

yán jiǎn yì gāi

This Chinese proverb is a suggestion that is it better to be brief, use fewer words, while still expressing your main point or idea. In another way to explain this, one should not use 100 words when 50 will do, Or, being more concise with your speech.

This can also be translated as concise, compendious, "brief in form but comprehensive in scope" or succinct.

言簡意賅 is a bit more positive than our other proverb for brevity.

shǎo shuō wéi jiā

Get to the point quickly with the fewest words possible is the suggestion of this Chinese proverb.

But taking it deeper, there is a warning that using too many words may act to "tip your hat" or "show your hand" (to use two American idioms).

It can also be said that using many words does not make the message have more value.

少說為佳 is really about the art of brevity.

Now my only hope is that I did not use too many words to explain this proverb.

jiǎn

kan

간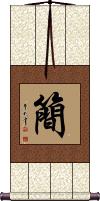 簡 expresses the idea of something simple, or the essence of simplicity in life in Chinese.

This can also refer to a simple slip of bamboo for taking notes or writing a letter (especially in Korean Hanja).

Technically this is a word meaning simple and brevity in Japanese but it's rarely used in modern Japanese. Therefore, you should probably only select this character if your audience is Chinese.
---
See Also: Brevity

xiàn shì

gen sei

현세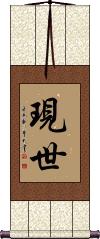 現世 is a very short way to write "live in the moment" or "live in the now" in Japanese.

This short word is open to interpretation. It's used in Japanese Buddhism to mean "the current epoch" or "the current age" (the current age is but a brief moment in the greater scope of existence). When used in that context, this is pronounced "utsushiyo" or "ustusiyo" in Japanese. Otherwise, it's pronounced "gensei" in Japanese.

Other translation possibilities include:
Live for now
Earthly world
This world
This life

Earthly life
Present life
Present generation
Present incarnation

Current age
This existence
This (momentary) reality

---
Note: This is also a word in Chinese and old Korean Hanja. While the meaning is more or less the same, this is not recommended for a wall scroll if your audience is Chinese or Korean. This selection is best if your audience is Japanese.

tái quán dào jīng shén lǐ yì lián chǐ rěn nài kè jǐ bǎi zhé bù qū

태권도정신예의염치인내극기백절불굴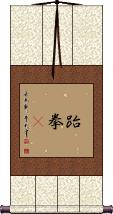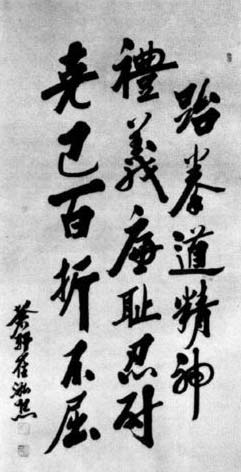 This is General Choi's writing that is often called "The Tenets of Taekwon-do." The actual title would be translated as, "Taekwondo Spirit" or "The Spirit of Taekwondo." It was originally written in Korean Hanja (Chinese characters used in Korea for about 1600 years).

General Choi's original calligraphy is shown to the right. Your custom calligraphy will be unique, and not an exact match, as each calligrapher has their own style.

In modern times, the common form of written Korean is Hangul (a phonetic character set). The table below shows the text in Hangul and Hanja along with a pronunciation guide and a brief English translation:


Traditional Korean Hanja
Modern Korean Hangul
Pronunciation
English
跆拳道精神
태권도정신
tae gweon do jeong sin
Taekwondo Spirit
禮儀
예의
ye yi
Courtesy / Etiquette / Propriety / Decorum / Formality
廉耻
염치
yeom ci
Integrity / Sense of Honor
忍耐
인내
in nae
Patience / Perseverance / Endurance
克己
극기
geug gi
Self-Control / Self-Denial / Self-Abnegation
百折不屈
백절불굴
baeg jeor bur gur
Indomitable Spirit (Undaunted even after repeated attacks from the opponent)
Note that the pronunciation is the official version now used in South Korea. However, it is different than what you may be used to. For instance, "Taekwon-do" is "tae gweon do." This new romanization is supposed to be closer to actual Korean pronunciation.

xǐ

희

Start customizing a "Double Happiness Guest Book Wall Scroll" Here!

The paper panel length can be whatever you choose from 68cm to 135cm (27" to 53").

If you don't mention what paper length you want in the special instructions tab (on the next page), we'll make it about 100cm (40").

The medium size scroll with a 33cm x 100cm (13" x 40") paper panel can usually handle up to 89 signatures. That breaks down to 37 signatures per empty square and 15 signatures around the 囍 character. If you switch to a 135cm paper panel, add another 37 potential signatures.

We can splice two 135cm papers together, but that would be a crazy-long scroll. These are only estimates, your mileage may vary.

With silk panels this will yield a wall scroll about 155cm (61") long. That's enough for up to 89 signatures. Of course, that depends on if your guests just sign a brief salutation and name, or more verbose good wishes. Customer feedback is that 126 people can sign the 135cm long paper on a medium-sized scroll. If we go bigger than that, there will be a minor paper seam and an extra charge. Email me with your specifications if you need something special.

Most customers pick the festive red paper with gold flecks and white or ivory silk. Red is a good luck color in Chinese culture, thus the most popular choice. But, you can do any color combination that you want.

There is a long history of Chinese-character-use outside of mainland China. This Double Happiness character is also seen at weddings in Korea, Vietnam, Hong Kong, Taiwan, as well as Chinese communities in Thailand, Indonesia, and elsewhere. While Japan borrowed Chinese characters into their language, you won't see 囍 as often at Japanese weddings.
Many custom options...




And formats...



The following table may be helpful for those studying Chinese or Japanese...
Title
Characters
Romaji

(Romanized Japanese)

Various forms of Romanized Chinese
Brief and to the Point
言簡意賅

---

言简意赅
yán jiǎn yì gāi

---

yan2 jian3 yi4 gai1

---

yan jian yi gai

---

yanjianyigai
yen chien i kai

---

yenchienikai
Brevity: Fewer Words are Best
少說為佳

---

少说为佳
shǎo shuō wéi jiā

---

shao3 shuo1 wei2 jia1

---

shao shuo wei jia

---

shaoshuoweijia
shao shuo wei chia

---

shaoshuoweichia
Simplicity
簡

---

简
kan
jiǎn / jian3 / jian
chien
Live In The Moment
Live In The Now
現世

---

现世
gen sei / gensei
xiàn shì / xian4 shi4 / xian shi / xianshi
hsien shih / hsienshih
Taekwondo Tenets
Spirit of Taekwon-do
跆拳道精神禮義廉耻忍耐克己百折不屈

---

跆拳道精神礼义廉耻忍耐克己百折不屈
tái quán dào jīng shén lǐ yì lián chǐ rěn nài kè jǐ bǎi zhé bù qū

---

tai2 quan2 dao4 jing1 shen2 li3 yi4 lian2 chi3 ren3 nai4 ke4 ji3 bai3 zhe2 bu4 qu1

---

tai quan dao jing shen li yi lian chi ren nai ke ji bai zhe bu qu
t`ai ch`üan tao ching shen li i lien ch`ih jen nai k`o chi pai che pu ch`ü

---

tai chüan tao ching shen li i lien chih jen nai ko chi pai che pu chü
Double Happiness Guest Book
囍

---

喜喜
xǐ / xi3 / xi
hsi
In some entries above you will see that characters have different versions above and below a line.
In these cases, the characters above the line are Traditional Chinese, while the ones below are Simplified Chinese.
Successful Chinese Character and Japanese Kanji calligraphy searches within the last few hours...
All of our calligraphy wall scrolls are handmade.
When the calligrapher finishes creating your artwork, it is taken to my art mounting workshop in Beijing where a wall scroll is made by hand from a combination of silk, rice paper, and wood.
After we create your wall scroll, it takes at least two weeks for air mail delivery from Beijing to you.
Allow a few weeks for delivery. Rush service speeds it up by a week or two for $10!
When you select your calligraphy, you'll be taken to another page where you can choose various custom options.
Check out my lists of Japanese Kanji Calligraphy Wall Scrolls and Old Korean Hanja Calligraphy Wall Scrolls.
Some people may refer to this entry as Brief Kanji, Brief Characters, Brief in Mandarin Chinese, Brief Characters, Brief in Chinese Writing, Brief in Japanese Writing, Brief in Asian Writing, Brief Ideograms, Chinese Brief symbols, Brief Hieroglyphics, Brief Glyphs, Brief in Chinese Letters, Brief Hanzi, Brief in Japanese Kanji, Brief Pictograms, Brief in the Chinese Written-Language, or Brief in the Japanese Written-Language.
0 people have searched for Brief in Chinese or Japanese in the past year.
Brief was last searched for by someone else on Oct 17th, 2018